Join poet and Survivors' Poetry co-founder Joe Bidder and friends for the launch of his Blue in Green poetry collection
About this Event
Join poet and Survivors' Poetry co-founder Joe Bidder and special guests comedian Barbara Lisicki, poet Patience Agbabi, actress and sign song diva Caroline Parker MBE and Disability Arts Online editor and founder Colin Hambrook for an online book launch of Joe's new poetry collection, Blue in Green,.
The book launch will take place online on Thursday 22 April from 6.30pm to 7.30pm. The event will include readings of selected poems from the book by the author, plus comedy, poetry performance, sign song and talks from our special guests.
Further details
Tickets: £5 / £3 concession / free for unemployed
BSL interpreted event.
When booking, please let us know if you have any access requirements.
Blue in Green by Joe Bidder is now on sale from the Dizzy Press website for £17 paperback and £10 digital. All ticket holders will receive a £2 discount code for paperback book sales.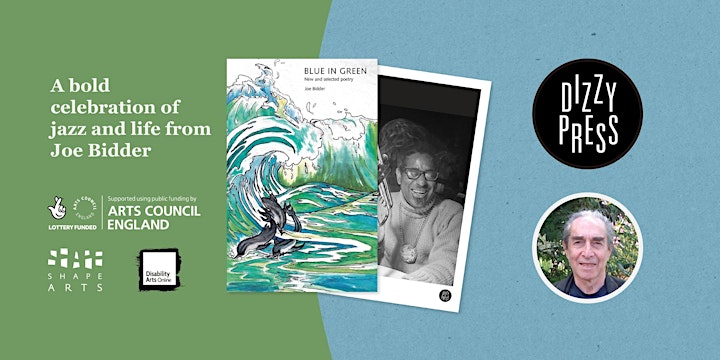 Blue in Green is a new poetry collection by Joe Bidder, presenting 43 new and previously published poems.
The collection celebrates the dynamism of the jazz nightclubs Joe frequented throughout his life and reveals honest insights into his experiences as a survivor of the mental health system and disabled person. The poems span across Joe's vibrant life, written from his earlier career as a young activist and organiser to recently penned work, such as Hackney Downs in 2020.
Black and white and colour photographs of jazz giants such as Dizzy Gillespie, Thelonious Monk, John Coltrane and Ella Fitzgerald, to name a few, grace the pages —taken in the 1960s by photographer Freddy Warren at London's world-famous jazz institution, Ronnie Scott's Jazz Club.
Blue in Green includes an introduction by Colin Hambrook, Founder and Editor of Disability Arts Online, and features original art work by Paulette Ng on the front cover.
Joe Bidder is a poet, published author and founding member of Survivors' Poetry. He is also a writer, critic and publisher. Joe served as chairman of the Arts Council of Great Britain's Arts and Disability Advisory Panel and was a member of Arts Council England's Literature Panel. In his life, Joe worked as a chemical engineer. He graduated from Imperial College in 1962. He travelled and worked around the world, selling oil refineries and power stations as a successful businessman. At age 33, he started writing poetry seriously.
In 1991, Joe co-founded Survivors' Poetry along with Peter Campbell, Frank Bangay, and Hilary Porter. Survivors' Poetry nights hosted diverse lineups of music, poetry and comedy, attracting diverse audiences and fans from across the UK. Acts included comedians Harry Enfield, Paul Merton, Molly Brown and Julian Clary; poets Patience Agbabi and Jean Binta Breeze; and other then up and coming names. What started as a self-help group, Survivors' Poetry soon became a charity and evolved into a UK and global movement, inspiring chapters in Manchester, Leeds and throughout the UK. As a publisher Joe Bidder set up Survivor's Press and published two poetry anthologies.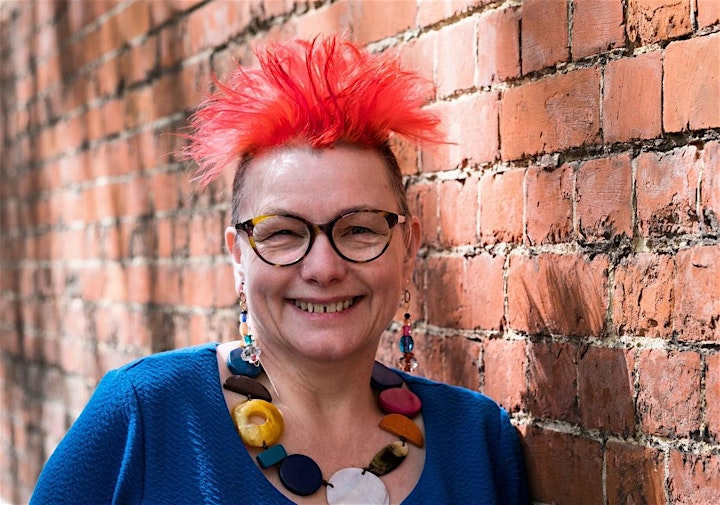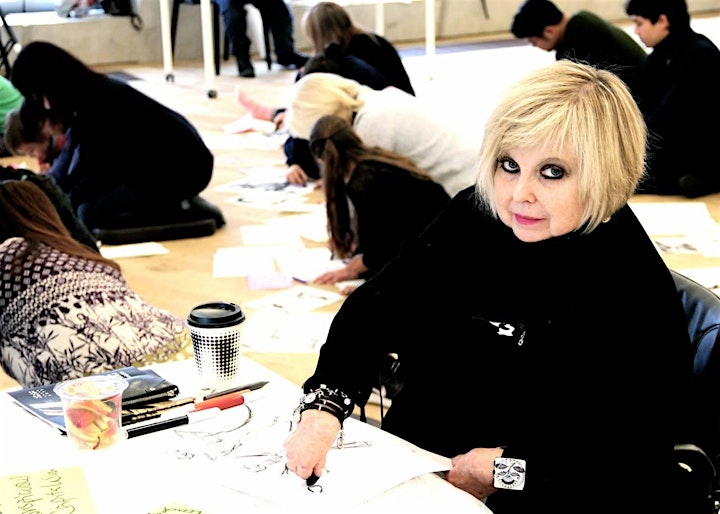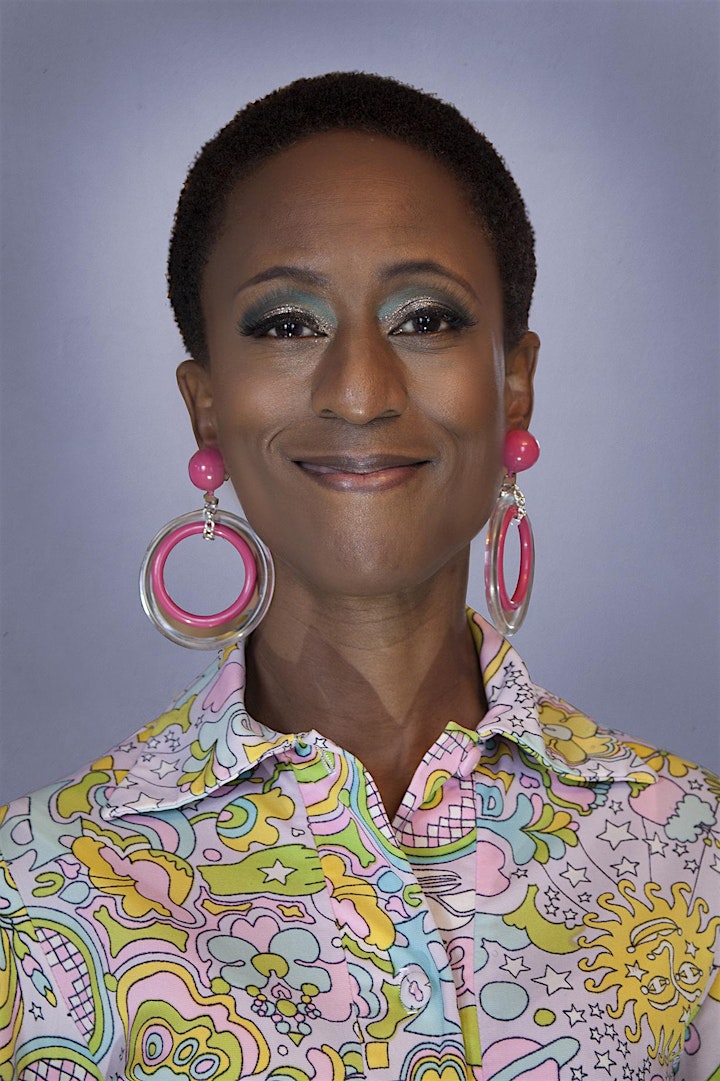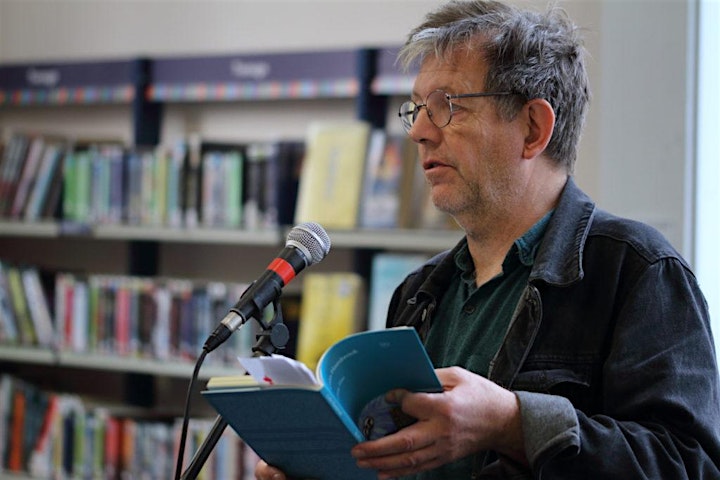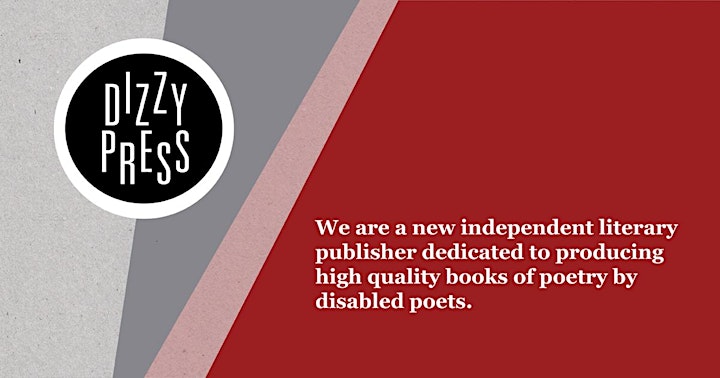 Dizzy Press is a new independent literary publisher dedicated to producing high quality books of poetry by disabled poets. Our first poetry collection Blue in Green is made possible thanks to an Arts Council England's National Lottery funded Project Grant award. Dizzy Press aims to publish 10 books in the next 10 years, bringing to poetry audiences a range of voices from the UK.
Blue in Green is supported by National Lottery through Arts Council England and disability arts organisations Disability Arts Online and Shape Arts.
For more information about the event or press enquiries, please contact amy@thistooisreal.co.uk or +44 (0) 7732 697290.

Date and Time
Location
Refund Policy