Description
An auction of rare, unique and collectable items to raise money for the Joe Orton Statue Appeal, introduced by actors Kenneth Cranham (Loot, 1966) and Julia Foster (What the Butler Saw, 1969)
Items include:
1. Lyrics to Pet Shop Boys' 'Up Against It', handwritten by Neil Tennant in a book of handmade Venetian paper, autographed and with an apology for 'terrible handwriting'. Made and donated by Neil Tennant to support the Joe Orton Statue Appeal.
2. Artist's proof of 3 limited edition Orton/Halliwell doctored book covers: 'The Secret of Chimneys', 'Collins Guide to Roses' and 'Queen's Favourite' (2019). Remastered by Christian Furr, signed by the artist and Leonie Orton, stamped with the seal of the Estate of Joe Orton. Deckled edge prints on Somerset 320gsm paper, 78 x 56 cm (image 65 x 44 cm). Edition of 100. Unframed.
3. The Connor Brothers 'Every Sinner Has a Future' (2017). Giclee print with silkscreen finish, signed, numbered and dated, 120 x 75 cm, framed. Edition of 95. Donated by the artists.
4. Christian Furr, 'Mini Battenberg' (2017), oil on gessoed wooden panel, 20 x 21 cm, framed. Inspired by Leonie Orton's description of her brother's rhapsodic praise of the cake in her memoir, I Had It In Me. Donated by the artist.
5. Christian Furr, 'Battenberg' (2017), hand finished unique monoprint. Inkjet on archival 315gsm paper, acrylic paint, oil pastel, 30 x 21 cm, framed. Artist's proof. Donated by the artist.
6. David Lock, 'Smoking (in Briefs)' (2017). Oil on canvas, 31 x 26 cm. Commissioned for the 'What the Artist Saw: Art Inspied by the Life and Work of Joe Orton' exhibition (2017). Donated by the artist.
7. Life-size cardboard Joe Orton, autographed by Kenneth Craham (Orton's friend and principal actor) and Julia Foster.
8. 3D cardboard reproduction of 'John Betjeman' and 'The Great Tudors' , library books 'defaced' by Joe Orton and Kenneth Halliwell, approx 59.5 x 42.5 cm (sold separately). Donated by the National Justice Museum from its exhibition 'Crimes of Passion: The Story of Joe Orton' (2017).
9. Framed poster for The Erpingham Camp, Liverpool Playhouse, 25 February - 3 April 1982. Donated by Leonie Orton from her private collection.
10. A collection of four photographs of Kenneth Cranham and a poster for Entertaining Mr Sloane (1975) signed by Kenneth Cranham plus a reproduction of a postcard from Joe Orton to Kenneth Cranham from Morocco.
Entry free but we kindly request a donation to the appeal on the door.
Entry includes one complimentary glass of wine or soft drink.
Age 21+
Please access The Curtain via the Members' entrance on Scrutton St.
Please note, entry is dependent on temporary registration as a member of the hotel Members Club. A term of hosting this event in a member's club and hotel therefore requires us to share your name and email address with the venue.
To place absentee bids, please contact Emma Parker: ep27@le.ac.uk
This event is sponsored by the University of Leicester.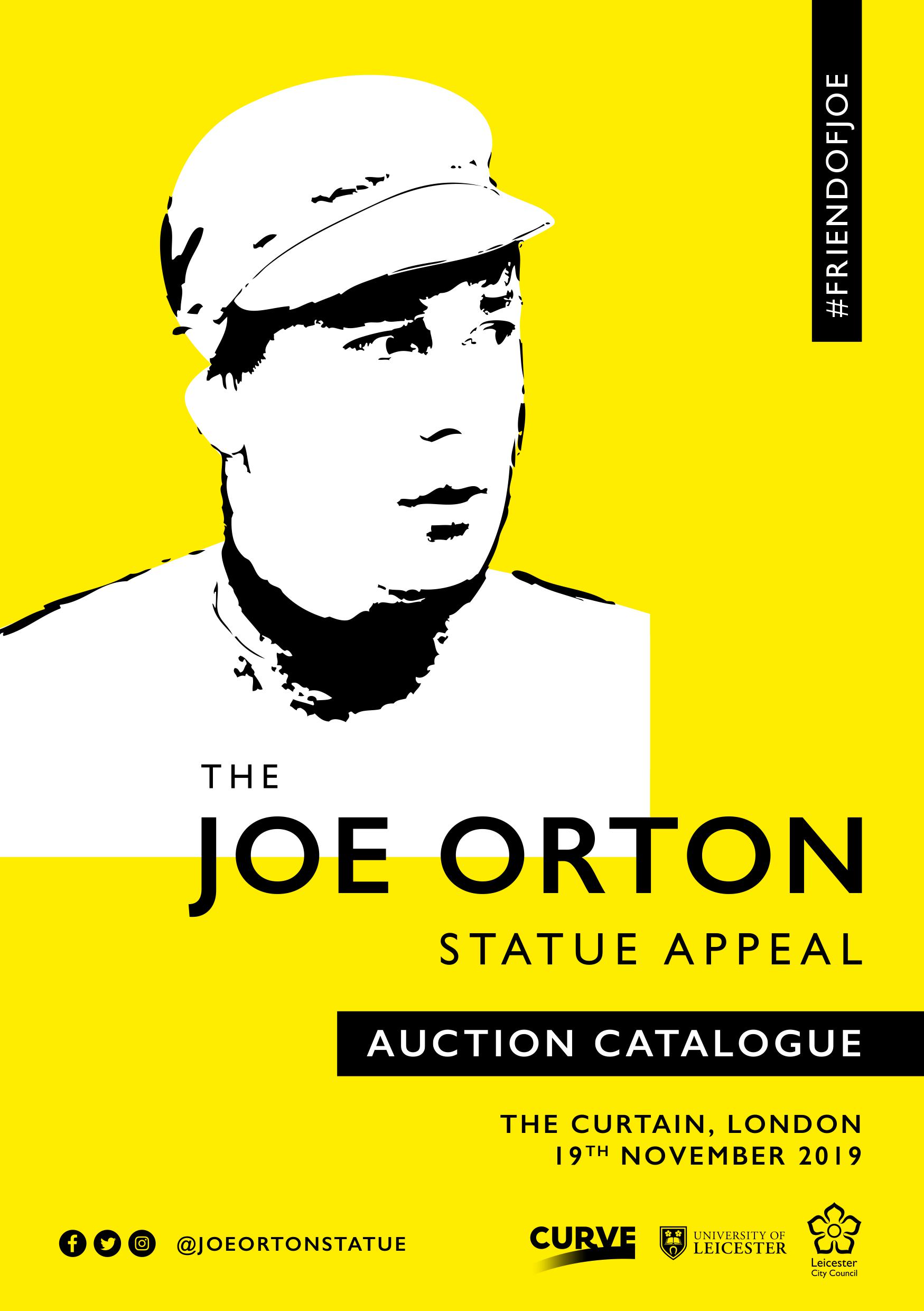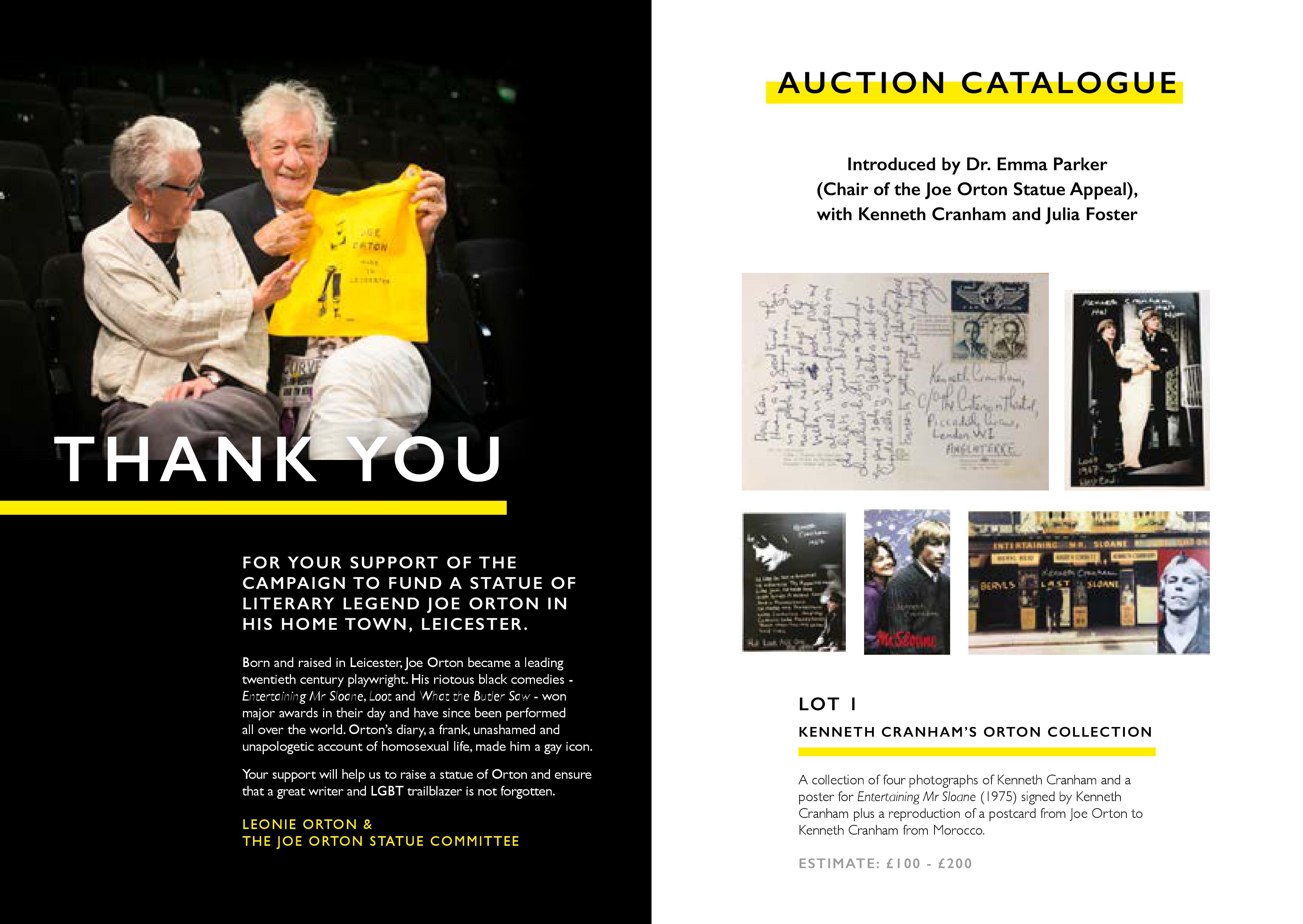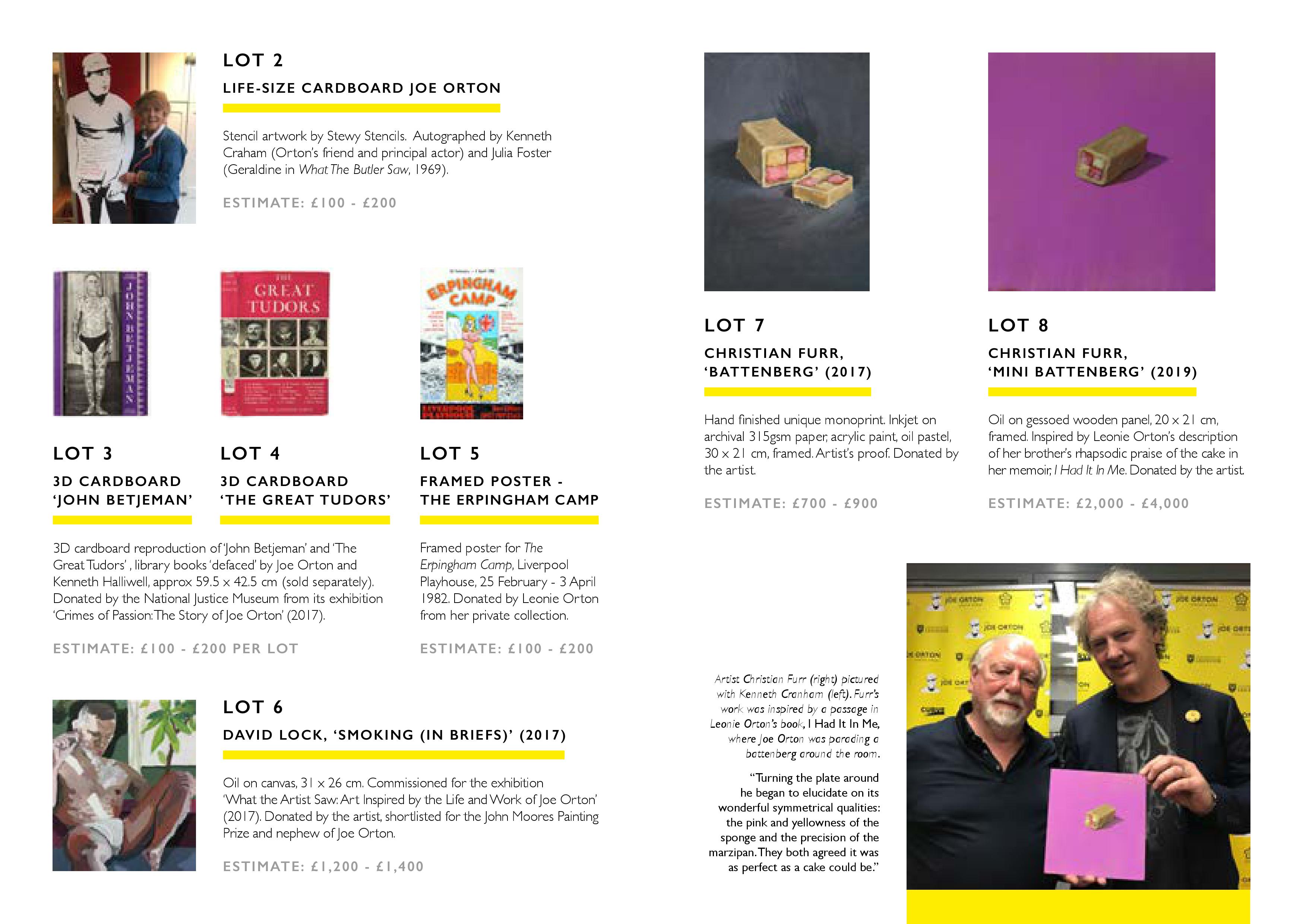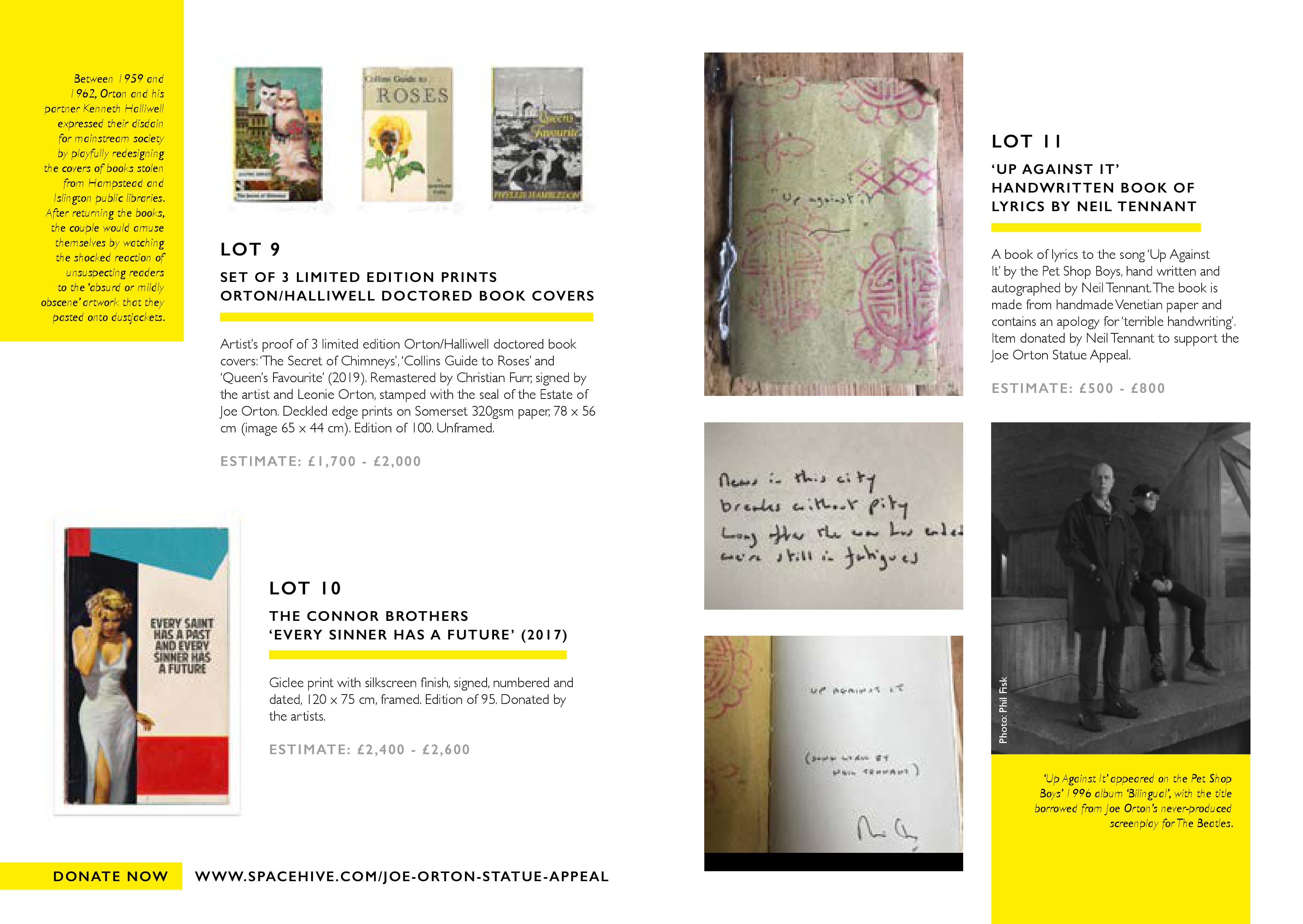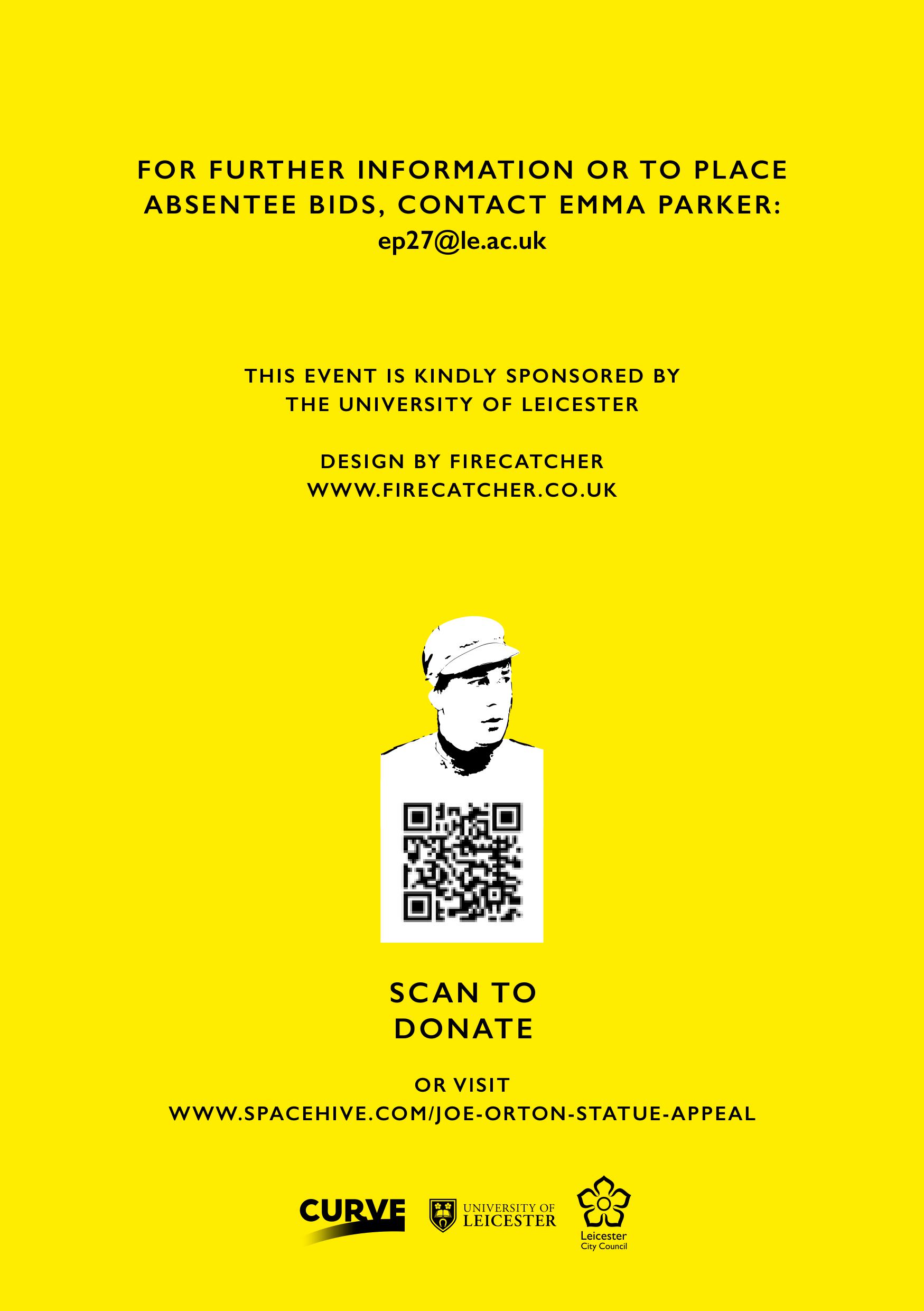 Organiser of Joe Orton Fundraiser Auction
The Joe Orton Statue Appeal seeks to raise £120,000 to erect a statue of Joe Orton in his hometown, Leicester. 
www.spacehive.com/joe-orton/statue-appeal
The appeal is sponsored by the Estate of Joe Orton, Leicester City Council, Curve theatre, and the University of Leicester. It is endorsed by Ian McKellen, Stephen Fry, Alec Baldwin, Hanif Kureishi, Jonathan Harvey, Sheila Hancock, Kenneth Cranham and others (see 'Gallery').
A statue of Orton will ensure that this literary legend and gay icon is not forgotten. It will celebrate LGBT history and inspire young people from a disadvantaged background (like Orton himself) to be creative and ambitious.