Description
Ever since the International Monetary Fund's first bailout of Greece's sinking economy in 2010, the phrase "Greek debt" has meant one thing to the country's creditors. But for millions who claim to prize culture over capital, it means something quite different: the symbolic debt that Western civilization owes to Greece for furnishing its principles of democracy, philosophy, mathematics, and fine art. Where did this other idea of Greek debt come from, and why does it remain so compelling today?
We are delighted to welcome Associate Professor of Classics at Brown University, Johanna Hanink, in conversation with Cambridge Classicist Professor Mary Beard, to discuss our enduring desire to view Greece through the lens of the ancient past.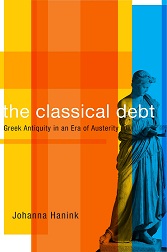 Please note that the discussion itself will commence at 6.45pm; please take your seats in good time.
Tickets for this event are priced at £6 in advance and £7 on the door and can be purchased through this page, by calling 01223 463200 or in person at Heffers bookshop. Please note that tickets are transferable but non-refundable.