Description
Join classicist Johanna Hanink as she talks to Professor Tim Whitmarsh about How to Think about War: An Ancient Guide to Foreign Policy.
How to Think about War is a modern translation of essential speeches from Thucydides's History that takes readers to the heart of his profound insights on diplomacy, foreign policy, and war.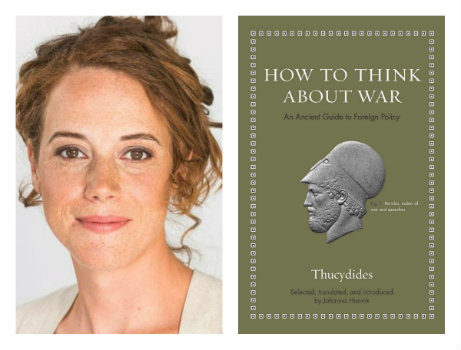 Johanna Hanink is associate professor of classics at Brown University. Her books include The Classical Debt: Greek Antiquity in an Era of Austerity and Lycurgan Athens and the Making of Classical Tragedy.
Tim Whitmarsh is A.G. Leventis Professor of Greek Culture at Cambridge. His latest books include Dirty Love: the genealogy of the ancient Greek novel and Battling the Gods: atheism in the ancient world.
Tickets for the event are priced at £5 in advance or £6 on the door, and can be purchased through this page, by calling 01223 463200 or in person at Heffers bookshop. Please note that tickets are transferable but non-refundable.
Love Classics? Save the date for our 2019 Classics Forum! 12th October 2019.