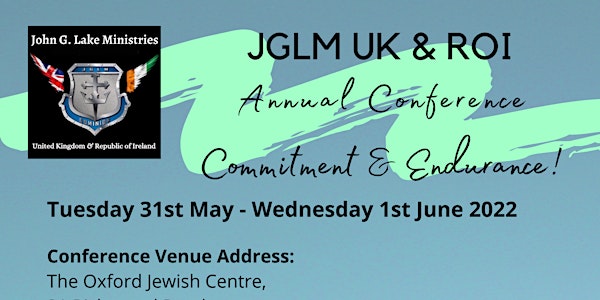 John G. Lake Ministries UK and Republic of Ireland Annual Conference
Location
Oxford Jewish Synagogue
21 Richmond Road
Oxford
OX1 2JL
United Kingdom
Sales Have Ended
Registrations are closed
All available spaces are now full for this event. Please see our listings page for our future events. Sorry we missed you this time, we look forward to seeing you at one of our other conferences.
This years Annual Conference's Theme is Commitment and Endurance!
About this event
This conference is open to anyone who has been involved in or listened to any of the JGLM teachings and would like to see what we are doing as a UK & ROI based ministry and to get more involved in your local area.
The conference starts at 9am and finishes at 9pm each day. There are 3 x 45 minute sessions broken up by 2 x 15 minute tea breaks in the morning, then 2 hour lunch break, then 3 x 45 minute sessions in the afternoon with 2 x 15 minute tea breaks. 2 hours for the dinner break. Then the last session is 2 hours long, with worship, word and ministry to finish.
Please do not bring any food or drink to the Synagogue. Only sealed bottled water is allowed. All meal times will be taken outside the synagogue. There are various cafe's and restaurants around the city centre to meet all budgets and tastes. There will be plenty of opportunities to fellowship with likeminded people during the meal breaks and even to do some street evangelism if you want to!
There is very little parking near the site and it is limited to 2 hours at a time. It may be better to use the park and ride scheme in Oxford if you are able bodied and can walk for 5 mins from the bus stop to the synagogue. There are plenty of taxi's in Oxford if you do park further away, that can get you to the synagogue.
There are various type's of accommodation locally to suit all budgets. If you have a vehicle, staying at Abingdon or Didcot may be cheaper and then drive in the morning to the conference. This is about 20-30 mins away.
There are limited spaces so please book your space to save disappointment. If for any reason you need to cancel before the event, please remember to do so, so that the space can then be given to someone else.
There will be an area at the back of the hall for children to sit and play, but this is under the parents supervision.
This conference is being held in a Synagogue so please be respectful at all times.
If you have any question's please do not hesitate to contact us at jglmukhq@gmail.com
We look forward to seeing you all there.
Many blessings,
The John G. Lake Ministries UK & ROI Team