Description
'I'm not sure I'd like me if I was listening to me.' – John Humphrys
John Humphrys is the Radio 4 Today programme presenter, whose forensic and sometimes aggressive interviews with figures in authority inspire love and loathing in equal measure. The Observer's television critic once wrote that if he ever found himself sitting next to Humphrys at a dinner party he would probably drive a fork through his hand. The Tory politician Jonathan Aitken accused him of 'poisoning the well of democratic debate', a comment which prompted an outburst of support for Humphrys, with the Daily Mail describing him as 'one of the most brilliant journalists in the country'.
This autumn, as Humphrys steps down after 32 years at Today and publishes a long-awaited memoir, he comes to the Intelligence Squared stage to give an exclusive, behind-the-scenes account of his extraordinary career.
Turning the tables on Humphrys and pitching the questions will be his Today colleague Justin Webb. Humphrys will recount the momentous episodes of his career, such as his interview with BBC correspondent Andrew Gilligan in 2003. Gilligan claimed that the government had deliberately 'sexed up' the dossier on the threat posed by Saddam Hussein in order to justify the Iraq War. A chain of events ensued, including the suicide of the dossier's source, Dr David Kelly, severe damage to Tony Blair's reputation and the Hutton and Chilcot inquiries into the war. And then there was the time Humphrys helped to get his own boss fired. His tough interview with the BBC Director General George Entwistle, days after the BBC had made false child abuse allegations against Lord McAlpine, lead to Entwistle's resignation after a mere 53 days in the job.
Join us on October 9th and hear Humphrys' previously untold stories about politicians, celebrities and the BBC, and give his trenchant views on the role of the media in politics and the health of our political system.
Speaker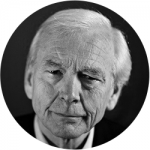 John Humphrys
Award-winning journalist and presenter of Radio 4's Today programme
Award-winning journalist who has presented the Today programme since January 1987 – almost twice as long as any other presenter. In his 50 years at the BBC he was also their youngest television foreign correspondent and served in Washington during the Watergate years and southern Africa during apartheid and the Rhodesian war. He presented the Nine o'Clock news on BBC1 for six years and has also presented Panorama and On the Ropes on Radio 4. He has chaired Mastermind since 2003. He's written eight books, including two on the English language and others on the dangers of intensive agriculture and the case for physician assisted suicide.
CHAIR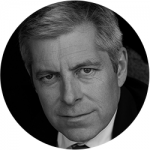 Justin Webb
Presenter on Radio 4's Today programme
One of the presenters of Radio 4's Today programme. He was the BBC's North America Editor for 8 years, covering the 9/11 attacks and the election of President Obama. He writes regularly for the Radio Times and reviews books for the Sunday Times.
Speakers are subject to change.