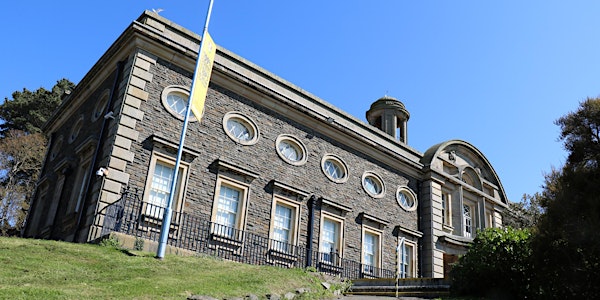 John Jones: Memorial Exhibition & Carmen Mills: Jacob's Ladder
Location
Aberystwyth School of Art
School of Art, Aberystwyth University
Buarth Mawr
Aberystwyth
SY23 1NG
United Kingdom
Ysgol Gelf, Prifysgol Aberystwyth: Arddangosfeydd School of Art, Aberystwyth University: Exhibitions
About this event
Carmen Mills Arddangosfa PhD Exhibition
Jacob's Ladder
Seeing the invisible through the archaeological imagination
Mawrth 21 March - Ebrill 29 April 2022
(Ar gau: 15, 18, 19 Ebrill / Closed: 15, 18, 19 April)
Please note that Carmen Mill's exhibition opens on 21st March. Bookings before this date are for the John Jones Memorial exhibition only.
This exhibition is my response to visiting Ynys Enlli/Bardsey Island and spending time on the site of the 6th century monastery built by Celtic Christian monks. Using archaeology as a metaphor for my fine art practice, I aim to make artworks that enable viewers to consider their own personal 'spiritual archaeology'. I use the simplest and most universal of marks – the vertical line and the circle – seeking to give visual form to the invisible. The viewer is then invited to 'excavate' these artworks, and find through them an evocation of the passage of time which, while hinting at prehistory, nevertheless speaks to their contemporary world.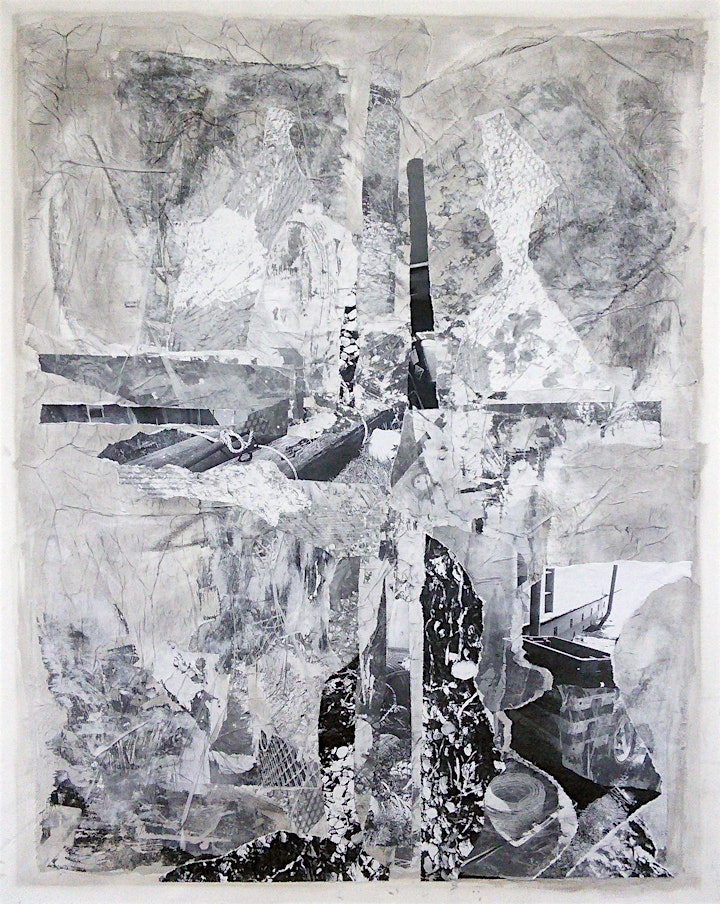 Arddangosfa Goffa i Ddathlu Bywyd a Gwaith
A Memorial Exhibition to Celebrate the Life and Work of
John Jones
(1932–2021)
14 Chwefror‒29 Ebrill 2022 | 14 February‒29 April 2022
(Ar gau: 15, 18, 19 Ebrill / Closed: 15, 18, 19 April)
Born in Ynyshir in the Rhondda and trained at Cardiff School of Art & Design and Cardiff University, John Jones was a printmaker, weaver and painter and involved in many aspects of the arts and crafts in Mid and West Wales. He was founder member of 'fforma' artists' group, Aberystwyth Arts Society, a member of the Craft Committee of the Welsh Arts Council and officer in charge of Woollen Textile at the National Wool Museum, Carmarthenshire. He was married to the artist Mary Lloyd Jones.
This exhibition includes a selection of his prints, lino cuts, etchings and screenprints including early work from 1953, made during John's student days in Cardiff College of Art. Also included are his hand-woven rugs, experimental constructions using cork, string and metal stencilled letters, original lino blocks, etching plates and print-making tools.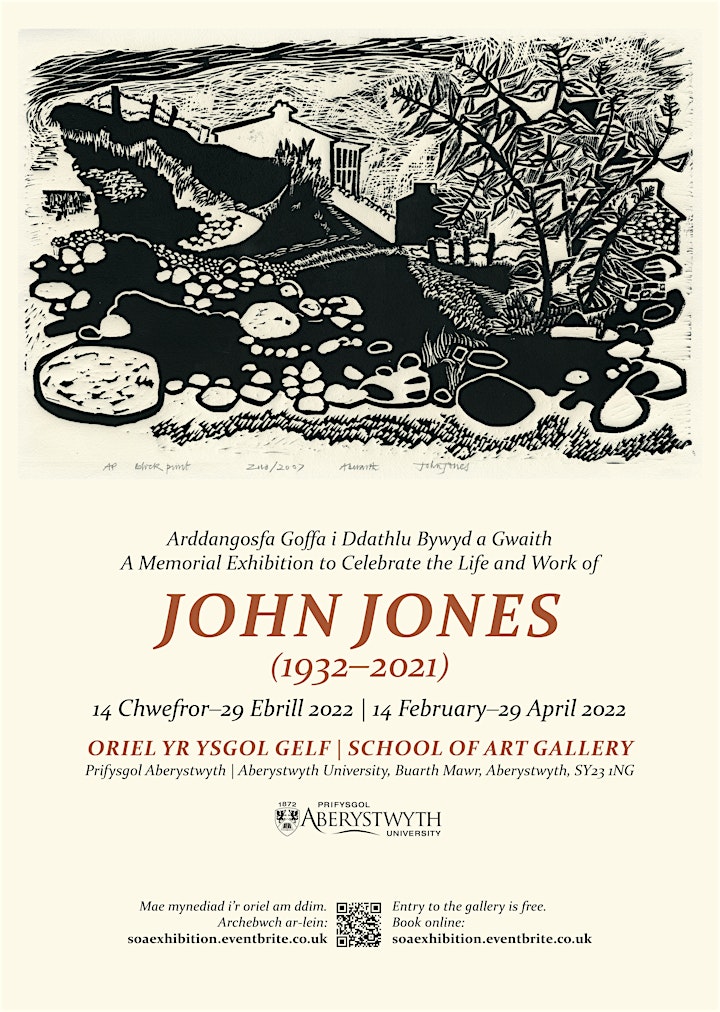 Exhibitions in the School of Art Galleries
Due to the current COVID-19 restrictions, please take note of the following health and safety requirements:
Only visitors who have pre-booked may enter the galleries.
Please enter the building at the time you have booked and not before. Please keep to your allotted time slot.
All are required to wear a face covering in the building (unless exempt).
Please observe the required social distance of at least 2 metres from all other visitors.
Use the hand sanitiser available, particularly when entering and leaving the building, and please do not touch the exhibits.
Follow the one-way systems in place within the building.
Please be aware of and do not exceed the maximum capacity for the gallery spaces (figures are clearly signposted in each gallery).
Please do not attend if you or your household, extended household or support bubble have any symptoms of COVID, or are required to self-isolate.