Sales Have Ended
Ticket sales have ended
We are really looking forward to meeting you on March 31st at Skate Central! Make sure you drink lots of water the day before and bring water with you. Please wear trainers and clothes you are comfortable moving around in. Please join our facebook group for this new intake for more information and to chat to some of our skaters and fellow newbies before the event. https://www.facebook.com/groups/348962775695220/
Sales Have Ended
Ticket sales have ended
We are really looking forward to meeting you on March 31st at Skate Central! Make sure you drink lots of water the day before and bring water with you. Please wear trainers and clothes you are comfortable moving around in. Please join our facebook group for this new intake for more information and to chat to some of our skaters and fellow newbies before the event. https://www.facebook.com/groups/348962775695220/
Description
Who can come along?
If you are a woman over the age of 18 and have basic skating ability (can stay upright on quad skates and skate forwards) WE WANT YOU! No one is born playing roller derby, so everyone starts off as a beginner. We will teach you how to stop, turn around, skate backwards, fall safely, jump, hit, and so much more!
Kit required

Everyone attending a new intake session must have all of the following with them on the day:
These things are for your safety and of those around you. You can get everything you need from The Manchester Skate Shop, either in store or online. We are affiliated with The Manchester Skate Shop, which means that for every purchase you make using this link, we will earn 5% without you having to do anything extra! You can also search UK Roller Derby Recyclables on Facebook for second hand kit.

If you're wondering about sizing, there are some handy tables on the 187 Pads site.

Anyone missing kit on the day will not be able to skate.
Loan Kit

We have a limited amount of loan kit to offer new skaters. If you wish to hire our loan kit, please the New intake (kit hire) ticket option when you register. Stocks are limited, so please book quickly to avoid disappointment. Where possible, for your safety we advise that you please try to get your own properly fitted helmet - concussions are no fun! And you will definitely need to buy your own mouth guard.
Loan kit costs £4 per item for 4 weeks, plus a refundable deposit of £10 (to be paid on registration for the event and refunded on return of the loan kit at the end of the first 4 weeks). After four weeks, we hope that you'll have fallen in love with roller derby and you are expected to get your own kit.
Click the green Tickets link above to reserve your spot and your loan kit!
Session Outline
15:15 - new intake session opens!
15:15 - 15:45 - attendees arrive, meet the team, get kitted up
15:45 - 16:00 - new intake presentation from our Recruitment Team
16:00 - 16:15 - meet your derby family
16:15 - 17:45 - skates on! Our new intake coaches will take your through the basic skating skills required for roller derby
17:45 - session ends.
If you like what you see throughout the session and we feel happy you'll be safe, you can sign up for our 16-week Minimum Skills course, where you will learn all the skills necessary to play roller derby.
Costs

Your first session is free; after that it's £6 per session. Once you're happy you want to stay and play with us, you can join us as a member for a monthly fee, payable by standing order (reduced dues and undergrad student rates are available, just ask a member of the team).
So how do I sign up?
Click on the green Tickets button above to reserve your spot.
How do I reserve loan kit?
If you are ordering loan kit, make sure you select each item of kit you need from the Additional Items section on the order form. If your size isn't available, please email ssrdrecruitment@gmail.com and we'll see what we can do.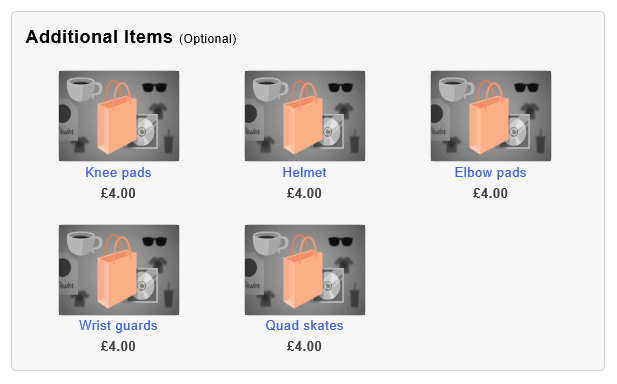 Click on the item and select the size you need from the drop down list, then click Add to order: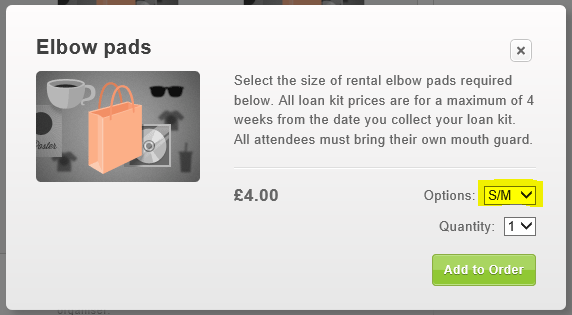 A confirmation banner will briefly display:

If a red banner appears, this means that the size you have selected is Sold Out. Choose another size, or contact ssrdrecruitment@gmail.com and we'll see if we can help find you what you need.

Repeat until you have selected all the items of kit you need. If you realise that you have selected the wrong size/item, scroll to the top of the order form, and select the X next to the incorrect item to remove it from your order.

Once you've selected all the kit you need, select Pay Now from the bottom of the order form. You're all set!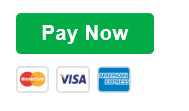 FAQs
I'm trans, can I join?
Of course! Trans women are women, so get your skates on!
I'm non-binary, can I join?
We are a member league of the Women's Flat Track Derby Association, and so our skaters are women or women-aligned. If you're happy to skate under the moniker of 'women's roller derby', we'd love to have you!
Is there an age limit?
Yes - we can only accept skaters who are over 18.
If you are under 18, you can join our junior league! Please check out https://www.facebook.com/SheffieldSteelJuniorRollers
What if I can no longer attend the event? (refund policy)
Our new intake events are very popular and loan kit is in high demand. You may cancel your space on the new intake and receive a full refund for any loan kit you have paid for up to 7 days before the new intake event. This allows us to open up your spot or loan kit to anyone on the waiting list. Any cancellations received after the deadline will not be refunded.
I really want to join but I can't make the new intake event date. Can I still join?
Yes! You must still register your place on the new intake event. Then please let us know at ssrdrecruitment@gmail.com and we'll arrange for you to join at the earliest opportunity (within 4 weeks of the new intake event date).
Is my registration/ticket transferrable?
No - each person who attends must register for themselves. If you'd like to invite a friend please forward the link. The more the merrier!
Can I update my registration information?
Yes - please log in to Eventbrite to update your details.
Do I have to bring my printed ticket to the event?
No - please save the trees! We'll have a list of attendees for each session.
Any other questions? Please contact ssrdrecruitment@gmail.com for more information.
Cover photo by Roller Derby on Film