Location
Hotel Football, Old Trafford, a Tribute Portfolio Hotel
99 Sir Matt Busby Way
Stretford
M16 0SZ
United Kingdom
Join the conversation... Emmaus Catholic Academy Trust - Great Schools - Strong in Faith - Serving Society
About this event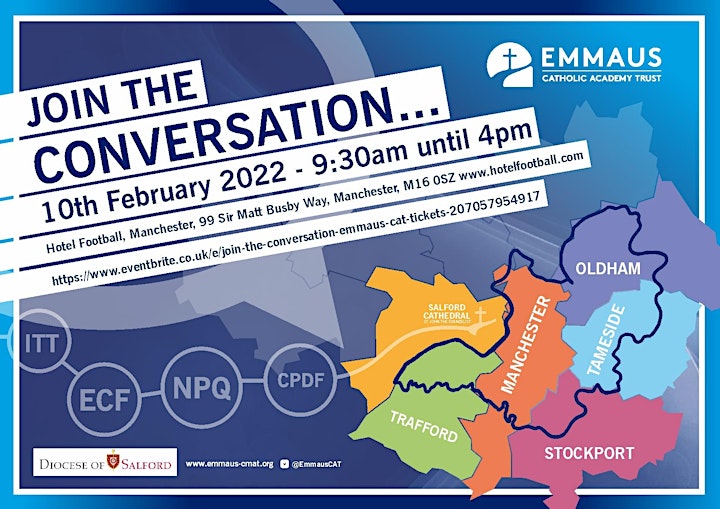 Join the conversation... Emmaus Catholic Academy Trust.
This exciting event is an opportunity for Heads and Chairs of Governors from schools across the Emmaus CAT footprint to help shape the future. The day will be introduced by The Right Reverend, John Arnold, Bishop of Salford and supported by Professor Mel Ainscow, Emeritus Professor of Education, Manchester University, Daniel Copley, Emmaus CAT CSEL, and members of the Emmaus CAT family of schools. We feel it is really important that school leaders and governors from across the footprint help to shape the future of the Emmaus CAT. What could the future look like? How can we ensure Catholic education remains a strength across the region? How can we connect and work better together, to ensure children and young people get the very best Catholic education and formation? How can we work together to ensure we have the strongest teachers and leaders to serve our schools? Are you ready for the journey? Join the conversation...
Further details will follow in January 2022.