Description
About Join the Dots
tsiMORAY's annual networking conference, Join the Dots, brings together community groups, voluntary organisations, social enterprises, charities and public agencies in the spirit of learning, collaboration and celebration. This year we have also invited private sector representatives and young people to join our conversations and explorations.
Maximising Moray's Potential
Adopting the Asset-Based Community Development (ABCD) approach, we will hear from ABCD practitioner and expert Chris Chinnock. Chris' work expands people's understanding of what assets are, starting with what is working and building from there; for example, the hidden asset of interrelationships between community members that build cohesion and resilience.
This year's event will support participants to look again at their communities and explore untapped assets that can be used to maximise Moray's potential.
A

new,

creative format
Encouraged by the success of the changes made to the format at last year's event, we're evolving the structure even more to enable participants to maximise their time.
Inspiring keynote speaker Chris Chinnock will launch us towards asset-based conversations. After uplifting case-studies from local funders, the afternoon will offer participants the flexibility to create their own event. Following a sit-down networking lunch, experts will be available in our creative and informative Help@Hand table discussions. This will include professionals from funding to youth engagement to community asset transfers (see below for a full list of our Help@Hand experts attending). Time will also be available to continue networking conversations and explore the Market-Place showcasing local and national organisations.
The day will be rounded off with a panel discussion with experts stimulating conversation and debate around funding, public-sector collaboration, private-sector engagement, young people and social enterprise. This creative format promises to be a real treat for participants…and all of this is offered FREE of charge!

The Market-Place is back

!
Due to popular demand, we are reinstating the Market-Place to enable local and national organisations to showcase their work. The Market-Place will be open throughout the day to enable participants time to explore. Space is limited so if you would like to request space in the Market-Place to promote your third-sector work please indicate this at registration.

Event

contributors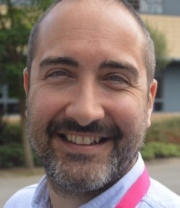 Keynote speaker

(via video-conference)

:

Chris

Chinnock

,

Head of Business Development

-

Nu

r

ture Development
A skilled and experienced community development practitioner, trainer, facilitator and public speaker, Chris is an enthusiastic advocate for Asset-Based Community Development (ABCD) and has recently joined the team at Nurture Development - one of eleven strategic partners of the ABCD Institute, and the lead partner in Europe. From the grass roots to the strategic, Chris has over 17 years' experience in social enterprise and community development across the Third, Public and Private Sectors.
Supporting the proliferation of inclusive, bottom up, community driven change, Chris and his colleagues aim to achieve this by supporting local communities and supportive mediating/civic organisations to create the conditions where any neighbourhood can identify, connect and mobilise its assets to the benefit of the whole community.


Panel contributors:
Andrew Dick – Group Commander Prevention and Protection, Scottish Fire and Rescue Service
Kerry Speed – Community Champion, Tesco
David Lamont - National Lottery Community Fund
Nathan Anderson – Advocate for young people, community volunteer, tsiMORAY trustee and a young person himself!
Help@Hand –

Experts available to facilitate table discussions
Funding – National Lottery Community Fund
Community asset transfers – Development Trust Association Scotland
Youth engagement – The Moray Council & Moray Youth Matters
Using digital - SCVO
Measuring social impact – Social Enterprise Academy
Socially enterprising organisations
Arts and culture
Engaging volunteers - tsiMORAY
Making the most of corporate social responsibility
Community participation requests – Scottish Community Development Centre


Programme
Registration
Welcome and introductions
Keynote Speaker (video-link): Chris Chinnock
Networking break
Table Discussions
Local funders asset-based approach
Networking sit-down lunch (food provided, special requirements catered for if requested in advance – please let us know through the online registration form).
Help@Hand – Experts available to facilitate table discussions
Panel discussion and debate (including Q&A)

Closing Remarks