Description
Please join us for a drink (or two) at the Exchange Bar (Old Hall Street, Liverpool) from 6.30pm, in a friendly and relaxed atmosphere. You can make some new friends, network and have fun at the same time. Venue to be decided.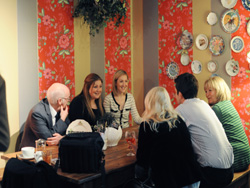 When you join JCI, you enjoy countless opportunities to learn and work with other like-minded and proactive people. So your social life will become richer – that' s pretty much inevitable! And when you're surrounded by people that want you to succeed, you will succeed.
Expanding your network is all about building relationships. JCI offers you the chance to do this by getting to know people locally, nationally and internationally in a relaxed environment. At every event you attend, you will make new contacts, pick up fresh ideas and come away inspired.