Description
Join us for our free event on Monday 20th May at Birmingham Hippodrome to find out more about local membership and community services that can help you to strengthen your own organisation and to build resilience. You can drop in and chat to us, and any of our following partners, any time between 10am and 2pm. Please just book your place so that we know you are coming!
If you are another organisation also interested in having a free space to talk to local people at this event, please contact us at hello@goodthingsfoundation.org and we will see if we can make this happen!

Brought together by Good Things Foundation, the Online Centres Network is made up of over 5,000 community organisations, all working to tackle digital and social exclusion by providing people with the skills and confidence they need to access digital technology. We offer a free and unique digital skills learning platform, Learn My Way, and we'll be giving live demos of this at the event. There will be a small number of team members on hand too to talk about the many benefits of becoming a member of the Network.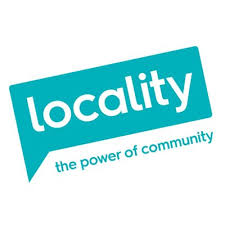 Locality is the national network supporting community organisations to be strong and successful. They believe in the power of community to build a fairer society. They aim to achieve this through peer learning and connection through the membership network; specialist advice and support; and campaigning to create a better operating environment for community organisations.

UK Men's Sheds are the support body for Men's Sheds - community spaces for men to connect, converse and create. The activities are often similar to those of garden sheds, but for groups of men to enjoy together. They help reduce loneliness and isolation, but most importantly, they're fun. Come and talk to the Shedders on the day to find out more about setting up a Shed, or how your local Shed might be able to support you.

Smartlyte is a member of the Online Centres Network and a creative training delivery partner providing innovative solutions for all sectors throughout the UK, Europe and beyond, with the ability and capacity to engage with schools, education providers and parents. As 'The Voice For All Communities' they're experienced in engaging with hard to reach communities and non-English speakers. Through effective partnership working, we connect with isolated individuals and enhance their social mobility by making them more financially and digitally included. Their vision is to raise the ambitions and aspirations of entire generations of families and they are succeeding - one inspirational step at a times.
The National Trust has been committed to preserving heritage sites and open spaces across England, Wales and Northern Ireland since 1895. In that time they've helped protect over 500 sites and almost 1 million pieces of art. Alongside this, they've used their reach to run social inclusion programmes, one of which is the Green Academies Project. This encourages young people in Birmingham, South London, Greater Manchester, Newcastle and Wrexham to understand what the environment around them faces and how they can play a role in preserving nature for future generations. Come along and talk to them on the day about their projects.

St John Ambulance are currently looking to encourage people in the community to gain basic first aid skills, helping people to save lives as well as building resilience and neighbourliness across the communities in Birmingham. This could be anyone who is recently retired right to the over 70's and can include the wider community.
They provide free of charge workshops based on the Five Ways to Save A Life and how to be a Community Champion (encouraging others to learn and share their knowledge too.) All they ask in return is that people share what they learn in the sessions friends, family and others in the community.