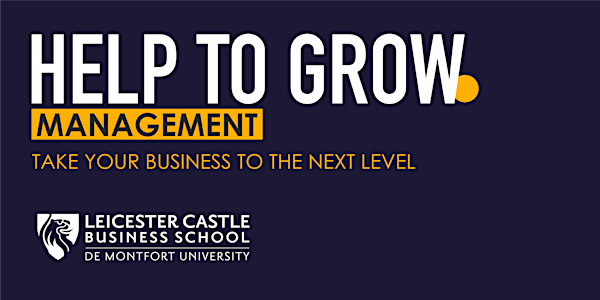 Joining the Help to Grow Programme - Is it for you?
Find out more about the Help to Grow Management Programme and how it can help you and your business grow at our information sessions.
About this event
Take your business to the next level with Leicester Castle Business School
Are you a member of the senior management team or are a strategic decision-maker at a small or medium-sized business?
If you're looking to take your leadership skills and business to the next level, you can join other business leaders at Leicester Castle Business School (LCBS) at De Montfort University Leicester (DMU).
Places are available now on the new, Government-subsidised Help to Grow: Management programme. The scheme, which is 90% funded by the UK government, is aimed at supporting businesses to scale up as the country recovers from the pandemic.
Accredited by the Small Business Charter, LCBS is offering this 12-week practical programme, which covers all aspects of management, including finance and strategies for growth and innovation, for £750.