About this Event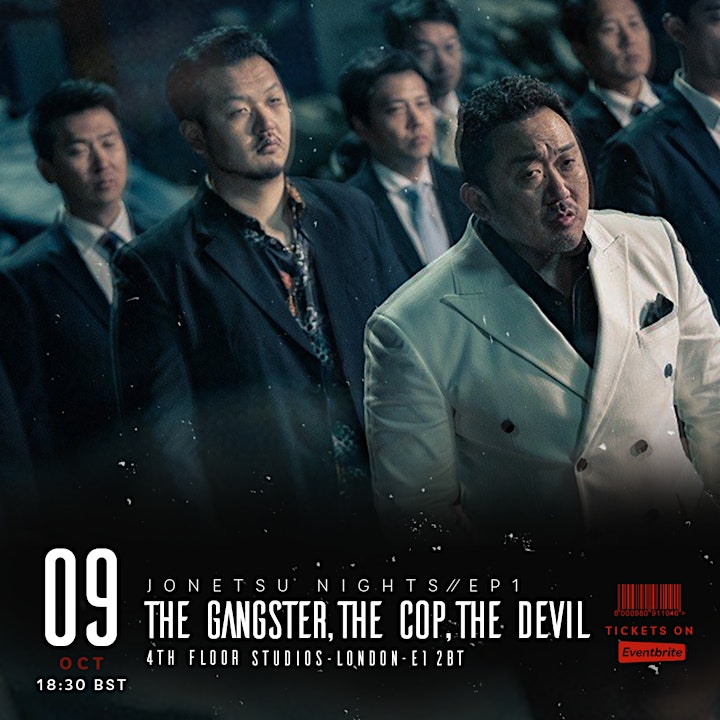 Jonetsu Nights is a movie club dedicated to bringing people together to celebrate the best of East Asian Cinema, whilst providing authentic East Asian food, snacks and a space for networking (though due to COVID_19 guidlines this will be limited). We will be showcasing the award winning 'The Gangster, The Cop, The Devil' at our first event.
Doors open at 18:30, but the movie will not be screening until 19:30 prompt. Please aim to arrive by 19:00. This will give you more than enough opportunity to grab your food and snacks, settle down into your seats, etc.
We are limiting tickets, to ensure we are abiding by the government's COVID-19 guidelines, and we will be taking appropriate measures to keep everyone safe.
FAQ's
WHAT'S INCLUDED IN THE TICKET
Included in the ticket is entry to the screening/event, a hot meal, and an abundance of snacks. Drinks must be bought at the bar.
WHAT FOOD OPTIONS ARE THERE?
As we are watching a Korean movie, we will be serving Korean food. There will also be cinema snacks available. Both are included in the price of the ticket. Unfortunately, due to COVID-19 guidelines, we are not able to have open air service. However, ticket-holders will get packaged food dishes.
The meat option will be a Beef and Chicken Cupbap, which is a rice dish topped with beef and chicken, cheese, egg, Japchae sweet potato noodles & Korean curry.
The vegetarian option will be a Tofu Kimchi Bibimbap bowl, which is a rice dish topped with seasoned vegetables, fried kimchi, tofu, gochujang sauce and egg.
CAN I BRING EXTERNAL FOOD/DRINKS/ALCOHOL?
No external food, drinks or alcohol will be allowed on the premises. All ticket holders get hot food and snacks with their ticket, and drinks can be bought at the bar.
WHEN SHOULD I ARRIVE?
Please arrive anytime between 18:30 and 19:00. This will ensure that everyone is not arriving at the same time, and will also give you enough time to eat before the movie begins. We will start the movie at 19:30 prompt.
CAN I BUY TICKETS AT THE DOOR?
Tickets must be bought online. We will not be selling any tickets at the event.
WHAT IF THERE IS A SECOND LOCKDOWN? WILL I GET A REFUND?
In the event of a second lockdown which prohibits us from continuing on with our event, all ticket holders will be offered a full refund or the opportunity to use their ticket at our postponed event (depending on their preference).
HOW WILL YOU KEEP YOUR ATTENDEES SAFE?
Our COVID-19 guidlines policy can be seen in the image below. We will be ensuring we follow the reccomended guidliness given by the government, which includes social distancing. We also ask that if you are showing any COVID-19 symptoms close to the date of the event, you stay at home (you will be able to obtain a refund).
WHAT HAPPENS AFTER THE MOVIE?
The venue will be open after the movie till 22:00. There will be a snooker table, table football, and more, so there is no need for you to rush off! However, we will still require appropriate social distancing measures. Think of the measures you would take in a pub/bar.