For BFI's Japan 2021, we will be screening the award-winning Japanese film ,13 Assassins. Let's have fun.
About this event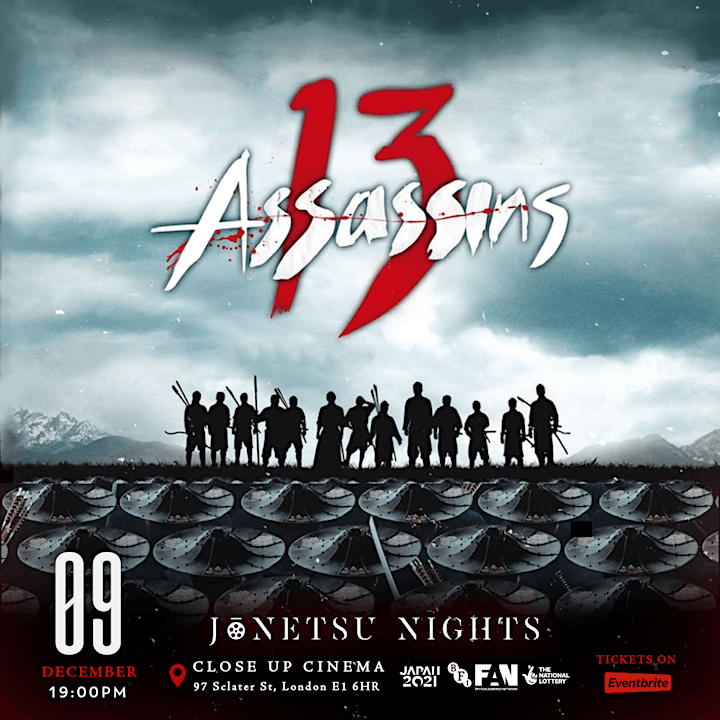 Jonetsu Nights is a pop up cinema and film club dedicated to bringing people together to celebrate the best of East Asian Cinema, whilst providing East Asian food, snacks and a space for networking.
We will be showcasing the award winning '13 Assassins'. This screens as part of Japan 2021: Over 100 years of Japanese Cinema, a UK-wide film season supported by National Lottery and BFI Film Audience Network. bfijapan.co.uk
Ticket-holders should arrive between 18:20 and 19:00. This will ensure you're well fed and stocked up on snacks before the film begins at 19:15.
FAQ's
WHAT'S INCLUDED IN THE TICKET
Included in the ticket is entry to the screening/event, a Japanese meal box, and some snacks. Drinks can be bought at the bar.
CAN I BRING EXTERNAL FOOD/DRINKS/ALCOHOL?
We're not too strict on bringing in external food (as long as it's not hot), but given that we are serving the best Japanese cuisine and an abundance of snacks, we think we've got you covered.
All alcoholic drinks must be bought at the bar.
WHEN SHOULD I ARRIVE?
Please arrive anytime between 18:20 and 19:00. This will give you enough time to eat, get your snacks and drinks and chat to people before the movie begins. We will start the movie at 19:15 prompt.
CAN I BUY TICKETS AT THE DOOR?
Tickets must be bought online. We will not be able to take cash at the event.
WHAT IF THERE IS ANOTHER LOCKDOWN? WILL I GET A REFUND?
In the very unlikely event of another lockdown which prohibits us from continuing on with our event, all ticket holders will be offered a full refund or the opportunity to use their ticket at our postponed event (depending on their preference).
WHAT HAPPENS AFTER THE MOVIE?
The bar will remain open after the movie. We would encourage you to not rush off, but to chat to someone about the movie and maybe make a new friend. It's a movie club :).
PROMOTIONAL PHOTOGRAPHY/VIDEOGRAPHY
We would also like to note that photography and videography will be taking place on the night for promotional purposes. If you really would not like to appear in any of that, please do let us know and we'll try our best to accommodate that.