Journal Review Interactions: Studies in Communication & Culture. Volume 9...
Description
Journal Review: Interactions: Studies in Communication & Culture. Volume 9 Number 1 'Reggae Studies In A Global Context' (Intellect)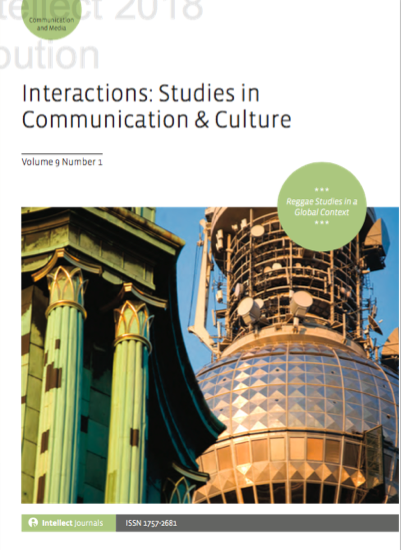 Journal Review
Interactions: Studies in Communication & Culture. Volume 9 Number 1 'Reggae Studies In A Global Context' (Intellect)
This is an academic journal, which for this particular edition is focused solely on the subject of reggae. The rush to make sure that this edition is included in the reggae special communications means one hasn't had ample time to read the whole publication in leisure. But for those who particularly have an academic interest in reggae, there's enough here to provide an indication of what to expect.
One of its editors is the reggae professor Carolyn Cooper. However, it's not all about Jamaica, reggae's birth place. The essays take an inter-disciplinary and trans-global approach in its coverage.
Our own Dr Michael McMillan covers the role of sound systems, which is beginning to attract academic interest in the UK, especially with recent conferences at University Of Westminster and Goldsmiths, University Of London. Indeed study of sound systems is not just about equipment and sound, but crucially the fashions and visuals that accompany the dances and physical manifestations such a photos are integral to what for some is a lifestyle or movement.
This lifestyle is led essentially by Jamaicans transplanted in Britain, who wish to replicate a lifestyle that happens back home. But reggae has moved out of its African-Caribbean roots and developed in a multiplicity of ways. From being adopted in its various forms in Mexico, to fusing with a local musical style in Mauritius to form a localised popular sub-genre known as seggae.
Shortly after beginning to write the review, I did not find I had much time to do so, hence I've opted to reproduce abstracts of the essays that were particularly of interest to me.
'Rockers, Soulheads And Lovers: Sound Systems Back In Da Day' by Michael McMillan: "This article explores the emergence of sound system culture in Britain, from post-war Caribbean migration to the early 1980s, in terms of House and Blues parties, clubs and dancehalls, bass culture, dance-floor corporeality, and raver's sartorial aesthetics and interventions, with reference to oral history interviews with sound system pioneers, practitioners and ravers from my installation-based exhibition, Rockers, Soulheads & Lovers: Sound Systems Back in Da Day (New Art Exchange, Nottingham and 198 Contemporary Arts & Learning, London 2015–16)."
'Documenting London's Bass Culture And Blues Dances: Reggae In The Films Of Horace Ové And Franco Rosso' by Kate Bolgar Smith: "This article provides an analysis of two black British feature films – Horace Ové's 1975 film, Pressure and Franco Rosso's 1980 film, Babylon – and integrates the films into a wider discussion of life in Britain during the 1970s–80s. Drawing on the musical and cultural theories of Paul Gilroy and on the poet Linton Kwesi Johnson's concept of 'bass culture', the author argues that reggae creates what Clare Corbould calls an 'aural community' that is simultaneously local and transnational. The reggae soundtracks layer Britain's black history into the built space of London, insisting that the films' audiences hear the ongoing reverberations of the British histories of slavery and colonialism."
'A Spin To Spark Creativity: The Role Of Early Jamaican Popular Music Recordings In Los Angeles' Traditional Ska Scene'* by Nina Cole:
"In the late 1980s, a revival movement dedicated to 1960s Jamaican popular music began taking shape in Los Angeles, CA. Hepcat and Jump With Joey were two bands at the forefront of this movement, playing their own interpretations of Jamaican ska, rocksteady and reggae, interlaced with genealogically related influences. Using oral history interviews I conducted with band members, I analyse the role of recorded media in shaping Angeleno adaptations of 1960s Jamaican popular music. In doing so, I highlight how audio recordings help stimulate crosscultural and inter-generational communication and explore the complexities of music revival subcultures and generic classifications."
*Reading this, I was reminded of an anecdote offered by Mykaell Riley, who says that the US third wave ska acts such as No Doubt used to think began with the second wave that sprung up in Britain in the mid-1970s/1980s with acts such as Madness!
'Levels Of Locality And Recent Expressions Of Reggae In Mexico' by Christian Eugenio Lopez-Negrete:
"This article discusses various issues surrounding the presence of Jamaican popular music in Mexico and focuses on issues of great importance as the arrival, development, adoption and adaptation of these musical practices that arise in specific times or time periods; in different levels of locality that are related to each other, at the same time related to the global; and that they express themselves by reinterpreting these genres in their own ways. Each period has characteristics that distinguish it and at the same time coexist today in a same musical scene that involves several smaller scenes, as much regional as stylistic, in which continue to arise new expressions of reggae in Mexico."
'Sonic Landscape Of Seggae: Mauritian Sega Rhythm Meets Jamaican Roots Reggae' by Gitanjali Pyndiah:
"Seggae is a music genre that developed on mainland Mauritius. It stems from Mauritian sega, which is a polymorphous practice of dance, music, rhythms, story-telling, and song in the Creole language, developed by enslaved Africans under French colonialism. In the 1980s, various sega artists (and Kaya especially, who was hailed as the father of seggae), developed a commitment to the new music genre from the influence of Jamaican Bob Marley's roots reggae and the Rastafari philosophy. The sonic landscape and politics of seggae will be discussed through the framework of indigenization and epistemologies of resistance against the residual coloniality of power in Mauritius."
Click here for more details or to purchase.
"Review" by Kwaku (BBM editor)