Event Information
Refund Policy
Contact the organiser to request a refund.
Eventbrite's fee is nonrefundable.
Journaling is one of the most valuable tools, this workshop will teach you how to journal to support your personal and emotional growth.
About this Event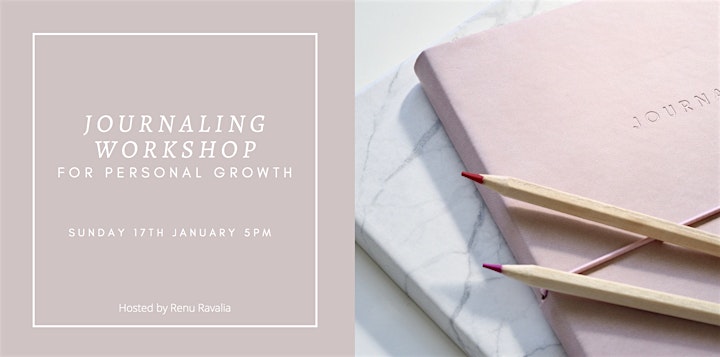 Journaling Workshop for Personal Growth - learn everything you'll need to start your journaling journey to delve deeper and gain a better understanding of yourself.
'Think of it as a tool that will sit in your back pocket forever'
Some of you might be able to remember having a journal as a child, others might have never tried writing down your thoughts and feelings but whatever your situation, journaling has real health benefits including reducing stress, solving personal problems and understanding your reasoning behind your behaviours.
Perhaps you have always wanted to journal but the thought overwhelms you beacuse you have no idea where to start or if you are doing it right, this is completely normal and although there is no right or wrong way, this is exactly why this workshop has been created.
I have been journaling since 2012, something I took up after a traumatic period in my life. Over the years, I have used lots of different techniques and since committing to it as a daily practice in the last 2 years, I have been able to understand more about myself which has allowed me to manage situations and relationships better.
Having delivered this workshop to women in my private members club and seeing its benefit, I wanted to share it with a wider audience, helping both men and women who are passionate about making changes in their personal lives.
This live workshop will help you to:
- Understand why journaling is so important and why it is a MUST-DO module for growth
- Teach you how to make the most of journaling on a daily basis
- Give you a variety of techniques to use so you can find one that best suits you
- Outline some important facts about journaling and it's implications
- Take steps to proactively help you take action and start journaling instantly
* EXTRA BONUS On the day, there will also be some LIVE coaching - a volunteer will be picked to take part and will be guided through some questions to demonstrate the process
FREE Bonus Resources sent our after the workshop:
1. Pre Journaling Guided Meditation
Everyone will receive a copy of a guided meditation that can be used daily to aid the journaling.
This meditation will:
- Help you connect with yourself at a deeper level
- Clear your mind for a more creative and clear journaling session
2. Question Prompts Sheet
Use these questions to prompt your answers whether you choose to journal in the morning or in the evening.
NB. The Zoom link to the call will be sent out the day before the event.
Is This For Me ?
This is for you if you want to get to know yourself better and build a happier relationship with yourself
This is for you if you want to explore more of your unexplained thoughts, emotions, behaviours and feelings
This is for you if you love growing and developing yourself
This is for you if you want a tool to help you improve your reaction to situations, triggers and relationships
This is for you if you find it hard to express yourself
This is for you if you want to raise your awareness of who you really are become more connected to your deeper self
I can't wait to take you through this exciting journey of growth! To learn more about me: Follow me on Instagram here. Head to my website here.
Renu xxx
Date and Time
Location
Refund Policy
Contact the organiser to request a refund.
Eventbrite's fee is nonrefundable.