Description
"Rave Culture Meets Last Night of the Proms!" The Herald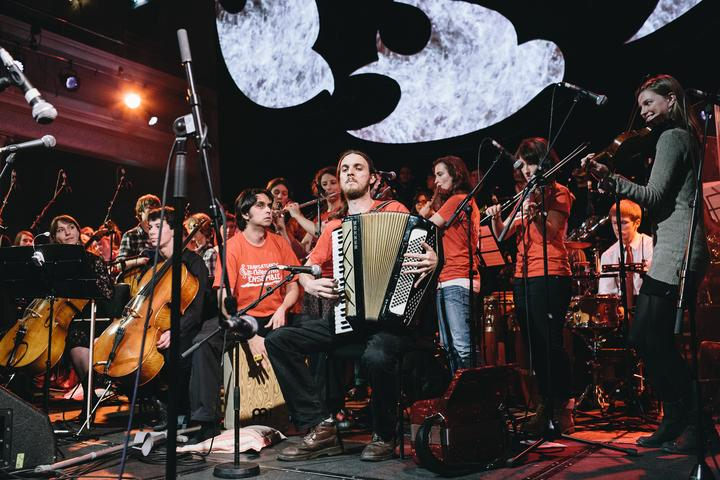 Join us for an amazing journey through African rhythms, Chilean melodies, contemporary Chinese folk and Balkan beats!
The 30 piece Journey of a Thousand Wings Orchestra fuses traditional and modern-day music from different countries, writing & performing original compositions, collaborating with award-winning international bands, and creating a multicultural orchestra unlike any you have heard before!
Featuring the following bands and acts who will collaborate together on the night:
Dawanggang - A completely unique sound from China, Dawanggang recently came 6th in World Music Charts Europe and won the prestigious German Music Critics Award 2012.
Tinderbox Orchestra - "An Orchestral Revolution" (Evening News), the Tinderbox Orchestra takes an orchestra out of its classical shell and explores alternative styles and original music. **** The Guardain, **** The List, **** The Scotsman
Transatlantic Chilean Folk Ensemble - "A vibrant demonstration of how to keep traditional rhythms and instrumentation sounding fresh" Rob Adams, the Herald Scotland
Balkans Music Camps - World renowned composer, Prof. Nigel Osborne's, long running programme in the Balkans working with musicians and young people in Croatia and Bosnia.
Read more about the bands here: www.joatw.org/bands-projects/, www.tinderboxorchestra.org
Supporting Act: Three Dakini Are Discussing
Members of Chinese folk-rock band Dawanggang and the Tinderbox Orchestra will be performing songs from Song Yuzhe's new contemporary opera 'Three Dakini are Discussing'. This is a unique style of music not to be missed!
£12 on the door, only £10 or £8 in advance!
Organiser of Journey of a Thousand Wings 2014
The Tinderbox Project provides inspiring education and opportunities for young people in the contemporary arts. The Tinderbox Project is a registered charity no: SC042825