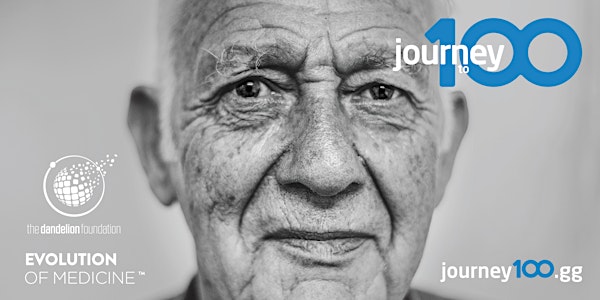 Journey to 100. A conference dedicated to living a long and healthy life.
Event Information
Location
Les Cotils
L'Hyvreuse
GY1 1UU
Guernsey
Description
Be part of the Journey to 100.
Journey to 100 is a world-exclusive conference that will explore ideas for a new and sustainable approach to lifelong health. The day will also kick start a 10-year project that aims to make Guernsey the first community in the world to break through the 100-year life expectancy barrier.
From Zero to 100 Years Old and Beyond
Co-curated by the Dandelion Foundation and James Maskell, founder of Evolution of Medicine, and hosted by Dr Rangan Chatterjee, the BBC's Doctor in the House, Journey to 100 will host 20 leading global health, lifestyle and longevity experts, who will share their stories and help us to understand how we can live healthier, happier lives, from zero to 100 years old and beyond.
Diet, Lifestyle and Purpose in Life
Join an international audience to learn why many health professionals and community leaders believe that healthy and happy ageing is not simply about medical advancements, but about our lifestyle, our diet and ultimately finding and enjoying our purpose in life.
The rising cost of healthcare and ageing is a global issue, with our present systems slow or struggling to take advantage of breakthroughs in research or age-old wisdom. Many health practitioners feel that there is a declining return on investment for Western medical interventions and are turning their attention back to more traditional themes, such as our place in the community and our role in the wider world.
Life Expectancy of 100
Guernsey has the potential to show the world how factors such as community, purpose in life, preventative healthcare and a proactive approach to wellbeing could make it the first country to have an average life expectancy of 100.
BBC's Dr Rangan Chatterjee
Media medic and presenter of BBC's Doctor in the House, Dr Rangan Chatterjee will host the conference programme, welcoming leading experts from a diverse spectrum of health, nutrition and wellness disciplines to the stage. Topics ranging from functional medicine to the importance of community will be presented via focused talks and panel discussions. The event will be live-streamed to a global audience, creating a platform for the island to be at the forefront of an international movement.
The line-up of over 20 international speakers includes:
Dr Joel Kahn, a holistic cardiologist, longevity expert, lecturer and plant-based nutrition advocate.
Chandra McGowan, Chief Executive of the Whiteley Village, an elderly housing community which has the vision to be one of the best places to age in Britain.
Dr William Bird MBE, CEO and Founder of Intelligent Health, an organisation which makes physical activity a way of life.
Dr Michael Ash, a lecturer, researcher, osteopath, naturopath and nutritional therapist with over 30 years' experience.
Sachin Patel, who founded the Living Proof Institute as a platform to showcase the benefits of functional medicine combined with community structures and lifestyle interventions. His philosophy is that 'The doctor of the future is the patient'.
Pam Warhurst CBE, a British community leader, activist and environmental worker best known for founding the voluntary gardening initiative Incredible Edible in Todmorden, West Yorkshire.
Tom Blue, a veteran and pioneer in the field of direct primary care and 'concierge medicine'. Tom currently advises organisations on healthcare transformation through lifestyle medicine, employer-sponsored clinics, digital health technologies and advanced diagnostics.
For the full line-up of speakers and more event information can be found here.
Fresh healthy food and refreshments will be served throughout the day, and are included in the ticket price.
The event will also see the launch of '10 Principles of Health Creation', a thesis that has been crowdsourced from various communities around the world who are passionate about lifelong healthcare. It is hoped that this document will form the basis of new policy frameworks as other countries and organisations join the Journey to 100.
Start your journey to lifelong health. Book now.


Date and time
Location
Les Cotils
L'Hyvreuse
GY1 1UU
Guernsey