About this event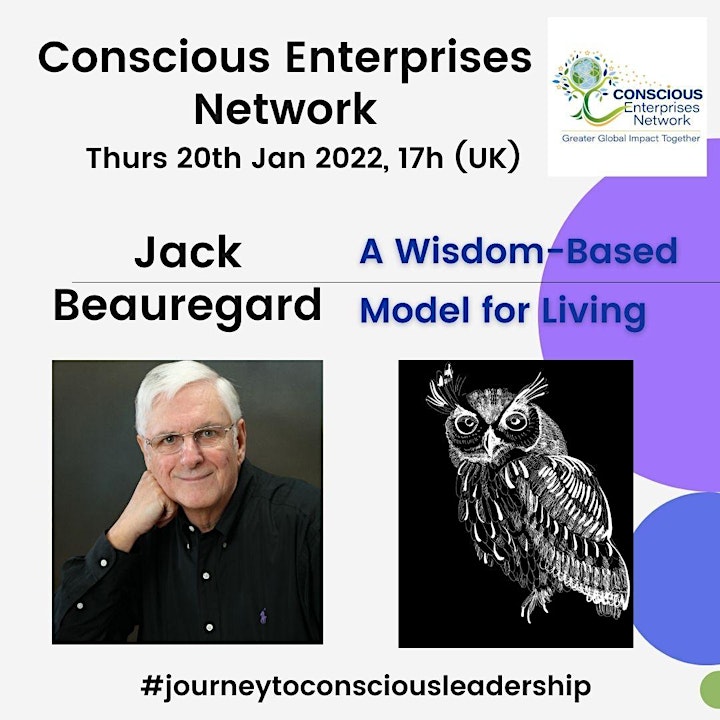 Conscious Enterprises Network (CEN) presents "Journey to Conscious Leadership": A Wisdom-Based Model for Living and Doing Business: 7 Principles of the Balanced Paradigm
After 42 years of working on the meaning of wisdom, Jack Beauregard has grown his spiritual understanding of life and is connected to the meaning of self-transcendence. These deep insights have allowed him to develop and work on a new model, the 7 principles of the Balanced Business Paradigm (BBP), that can be applied to personal and societal spheres.
Jack's approach is based on his individual transformational experiences, academic research, and wide business background in the US. He has been dedicating his life work to creating a company, The Widom Company, that has been creating certified training and mental freedom to elevate many.
On his journey, Jack's ultimate purpose is to ensure and support others to achieve inner harmony to individuals that have been seeking meaning after reaching material success. His 7 principles have become a model to various customers that have transformed life gains, changed their organisation paradigms and created awareness about the importance of personal legacy.
Jack Beauregard's life research into Wisdom is the culmination of inner reflection and collaboration in business by supporting many organisations, which have been going through many internal complex transformations. Currently, his methodology contributes to a higher model for living and contribution within society.
The following areas will be presented and discussed:
• Four dimensions of applied wisdom • Causes of the current business paradigm shift
• Nature of the new stakeholder capitalism
• 7 principles that have a 17-year history of transformation
• The emergence of a new balanced model for doing business • Nature of transitions
• Wisdom-based certification program
As a webinar attendee, you will be eligible to attend a free online program that teaches you how to enhance your ability to make robust wise decisions.
CEN provides a unique and impactful community environment to conscious leaders and others searching for a new meaningful paradigm. We endeavour to assist leaders in fulfilling their conscious undertakings that positively enhance present societal structures based on the values of care and education. Serve as a beacon for those who strive to develop more than just lucrative businesses. Enthuse them to aim higher for the benefit of their employees, consumers, and society. Also, CEN aims to educate further conscious leaders to become significant and resilient decision-makers who live by example, bound by passion and high ethical standards, to produce a substantial and positive ripple effect in communities worldwide.