Participate in an event where conscious minds meet and benefit from networking
About this event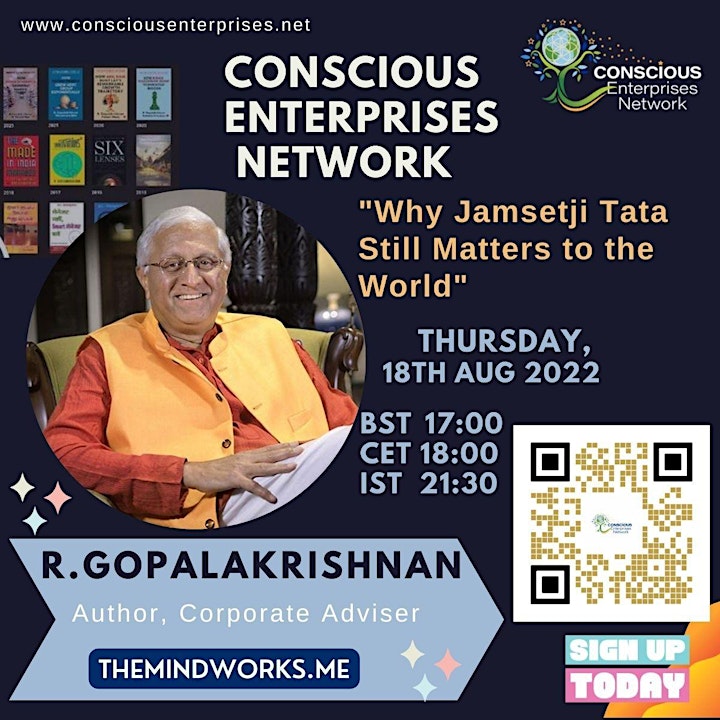 Conscious Enterprises Network (CEN) webinar "Journey to Conscious Leadership" introduces Mr R Gopalakrishnan who will speak on Why Jansetji Tata still matters to the world.
Many of us wonder if we have Conscious Business Leaders in our midst. Is it possible to create and run successful businesses which could be called conscious? If so, how can a Conscious Business Leader ensure that the rich values left behind as his legacy become the DNA of the enterprise he created?
The example of the Indian conglomerate - the Tata Group - founded by Jamsetji Nusserwanji Tata (1839-1904) no less than 154 years back - stands out in this context.
And who could be more qualified than Mr R Gopalakrishnan to present Jamsetji Tata in a nutshell?
Mr R Gopalakrishnan has been a professional manager since 1967. Besides having served as a Director of Tata Sons and many other Tata companies. He had earlier been Chairman of Unilever Arabia, Managing Director of Brooke Bond Lipton, and Vice Chairman of Hindustan Unilever. In addition, he serves as an Independent Director and Non-executive Chairman of Castrol India, besides being an Independent Director of the Press Trust of India.
Mr Gopalakrishnan's career is a fine example of how professionals experience their inner journey of consciousness when associated with corporates like Unilever and Tata, which place a high premium on ethics and values in business. He has evolved into a powerhouse of ideas. Gopalakrishnan seems to have embraced the Tata credo of "Humata" (Good Thoughts), "Hukhta" (Good Words) and "Hvarshta" (Good Deeds).
Mr Gopalakrishnan is a much sought-after instructional and inspirational speaker. He mentors start-ups, advises businesses and teaches youngsters at prestigious business schools. In addition, he is a prolific author, having published as many as seventeen books.
CEN provides a unique and impactful community environment to conscious leaders and others searching for a new meaningful paradigm. We endeavour to assist leaders in fulfilling their conscious undertakings that positively enhance present societal structures based on the values of care and education. Serve as a beacon for those who strive to develop more than just lucrative businesses. Enthuse them to aim higher for the benefit of their employees, consumers, and society. Also, CEN aims to educate further conscious leaders to become significant and resilient decision-makers who live by example, bound by passion and high ethical standards, to produce a substantial and positive ripple effect in communities worldwide.