Join us for an inspirational session with Word on the Curb co-founders Hayel Wartemberg and Ndubusi Uchea.
About this event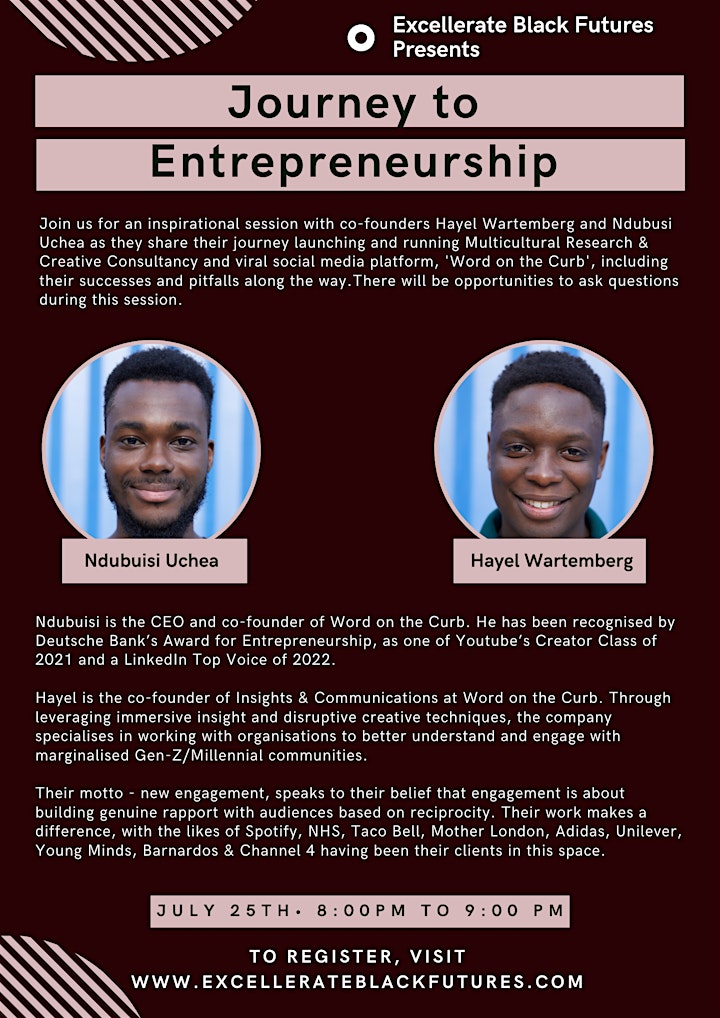 Excellerate Black Futures is pleased to invite you to our Inspirational session with co-founders Hayel Wartemberg and Ndubusi Uchea as they share their journey on launching and running Word on the Curb, including their successes and pitfalls along the way.
This session is designed to be informative, leaving you feeling inspired to take bold steps in your aspirations. There will be opportunities for Q&A, and joining details will be emailed upon registration.
About Hayel Wartemberg
Co-founder of the insights & Communications Consultancy 'Word on the Curb', Hayel Wartemberg specialises in engagement with minority Gen-Z and Millennial audiences. Contextualising the increasingly globalised world shaped by multiculturalism, 'Word on the Curb' communicates authentically with representative and minority audiences.
Their motto, new engagement, speaks to our belief that engagement is about building genuine rapport with audiences based on reciprocity. Therefore, his work strives to make a difference. So far, clients such as Spotify, NHS, Taco Bell, Mother London, Adidas, Unilever, Young Minds, Barnardos & Channel 4 have been clients of theirs in this space.
About Ndubuisi Uchea
Ndubuisi is the CEO and co-founder of DEI insight and communications consultancy, Word on the Curb. Through leveraging immersive insight and disruptive creative techniques, the company specialises in working with organisations (such as NHS, adidas and Spotify) to better understand and engage with marginalised Gen-Z/Millennial communities.
Ndu co-founded the organisation with business partner and friend, Hayel, when the two were studying at the University of Manchester and has since been recognised by Deutsche Bank's Award for Entrepreneurship, as one of Youtube's Creator Class of 2021 and a LinkedIn Top Voice of 2022.
About Excellerate Black Futures
At Excellerate Black Futures, we are passionate about helping black talent to succeed. With several years of joint experience in HR and professional backgrounds including Talent Acquisition, Learning, Leadership and Talent, we educate young professionals, entrepreneurs, students and graduates, helping them to excel and accelerate their careers through our six week talent programme and our monthly events. Click here for more information and to join our online family where you'll be the first to hear about upcoming events and opportunities.