Description
We invite you to join us for our open forum for the chance to learn more about Journey to Justice and to contribute your ideas to the legacy of Journey to Justice Islington project within the borough.
The content of the afternoon's meeting will be:-
Introduction to Journey to Justice - learn more about the work, vision & aims of the charity from Carrie Supple, Director
Radical, Revolutionary & Rebellious Islington - hear about some of the key struggles from Islington's rich history of social justice movements. Presentation by Oonagh Gaye & Susan Hahn from Islington Guided Walks with input from Roz Currie, Curator at Islington Museum
28 Penton Street - Centre of Memory & Learning - learn more about the history of this building, the former ANC London Headquarters and the opportunity to shape its future use. Presentation by historian & activist,

Christabel Gurney & Caroline Kamana (Liliesleaf Trust UK)



a) an overview of the African National Congress (ANC) and the Anti-Apartheid Movement (AAM) in Islington

b) Plans for Centre of Memory & Learning using Layers of London* including a short tutorial/workshop led by Amy Todd

followed by
Community Discussion, Q&A plus Networking -
Within the borough of Islington, what are the current social justice and human rights issues that residents and workers face? What is being done at present? Which organisations, collectives and community groups exist in Islington that are working to ensure our civil and human rights are safe? What more can be done?
How can we continue to build upon the work of Journey to Justice Islington? What actions shall we take?

We look forward to seeing you there!

This free event is part of Journey to Justice Islington - an exhibition and events programme focussing on the people who fought for civil rights & equality in the U.S. and here.
For more information on Journey to Justice Islington , please visit: www.resourceforlondon.org/events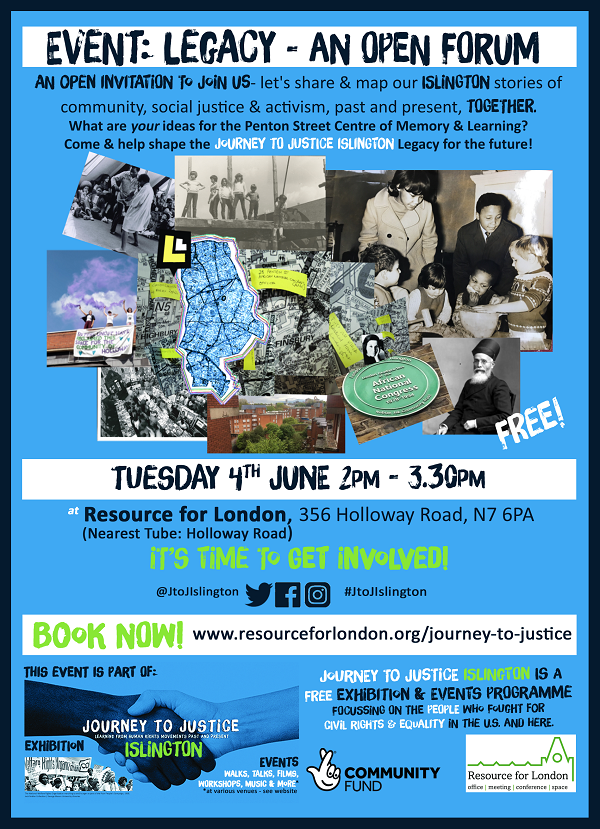 *Layers of London is a map-based history website where users can contribute stories, memories and histories to create a social history resource for their area, allowing the public to interact with and contribute to the many different 'layers' of London's history. The layers will include historic maps, old pictures of buildings, films, recordings and stories about people who have lived and worked in London over the centuries - added to the map by Londoners themselves. Layers of London is a project funded by the Heritage Lottery Fund and based at the University of London's Institute of Historical Research.