Journey@Home with Marion Young Friday 1st July & Saturday 2nd July 2016 both days 9 am - 7 pm

Friday, 1 July 2016 at 09:00

-

Saturday, 2 July 2016 at 19:00 (BST)
Event Details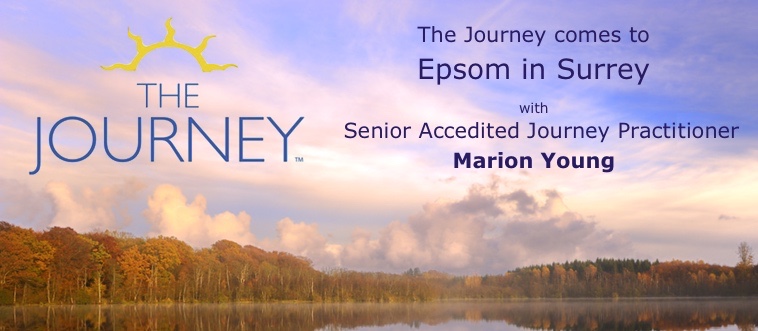 The 2 day Journey@Home event offers a way of experiencing Journey work in your local community with experienced Senior Journey Practitioners. Pioneered by mind-body-healing expert and bestselling author Brandon Bays. Brandon healed herself from a basket - sized tumour though clearing emotional blocks and restoring her body's natural ability to heal. 
Every year, thousands of people of all ages and backgrounds attend Journey Intensive workshops. Some seek physical, mental or spiritual healing. Some desire deeper relationships with their loved ones. Some want better careers or more fulfillment in their lives. Many simply wish to reconnect with their true selves.
Research has shown that 85% of all illness is emotionally based (American Center for Disease Control). Knowing this, now is the right time to clear any emotional blocks so that your body's natural healing ability is restored and can work at the highest level!


At the 2 day Journey@Home event you will
Embark on a journey into the very nature of your soul, where you will bathe in the vast, boundless presence of love at the core of your being.


Uncover old cell memories and limiting patterns, resolving and forgiving old issues so that your body is free to access its own healing potential.


Penetrate and clear stubborn emotional blocks that have, perhaps unknowingly, held you back for years.


Master practical, easy-to-use tools and experience joy and freedom in your life everyday.


Find profound emotional and spiritual clarity and liberate your infinite potential.



Learn the latest Journey techniques as well as experiencing meditations, guided introspections and additional mini-process work.

The Programme

Day 1 is the Emotional Journey Process, where you'll awaken to your true essence, your boundless potential, release repressed, unhealthy emotions, and open into a boundless love of emotional freedom and peace.
Day 2 is the Physical Journey Process, where you'll uncover and clear old cell memories to facilitate powerful, incremental and spontaneous physical healing.
We will aim to finish on both days by approximately 7.30 pm.


Your Presenter

Marion Young is a senior accredited Journey Practitioner with 17 years experience of facilitating Journey process work. Marion has taken thousands of people through the Journey Process in her private practice at Harley Street and Surrey as well as presented last years first Journey@home event in Surrey. Having attended the year long  Journey Practitioner Programme with Brandon Bays in 1999, Marion knew that this was the work that she was born to do. Marion is also an experienced group facilitator and runs residential retreats, one year mentoring programmes and the monthly Friday Morning spiritual development group. 


The Venue

The venue is St Michael's Sanctuary in Ewell Viilage in Surrey. With its own deep presence of stillness, it is the perfect place to offer a Journey@Home event. With space for 20 participants and a team of 8 experienced trainers, led by Gillian Lenane, Senior Journey Practitioner, you will be able to relax deeply into this work and experience the profound benefits for yourself. 
Bookings
Bookings can be made directly with Marion if you prefer to pay by bank transfer, please email or call 07949 095 107
' I have been to several workshops held by Marion and each time, I find myself in a sacred place filled with love, understanding and truth. Marion has an inate ability to gracefully guide you and the perfect facilitation sklills to create the right energy at her workshops. After her events, I leave feeling fulfilled, cleansed and looking forward to the next one' 
Shalini Bullock Halliwell   
'The Journey at Home' event was facilitated by Marion and assisted by a dedicated and comapssionate team of people. The venue itself was lovely, an oasis of tranquility amid a bustling world, i could feel a real sense of calm as soon as I set foot into the place. Marion has the capacity to express deep care and undersatnding, even when addressing an audience. Each part of the event seem to matter to her in equal measure and she knew exactly when to linger on a point and when to move on. at the end I found myself reluctant to leave, which speaks volumes.
Gill Puzey  
' 
Do you have questions about Journey@Home with Marion Young Friday 1st July & Saturday 2nd July 2016 both days 9 am - 7 pm?
Contact Marion Young
When & Where

St Michael's Sanctuary
4a Church Street
KT17 2AS Ewell Village
United Kingdom


Friday, 1 July 2016 at 09:00

-

Saturday, 2 July 2016 at 19:00 (BST)
Add to my calendar
Organiser
Marion Young
Marion has facilitated thousands of Journey Processes throughout her 17 years in private practice with this wonderful work. Attending her first Journey Intensive in April 1999 and training as a practitioner was life changing. The teachings of the Journey have suffused every aspect of her life and she is thrilled to be able to share these profound tools with her local community.
St Michael's Sanctuary is the home of the Friday Morning Group, started by Marion 17 years ago, as well as many other of Marion's events and workshops. It has a beautiful deep presence of stillness and is the perfect venue for meditation and Journey process work.
Journey@Home with Marion Young Friday 1st July & Saturday 2nd July 2016 both days 9 am - 7 pm