Event Information
Location
Victoria Hall Methodist Church
Norfolk Street
Sheffield
S1 2JB
United Kingdom
Description
The movement is building. If you want to join us, we want to hear from you.
It's time to create an economy which is good news for the Earth and all its people. The Big Workshop will be a day building a faith-led movement for a truly sustainable economy. Let's do it together.
What role can faith communities play in creating a sustainable economy? At the Big Workshop we'll be exploring that question, and working together to build a faith-led movement for a new economy.
Come to Our Big Workshop. Together we will:
Explore a Christian vision for human flourishing within natural limits.

Test-drive the new learning guide for church groups that we are developing.

Build alliances with other organisations.

Meet like-minded people working for a fair and sustainable future.
---
The Big Workshop is for:
Individuals with an interest in a fair and sustainable economy, and those ready to help build a movement for change.

Representatives of organisations that would like to collaborate.
---
Outline programme
Registration, networking and alliance building from 9.30
11.00 Welcome and introduction to Joy in Enough
11.20 Decision time for humanity: presenting our vision for a new economy
12.15 Introduction to the afternoon
12.30 Sandwich Lunch provided by a Food Feast, a local catering firm
1.30 Café conversations: try out one of the modules in the Joy in Enough programme
3.00 Tea break and evaluation of the pilot module in small groups
3.30 Theory and practice of change: how to reach opinion formers and the public. Next steps for Joy in Enough.
4.15 An act of founding, prayer and worship
4.30 Close
At 10am, before the Big Workshop begins, you are invited to the Annual Members' Meeting of Green Christian – non-members very welcome.
---
Cost
A suggested donation of £25 is requested from participants to help cover costs. A sandwich lunch will be provided, plus tea and coffee. Please pay this either as you book, or on the day. A sandwich lunch is included, plus tea and coffee.
Please note that your booking will be understood as a commitment to attend.
If you find that you cannot attend, please be sure to let us know so we can ensure there is no wastage of paper or food on the day. Thank you.
---
The Big Workshop is part of Green Christian's Joy in Enough initiative. To find out more click here.
You are very welcome to join us at this Big Workshop. Even if you haven't given this important subject a great deal of thought we'd appreciate your feedback on how the new Joy in Enough programme's learning guide would work with a group in your own church.
---
Directions to Victoria Hall, Norfolk Street, Sheffield S1 2JB from Sheffield Train Station
Start out along MIDLAND STATION CONCOURSE, heading north.

After 18 metres turn left onto EXIT, heading west.

After 24 metres continue straight onto SHEAFSQUARE, heading west.

After 100 metres bear right onto PEDESTRIANCROSSING, heading north.

After 13 metres continue onto HOWARD STREET, heading north.

After 150 metres bear right onto ARUNDEL GATE, heading north.

After 250 metres you will pass the side of the Crucible Theatre - turn left, by the transport interchange, heading north.

After 62 metres turn left onto NORFOLK STREET at the T-junction, heading south.

During the day access to the building is via the office reception on Chapel Walk (opposite Superdrug)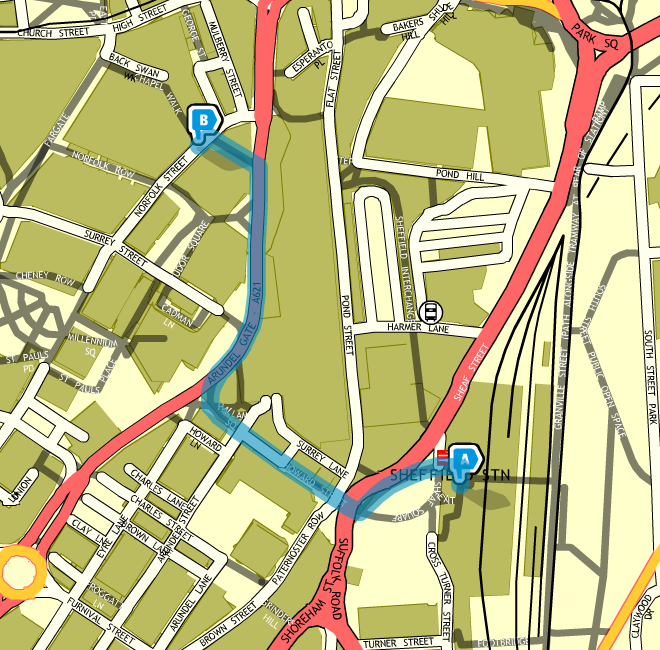 Directions to Victoria Hall, Norfolk Street, Sheffield S1 2JB from M1
Leave M1 at Jn 33, signed A630. This is the Sheffield Parkway, dual carriageway. It becomes the A57.
Follow signs for A57 City centre.
Pass some flats on the left, and go under a grey tram bridge.
Then, at Cutlers Gate junction, follow the Ringroad South A61, keeping in the left hand lane.
At the traffic lights, go straight on, moving into the 2nd land – signed "City" – painted on the road
Then move into the right hand lane, signed "City" – painted on the road, which becomes the 3rd land out of 4.
You reach Park Square roundabout, You're almost there!! The next directions come quick and fast!
Take the 4th exit – the one after the A61 Chesterfield turn – following road markings "City" and a brown "Heart of the City" sign.
You will go through traffic lights, passing Ponds Forge swimming pool on your left, and KFC on your right.
Then turn (bear) left down Arundel Gate. (As you are about to bear left, you can see the Heart Foundation shop and Poundland in front of you, on the corner)
Then take the first right at traffic lights (very short distance) … there is a tiny brown sign marked "St Paul's, Cutlers" – but it's easy to miss.
Arundel Gate interchange is on your left at this point, and Victoria Hall is on the right – a large historic building with a prominent tower and glass doors at the front.
There are a number of car parks in the city centre, details on this website
https://www.sheffield.gov.uk/home/parking/car-parks
How are you planning to get to the event?
Join other attendees from your area and ride together
Find a ride
Date and time
Location
Victoria Hall Methodist Church
Norfolk Street
Sheffield
S1 2JB
United Kingdom