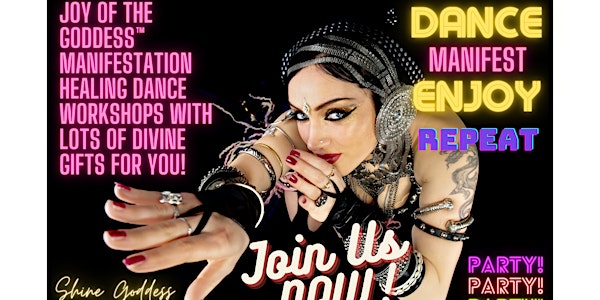 JOY OF THE GODDESS™ MANIFESTATION HEALING DANCE WORKSHOP SERIES
Refund policy
Refunds up to 7 days before event
Eventbrite's fee is nonrefundable.
DANCE LIKE A GODDESS - MANIFEST LIKE A GODDESS - TRANSFORM LIKE A GODDESS!
About this event
JOIN ME IN MY AMAZING, REFRESHING, MANIFESTATION & HEALING DANCING WORKSHOP SERIES FOR PARTY BABES, FOR FIERCE AND SEXY WOMEN, WHO JUST WANNA HAVE A LITTLE FUN ALREADY!
THE YEAR OF 2022 as the Tiger's Year is opening up one of the most magical times for manifesting happiness, abundance, healing & love as YOUR NEW BEGINNING!
Use this time not just to say goodbye to your past but to invite & ATTRACT your AMAZING FUTURE easier by connecting with your happiest and MOST limitless self, expressing your sexiness and manifestation powers through your body!
I am calling all the sexy ladies who are ready to rock their bodies and manifest their (Deliciously Amazing) Inner Goddess Lifestyle for this year & the rest of your life!!
THIS OPENING DANCE CLASS IS NOT AN ORDINARY ONE FOR SURE!
THIS WILL UPLIFT EVERYBODY IN THE BEST WAYS POSSIBLE AND IT WILL MAKE YOU SHAKE YOUR BODY AND YOUR PROBLEMS AWAY!
RELEASE YOUR GODDESS JUICES AND FEEL SEXY WITH ME!
JOIN MY ONLINE GODDESS DANCE CLASS TO HAVE FUN, HEAL, AND MANIFEST THE HECK OUT OF YOUR LIFE!
SO MUCH FUN I CAN PREDICT AHEAD IN MY GODDESS VISIONS FOR US!
LEARN HOW TO USE & MOVE YOUR BODY TO RELEASE PHYSICAL, MENTAL, AND EMOTIONAL PAIN THAT STOPS YOU FROM GETTING AHEAD IN YOUR LIFE!
GET READY FOR YOUR GODDESS-LEVEL MANIFESTATION WITH THIS DANCE CLASS!
OR HAVE A GREAT PARTY WITH ME INSTEAD OF A STRESSFUL, WORRISOME DAY!
Do you want to feel sexy, feel free like a bird, get comfortable & feel connected to your body, your mind, and your soul?
This Class will help you to bring enjoyable destructions into your life, away from bad news, stressful times, piling bills, and challenging global, work, and family situations!
Remind yourself EACH TIME about how to enjoy everyday life,
HOW TO LOSE CONTROL & ALLOW ALL ABUNDANCE IN THAT YOU DESERVE
GET IN TOUCH WITH YOUR CREATIVE NATURE,
HOW TO BE CONFIDENT IN YOUR BODY (AGAIN) &
STAY POSITIVE despite all the challenges that we are facing especially since 2020!
Let your hair down with me & get ready for a transformational freestyle boogie that delivers a smile on your face without fail!
LET'S LEARN A FEW "MANIFESTATION TRICKS" DURING THIS GODDESS DANCE TOGETHER!
WE WANT TO LOSE ALL CONTROL & JUST BE OUR INNER GODDESSES FOR AN HOUR!
You will learn & experience:
How to let go of control in dance & in life
How to get comfortable with your body all over again
How to feel sexy & get sensual without being cheap
How to feel empowered simply by moving your body
How to let yourself feel free & expressing your emotions through your body movements, whether they're good or bad
How to align your chakras & channel Divine Healing simply by expressing your True Self
How to feel your body, process your emotions & get clarity on Life by simply moving your body
How to gain your lost self-esteem & confidence back that helps you thrive in all aspects of your life
WHAT YOU WOULD NEED ONCE YOU JOIN?
Bring YOURSELF in your comfy dancing outfit
YOUR WIRELESS HEADPHONES for an amazing sound experience
YOUR SMARTPHONE for the music's sake
1 MINI TOWEL just to stop the "unnecessary" sweating :)
1 BOTTLE OF WATER TO STAY HYDRATED (We want everyone to feel amazing, no matter what! Hope you agree with us!)
Receive Energy Healing as an ADDITION WHEN YOU CHOOSE THE RELEVANT TICKET OPTION!
I can't wait to dance & MANIFEST with You, Powerful Goddess!
See you soon,
Prystine