Description
Come and see Jason Vale at The Best You EXPO!
Jason Vale, aka 'Juice Master', is the best-selling author of eleven books on health, addiction and juicing. His books have now sold over 3 million copies and have been translated into many languages. His most well known book – 7lbs In 7 days: The Juice Master Diet – went to number one of all books on Amazon and on Play.com it even knocked the Da Vinci Code from the top spot.
Jason wasn't always slim and healthy; he used to suffer from severe psoriasis, eczema, asthma, hay fever and obesity. He used to smoke 2 – 3 packets of cigarettes a day and drank very heavily, drinking up to 14 pints of lager a day. He has used juicing as the main tool to clear his skin, drop the weight and free himself of illness. He is now on a mission to 'Juice The World' and help people to turn their health around using natural means where possible.
Jason has also released a series of health and addiction apps for Android and iOS. Each of these have reached No.1 in their respective categories, beating Jamie Oliver, Nigella Lawson, Gordon Ramsey etc in 'highest grossing' in the extremely competitive 'Food & Drink' category. Over half a million 'Jason Vale' apps have now been sold.
Jason Vale is the only well known juicing expert in the UK and his message is rapidly spreading across Europe and the USA. He regularly features in national newspapers/magazines/TV and radio
Jason Vale will be the main stage speaker at The Best You Expo 2018 with the talk title of 'JUICED! Reignite The Healthy Fire Within'
Jason Vale Main Stage ticket £ 30
--- entry to Jason Vale's Main Stage Speaking(Saturday 17 Feb 2018 11:00-12:00)
--- A ticket is needed for entry The Best You Expo. We offer free ticket till 15th Jan. Please select both on the ticketing page.
VIP Gold ticket
--- entry to The Best You Expo 2018 (Saturday 17th Feb 2018 10:00-18:00)
--- entry to all speakers
--- access to VIP lounge throughout the Expo
--- goody bag worth £150
--- complimentary refreshments
--- free cloakroom
--- Best You merchandise
--- access to all video recordings of The Best You EXPO UK and USA
--- front queue pass at all book signings and much more.
The Best You EXPO is the leading personal and professional development exhibition in Europe, a place to meet anyone and everyone that is passionate in improving their lives.
The Best You Expo 2018 takes place in February at its brand-new location of London Olympia . This one-of-a-kind event gathers those passionate about living better lives, creating a better world, gaining greater mindfulness and meaning in our modern age.
The Expo explores topics like wealth, health, entrepreneurship, confidence, aging, mindfulness practices, phobia cures, passionate living, female empowerment, breaking self-limiting beliefs, divorce coaching, and much, much more.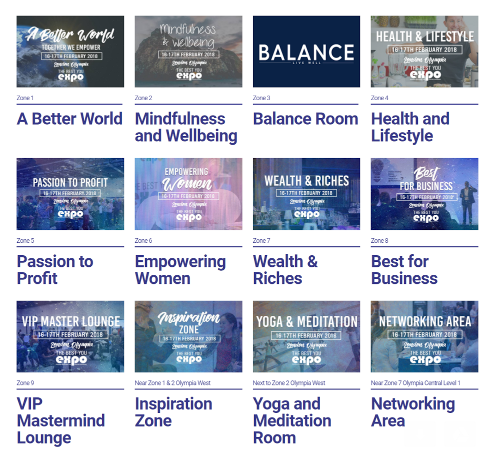 Speakers come from a variety of sectors, including business, finance, health, neuroscience and new age philosophies, as well as entrepreneurs and leading CEOs. Attendees come with a like-minded purpose: to discover purpose, meaning, better well-being, health, self-improvement and career growth.
See our Inspirational Speakers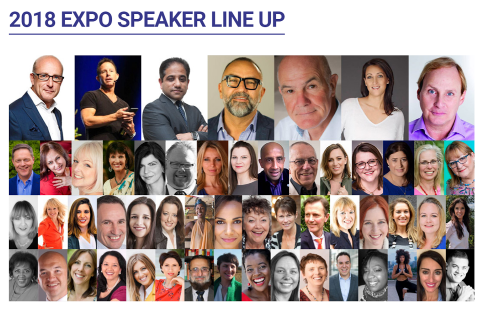 There are many opportunities to connect with teachers, coaches, experts, attendees, exhibitors, explore new things and promote your product and services at our expos!
Expect a high-energy event and a dedicated platform to inspire people on their path towards realizing their greatest potential. This is an extraordinary, 2-day event where people come together to learn from the best teachers, to explore transformational practices and to become a better version of themselves.
We can't wait to see you there!