About this Event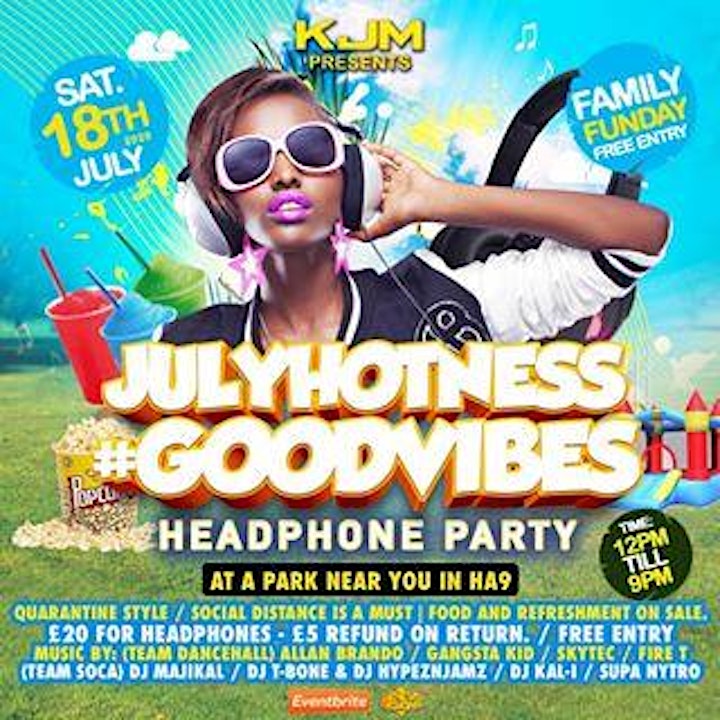 ***FREE ENTRY *** FREE ENTRY **** FREE ENTRY*** FREE ENTRY****FREE ENTRY ****
Come one, Come all, Come BIG, Come small.
KJM presents a fun pack family fun day JULY HOTNESS #Goodvibes JULY 18TH at a park near you in HA9. The location will be announced on the day. Come and join our good vibes and social distance headphone party. Bring your energy and team up with our top UKs Finest on the decks Bashment vs Soca.
Headphone party will commence later on in the day, come out and shake a leg.
£20 for headphones - £5 refund on return. Pre book your headphones now to avoid disappointment!
(ALL HEADPHONES WILL NEED TO BE RETURNED)ALL HEADPHONES WILL BE LOCKED AFTER EVENT TO AVOID LOSS
TEAM DANCEHALL
*Allan Brando
*Gangsta Kid
*Skytec and Fire T
TEAM SOCA
*Majikal
*T-Bone
*Kal-i
*Hypes & Jamz
"Mr Tick Pon Cock" himself 'Supa Nytro'
Bouncy castle, Slushies', Candy floss and popcorn will be sold on the day to keep the lil ones happy.
Cash and card payments are accepted at the venue.
You know there aint no party like a KJ M PARTY! We hope to see you there!
HEAD OVER @KJMentertainment, kjmevents.mypixiest.com, FB
More info: 07850266836 / 07947116006