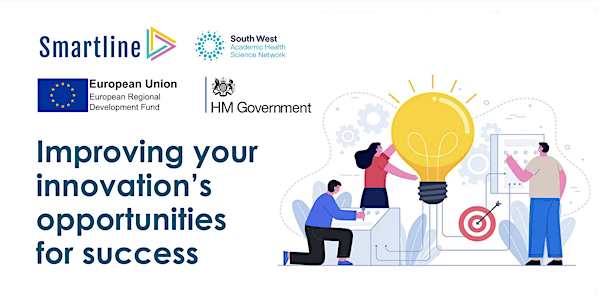 July - Improving Your Innovation's Opportunities for Success
A workshop series to support improving your innovation's opportunities for success: getting it to everyone who could benefit from it.
About this event
Delivered by
In partnership with the Cornwall-based Smartline project , the South West Academic Health and Science Network (SWAHSN) is hosting a series of webinars for innovators looking to improve their innovations opportunity for success in Cornwall and beyond.
What
We are offering a 4 session virtual interactive course designed to share with you some of the tools and theory that can support your success. This is an all teach all learn experience where you will work with other innovators to share knowledge and think about different ways of enabling your work to be successful.
We will explore how to set realistic aims and spread plans, think about how to pitch your project in ways that help your work to noticed and remember by those you speak to. We will consider the different ways we can create leverage to support your work and we will also look at how you can be your best advocate in different scenarios.
Each session will last for 2/3hours and there will be work to complete between each session to support embedding learning.
Learning Objectives
1. Getting clarity on the problem you are trying to solve
2. Developing an aim and a plan on how to achieve this
3. Understanding where you can create leverage
4. Creating memorable pitches and presentations
5. Maximising your impact in every interaction
Dates
4 event date series -
5th July - 14:00 - 17:00
6th Sept - 14:00 - 17:00
4th Oct - 14:00 - 17:00
1st Nov - 14:00-17:00
For who
If you have a digital health or wellbeing product or service that you are looking to improve then this session is for you, and while there will be a focus on spreading Cornish innovations, innovators from across the South West are welcome.
Enterprise support eligibility
As an open event, any enterprise or person is welcome to attend, however those that are eligible, Smartline will claim as an enterprise supported by the ERDF Smartline Project. Smartline will contact you directly by email to discuss. By registering you agree for your contact details to be passed to the Smartline project.