On Sunday, 4th July we host our monthly in-person AND livestreamed gathering. To join us at The Church at Carrs Lane you must register here.
About this event
We'll meet this way (simultaneously meeting in the flesh AND livestreaming) on the FIRST Sunday of each month (with other Sundays meeting online only). Those who would like to gather in person at the Church at Carrs Lane MUST reserve a spot in advance via this EventBrite page. Arrive at 3:45 for a 4pm start.
We want to stress that there is no pressure on anyone to attend in person unless they feel safe and comfortable to do so. We're going to do our best to have continuity and interaction between those meeting at Carrs Lane and those meeting online.
Those who aren't in the building will still be very much part of our gathering online. You can tune in as usual via FB Live and YouTube, with a Zoom discussion to follow at 5:15.The venue itself is wheelchair accessible and has accessible toilets. You can watch this video of what to expect when attending IGB in person under the current restrictions. And this blogpost has all the details of how we're keeping things safe. But please let us know if you have any specific questions or ways that we can make you feel more at ease.
TRAVEL & PARKING
The Church at Carrs Lane is located across the street from Moor Street Station and a short distance from New Street Station. Multiple bus routes drop off near the Bull Ring a short distance from the venue.
Note that if you are planning to drive into Birmingham City Centre it would be wise to check to see if your car will be subject to the clean air charge here (Most cars purchased after 2006 will not be charged, but please do check.)
We have very limited parking onsite that we reserve for those with accessibility needs. If you need to park onsite, please email newchurchbirmingham@gmail.com to request a spot.
There are also paid parking options - you can park in the Selfridges Bullring car park and walk over to church - this has the best lighting and is open until 00:00. It costs £6 for 2 hours and the post code is B5 5JH. There is also an NCP car park closer to the building if you would prefer that option. It is £3 for 2 hours and the postcode is B4 7LN.
We will have an IGB phone that will ONLY be turned on prior to our in-person gatherings - the purpose of this is for you to be able to contact one of our stewards if you need help with access, get lost or need assistance. We will email this number to those registered for the event.
More information at www.inclusivegathering.org.uk or email newchurchbirmingham@gmail.com.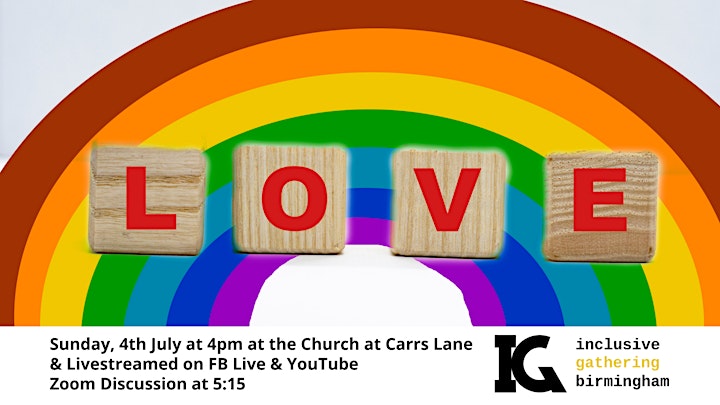 Organiser of July 'In-Person' Inclusive Gathering at The Church at Carrs Lane