Please book your place for the next Jumu'ah at Shahjalal Mosque & Islamic Centre, 1A Eileen Grove, Rusholme, Manchester, M14 5WE
About this event
Due to the government guidelines of social distancing to control Coronavirus, Shahjalal Mosque has measured the capacity of the attendees and we can only allow certain amount of people in Jumu'ah. Hence why we will use this Booking System to register the attendees for Jumu'ah.
Please book your place here EVERY week to avoid disappointment. Registration is for contact and tracing purposes.
Masjid door will open at 12:30pm. Please come early to avoid disappointment.
FRIDAY (JUMU'AH) | 1st JAMAAT
Bangla Talk : 12:45 pm | English Talk: 1:05 pm | Jumu'ah Azaan : 1:1 | Arabic Khutbah : 1:30m
2ND JAMAAT AT 2:15 PM
Please visit http://www.shahjalalmosque.org/jumuah_booking to get new booking-link every week.
Live Qur'an Khatam Everyday after 'Asr in Ramadan. Please watch live on our YouTube Channel: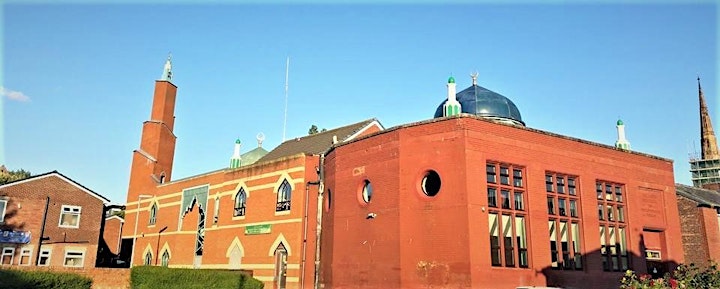 By going ahead with the booking you have agreed to the following:
1. To bring own Prayer Mat
2. To perform Wudu at home
3. To wear mask at all times
4. To bring a bag for your shoes
5. To use hand sanitiser on entering the Masjid.
6. To adhere to the social distancing rules
7. To co-operate /follow the instructions set by the the security/volunteers
8. If you have a high temperature you will not be permitted into the Mosque.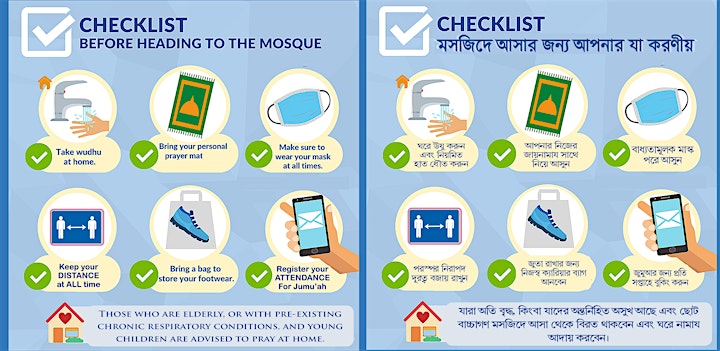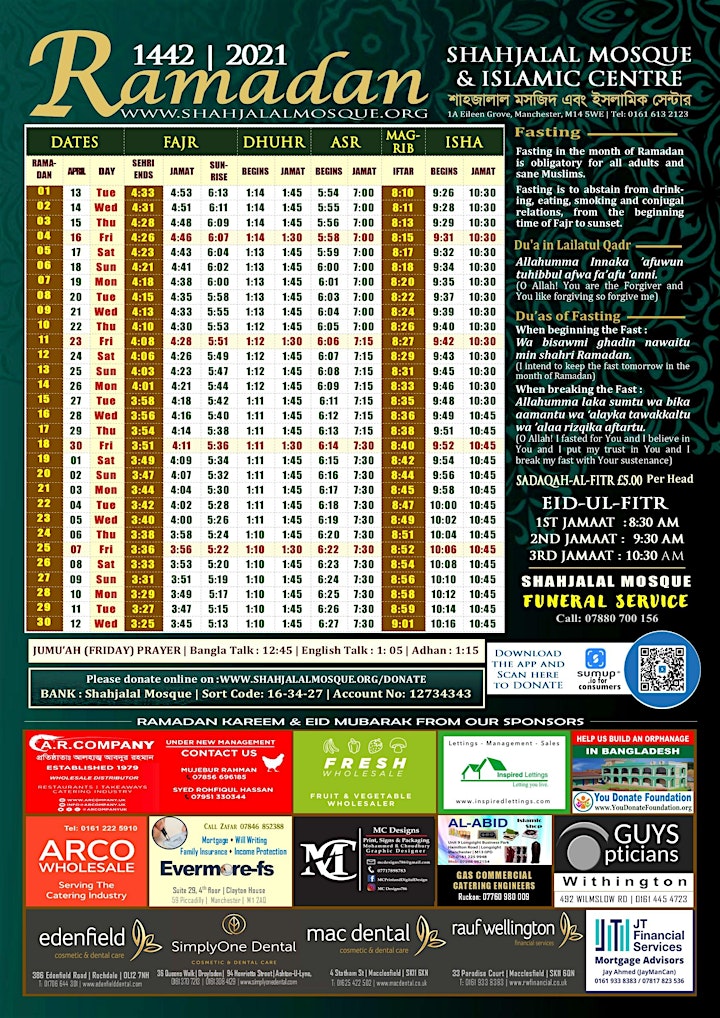 Organiser of JUMU'AH BOOKING | SHAHJALAL MOSQUE MANCHESTER