June CAKE Morning

Monthly Event - Fourth Tuesday of every month
Event Details

Our FREE monthly CAKE mornings are changing. Following the June event on the 25th, all future sessions will be held on the 3rd Tuesday of the month.
Tickets for future events can now be found at www.docakemonth.eventbrite.com:
docakeseptember.eventbrite.com
Tuesday 25th June, CAKE and 3D Printing!
The June CAKE morning will be themed around 3D printing, with presentations from Black Country Atelier and 3D Creation Lab.
Explore 3D printing with Black Country Atelier (BCA) through presentations and hands on demos. BCA will highlight different ways 3D printing can be used as an educational and public engagement tool. There will be a particular focus on museums, but the session will also be relevant to anyone interested in this exciting new technology. 
Brian will talking to you about 3D printing and scanning, which he has been doing for the last 7 years, Brian's company: - 3Dcreationlab, now has ten printers, five technologies and one scanner, we will have various 3d printed items on display as well as the scanner demonstration. Please visit www.3dcreationlab.co.uk for a better insight into his company.
---
Given the wide and diverse range of academics, businesses, students and Heritage organisations working collaboratively on the DHD project, we will be hosting free monthly "cake" (Collaboration and Knowledge Exchange) mornings to showcase current developments, discuss funding opportunities and tackle current challenges. Plus - there will be cake!
You can access printable directions and a map by going to our University web page HERE .  

If you have any special requirements, please do not hesitate to get in touch at contacts@dhd.bham.ac.uk or by phone on 0121 414 9153.
If you would like to present or show a demonstration please contact Nadia Wood, Project Manager at contacts@dhd.bham.ac.uk or 0121 414 9153. 
---
To view our project presentation click here or our newlsetter here
For details of the January 2013 cake morning please click here
For details of the February 2013 cake morning please click here
For details of the March 2013 cake morning please click here
For details of the April 2013 cake morning please  click here
For details of the May 2013 cake morning click here
---
The Digital Heritage Demonstrator Project is supported by: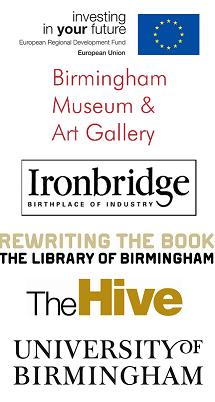 Where

do.dollaboration Hub
Chowen and Garfield Weston Foundation Prototyping Hall, Ground Floor, ERI Building
University of Birmingham, Pritchatts Road, Edgbaston
United Kingdom, B15 2TT


Monthly Event - Fourth Tuesday of every month
Add to my calendar