Joyful outdoor singing gathering for mums, children welcome! Sing gorgeous songs from around the world to boost your wellbeing
About this event
Join us outdoors in the stunning grounds of Mount Pleasant Ecopark to sing, connect and nourish yourself alongside your little ones.
We will learn simple, beautiful songs from round the world by ear -so no singing experience necessary!
Singing is proven to boost mood and physical and emotional wellbeing, and research shows it also combats post natal depresssion and anxiety, and is a great way to connect. It's been a tough year especially for mothers, and the intention of this Women's event is to come together and replenish ourselves.
We'll also have time to talk and listen to each other and share support and solidarity as well as soaking up the magic of song, sea, sky and land in the beautiful outdoor amphitheatre.
Venue
Mount Pleasant Eco Park
Chapel Hill
Porthtowan
Cornwall
TR4 8HL
Free parking available on site
Safe singing and covid
Adults must keep spaced out at least 2m from other adults while singing. There will be coloured mats for each family to help you spread out while singing.
Kids don't need to social distance but please be mindful of how much contact other parents are comfortable with. They are free to mingle if you are happy for this.
Please use hand sanitiser on arrival and before leaving
If anyone in your household has had Covid symptoms, raised temperature or diarrohea or vomiting in the last 48 hours, please stay away. Happy to provide a refund or option to transfer to future sessions.
Check in with NHS QR Code Track and Trace or leave your name and number.
Bringing your children
Babies and kids are welcome - the intention is to make singing for wellbeing accessible for mums alongside your kids.
Please note you are responsible for the health and safety of any children accompanying you. We are creating a safe space for mums, babies and pre-schoolers so we ask you to be responsible for your child's behaviour.
We expect kids and babies to make noise and do the things kids do during the session, this is totally welcome and you are free to meet their needs and enter/leave the session as necessary.
There are toilets and baby change on site, and you are welcome to change nappies during the session if you prefer.
Kids are free to play, join in, sleep or feed while you sing. Songs are aimed at mums, so bring something to entertain older ones if they're likely to get bored - books, colouring, quiet toys. I won't be providing toys at the moment to keep things simple with Covid cleaning.
There is no expectation for kids to stay still/quiet or join in
The ampitheatre is semi-enclosed so plenty of space to run around, and it's right next to an open grassy orchard by the cafe if you need to take older kids out to burn off some energy.
There are grassy banks in the amphitheatre to sit and climb on
The area we are in is not fenced off and it's a wild site so if you have mobile kids please stay with them at all times. It's fine to leave the session and come back if you need to wander with your kids.
What to bring
A favourite quiet toy or book or a blanket to snuggle in for your little ones
Please bring appropriate clothing for random Cornish weather - warm layers, waterproofs, suncream and hats for yourself and your children- as this is an outdoor event
Something to sit on - Rug, matt/blanket or cushion. There are no chairs but grassy tiered banks to sit on.
Drinks and snacks - important to stay hydrated while sining! There's a gorgeous cafe on site but not always open.
Weather
The amphitheatre provides a little shelter from wind, but is fully open to the Cornish weather! If it's rainy, we can move to the covered atrium next to the Wilder Allotment Cafe - this is covered but open on 2 sides so still open air. If there's a weather warning of high wind or very heavy rain, I will take the decision to cancel and contact you by 9am on the day of the event.
Refunds
In the event of cancellation for weather, or if anyone in your household bubble has to cancel due to covid symptoms - I will offer a refund or option to transfer to a later event. The Eventbrite booking fee is non-refundable.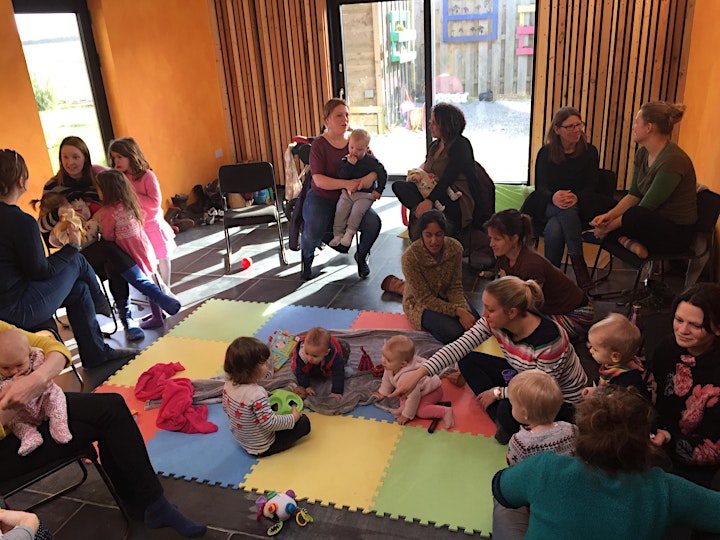 About Songbirds
Songbirds is a women's singing group formed in 2019 in Cornwall to support mums and grans caring for young children. During lockdown in 2020 we began singing online and now have a committed group of mums from around the UK who meet on Zoom evey Wednesday at 10am to sing together. Check us out on facebook to join our community: https://www.facebook.com/songbirdsingers/
Songbirds sessions are inclusive of children and combine mindfulness, embodied movement and deep listening with joyful songs and soothing lullabyes from round the world to boost wellbeing.
Songbirds is facilitated and founded by Kathy Ellwand, a mum and Creative Facilitator based in Cornwall, UK. Kathy trained in Community Music Leadership with Musicians Without Borders, and in Creative Facilitation with Partners for Youth Empowerment and LIFEbeat. She has been facilitating groups using creative arts for wellbeing for 20 years and she trains teachers and youth workers internationally in creative facilitation. Kathy is passionate about the power of song to help people connect and feel great.
Songbirds singers said:
"Thank you for bringing song back into my life! I'm singing all the time now and I don't think that would have been the case if it weren't for this group. It's given me a lovely connection with my baby who loves it when I sing and his face lights up! That's also given me a lot of confidence with singing that I didn't have before"
"This group has kept me going and has been a big part of keeping depression at bay. It's also connected me to a possible future of singing... and be able to carry it through into my life. It feels so good for the mind and body to sing"
"Songbirds online singing has been so important to me during the early months of Motherhood. The feeling that there is a whole community of other Mums sharing singing at the same time around the country is really heart warming."
Organiser of June Singing in Nature - outdoor singing gathering for mums
Singing groups for women hosted by creative facilitator Kathy Ellwand. We sing gorgeous harmony songs from round the world, no singing experience necessary as we learn by ear. We sing for fun and mental and physical wellbeing, and for connection with other women who are also caring for young children. We grew out of a face to face community group in Cornwall, but since lockdown we are gathering online and welcome women from anywere! Come and check it out! We welcome babies, toddlers and older homeschool kids too. Come alone for some 'me' time or bring the kids. The beauty of Zoom means we sing along on 'mute' so you can get all the physical and emotional benefits of singing and enjoy expressing yourself with your voice, without feeling self-conscious! Your kids join in or they can feed/sleep/play or do their own thing playing in the background. Each session is also a chance to talk to other women and connect