Description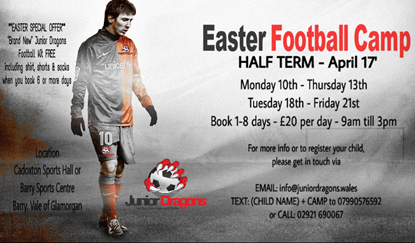 Junior Dragons half term camps are a great way for boys and girls to have fun in a safe and enjoyable sports environment. Children will play games which enhance natural development but at the same time improve skills and techniques. Children are grouped by age bands of approximately 2/3 years but should anyone excel or require further work within a band our highly-trained coaches are on hand to recognise grouping requirements. A typical day will include tournaments, technical sessions & group games and fun competitions. Each day has a technical theme based around ball mastery, passing and skill development.
All sessions encourage team play, so if your child isn't going with friends they'll be sure to come away with new ones. Courses are progressive and content is devised to enable players to develop and advance.
Our camps are suitable for children of all abilities from:
Year 2 - 6 at School.
• Fun Football Coaching led by FAW & UEFA Qualified Coaches
• 3 Day Course
• Quizzes, Competitions & Tournaments
• Video Footage & Photos
• Tricks, Flicks and Balls Skills!
• Bring Packed Lunch Each Day
• Bring Plenty to Drink
• Wear Suitable Sports Kit and Trainers
• Changing Facilities and Toilets on Site
Important Information
• Places are limited and offered on a first come first served basis.
• Days run 9am-3pm with drop off only allowed from 9am.
BOOKING & PAYMENT.
Prior to event only
VENUE
Subject to an unforeseeable cancellation, in this case an alternative venue may be offered or a Credit Note may be issued. All venues include changing areas/toilets and have been risk assessed for safety.
STAFF
All our staff are FAW qualified, have completed DBS checks and are trained in First Aid & Child Protection. We are also fully insured KIT BAG & FOOD
All Day: Children will need a morning snack and a nut free packed lunch. Please also ensure that they bring plenty of still drinks.
All Players will need appropriate sports clothing, wet/cold weather clothing, shin pads & clean trainers.