Juris North Discussion Group Open to all platform
About this event
Juris North 2021 Kelsen's Roundtables
Juris North invites you to attend to the 2021 Kelsen's Roundtables:
Roundtable 1. Friday 30th April 2021, at 3pm BST. KEYNOTE: Dr Thomas Olechowski, Head of the Commission for Austrian Legal History of the Austrian Academic of Sciences (www.rechtsgeschichte.at) and Director of the Hans Kelsen Institute (www.kelseninstitut.at). TITLE: "Kelsen and the Problem of Democratisation of Administration."
Roundtable 2. Friday 28th May 2021, at 3pm BST. KEYNOTE: Dr Monika Zalewska, Assistant Professor, Department of Theory and Philosophy of Law, Faculty of Law and Administration, University of Łódź, Poland. TITLE: "Fictionalism in Hans Kelsen's General Theory of Norms."
Roundtable 3. Friday 25th June 2021, at 3pm BST. KEYNOTE: Dr Stanley Paulson, Professor, School of Law, Washington University in St. Louis. TITLE: TBA.
Note: in light of the current situation, this term all the discussions will be via Zoom. As always, these discussions are OPEN TO ALL.
Enquires: Dr Jorge E. Núñez (j.nunez@mmu.ac.uk)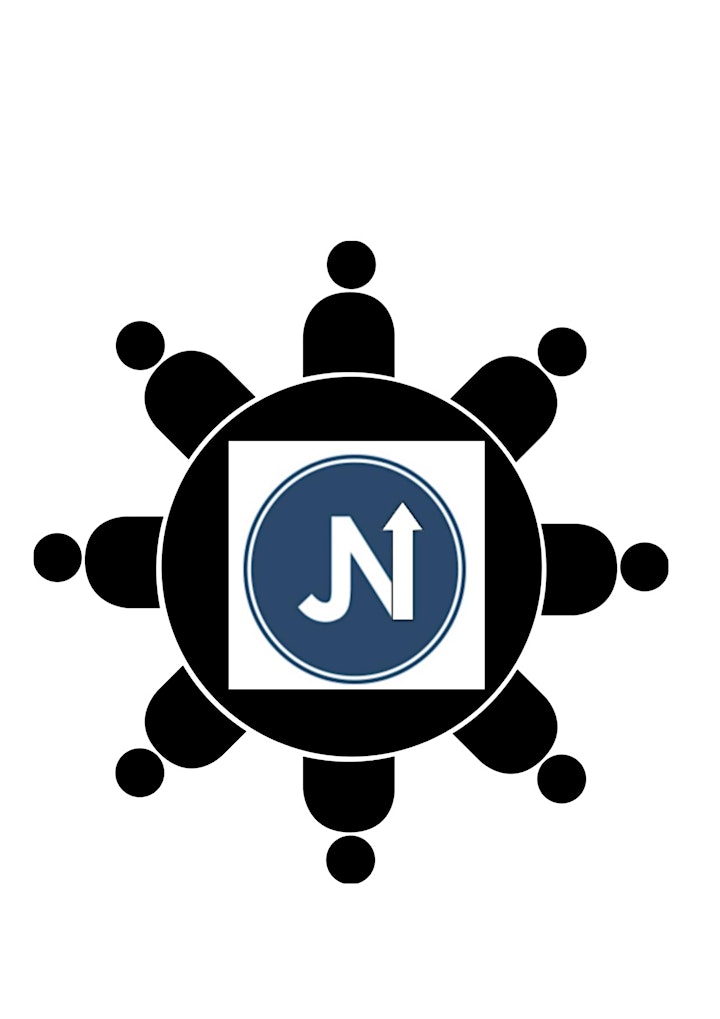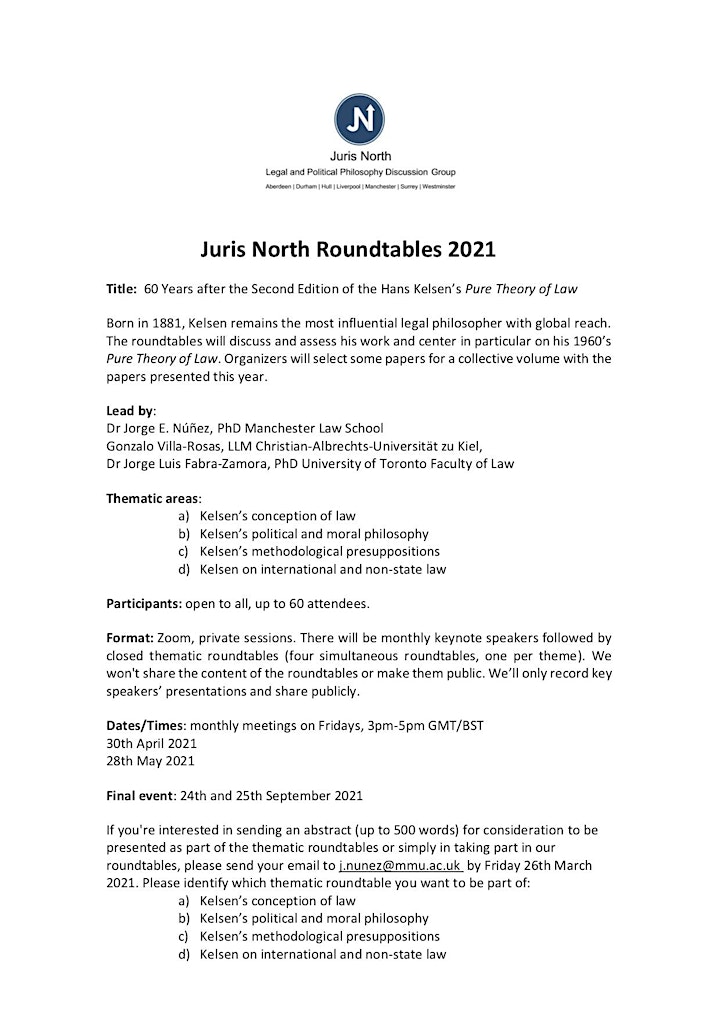 Organiser of Juris North Legal and Political Philosophy Discussion Group
Juris North, a legal and political philosophy discussion group, in collaboration with the Universities of Durham, Hull, Liverpool, Manchester, Manchester Metropolitan, and Surrey.
As part of our activities, we will have some discussion sessions this term.
Call for Presenters for Semester ONGOING
[Discussions: September-December and January-March every year]
If your current research is on a topic that can be broadly characterised as jurisprudence—i.e. legal and political philosophy, and you would be interested in presenting it to a friendly group, which includes academics as well as lawyers, you are welcome to be a presenter at the Juris North Discussion Group. We can be flexible about the particular days that we meet. If you are interested, please contact Dr Jorge Emilio Nunez j.nunez@mmu.ac.uk. 
To be part of our distribution list, please contact Dr Jorge Núňez j.nunez@mmu.ac.uk
GDPR REMINDER:
As you may be aware, a new data privacy law (known as the General Data Protection Regulation, or "GDPR") was introduced in the UK and across Europe on 25 May 2018. In order to be compliant with this new law, we would like to remind you that we have your email address on our database to enable us to contact you with information about the activities of Juris North. Examples of the activities we would like to tell you about include our call for papers and any other events organised by JN. We would like to continue to keep you informed about our activities and assure you that JN has never passed your details onto a third party. If you would like to continue to receive emails from us then you do not need to do anything.  If you want to be removed from our database then please reply to this email with the word unsubscribe.
Should you have any question please do not hesitate to drop me a line.

Best,
Jorge 
Dr Jorge Emilio Núñez