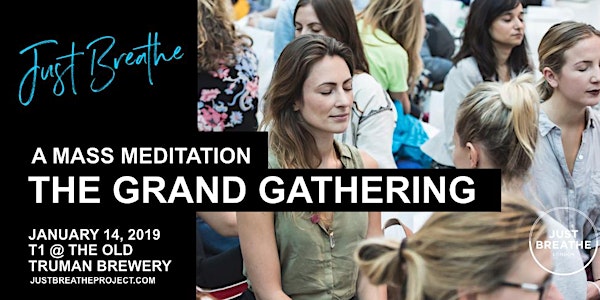 Just Breathe, The Grand Gathering // Volume 10 // HOME
Location
T1 @ The Old Truman Brewery
91 Brick Ln
London
E1 6QR
United Kingdom
Description
JUST BREATHE, THE GRAND GATHERING // Volume 10

T1 @ The Old Truman Brewery
HOME is Not a Place, It's a Feeling
Join us January 14th, 2019 as we bring the community back together for an evening of Modern Mindfulness & a Mass Meditation and celebrate all the things that make us feel at home.

Just Breathe is the first and only modern mindfulness and mass meditation community in the heart of the London and we aim to create community, real human connection and carve out a space for quiet.
Join us as we turn the volume down for a breath-making and breathtaking evening.


JUST BREATHE, THE GRAND GATHERING // Volume 10

T1 @ The Old Truman Brewery
January 14th, 2019
6:30 - 9:00p
What to expect?
6:00pm Doors Open
6:30pm Welcome & Introduction
7:00pm An evening of Modern Mindfulness, Poetry, Performance, Mindful Moments, Community time & more
8:30pm 20min Group Meditation with Live Music
9:00pm End
THIS EVENT IS FULLY HEATED, So you'll be warm, cosy and comfortable!

*This event will still SELL OUT, so please don't wait to get your seat.*
**By purchasing a ticket, you'll be added to the Just Breathe mailing list, where you'll receive updated information about the event, as well as community gatherings, charity initiatives and other upcoming events. We're excited to welcome you into the community, but you can of course unsubscribe from emails at any time.
*** By purchasing a ticket and/or attending this event, you accept and acknowledge the use of your image in video & photos captured at the event.


The event will be floor/cushion seating, however limited and special seating will be available for those with specific needs
Tickets are non-refundable
Event is Produced by Just Breathe LTD
Company Number: 10974886


Yes, you can sit with us.
Contact info info@justbreatheproject.com