Civil rights and economic justice in Birmingham, Alabama and Birmingham, UK: Next steps? History, today and what we can do now.
About this Event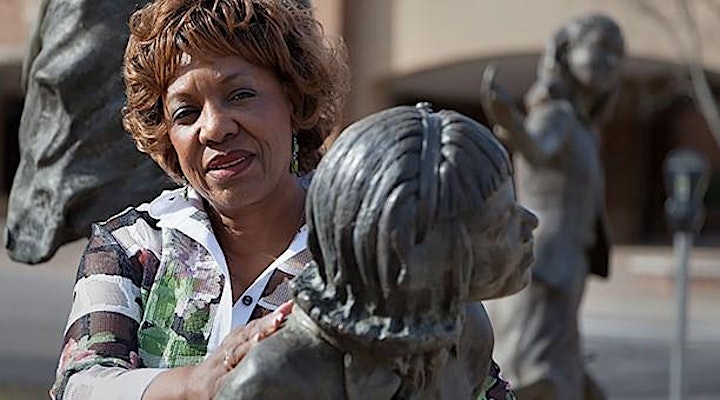 To mark International Human Rights Day, Journey to Justice is delighted to welcome Janice Kelsey, a US civil rights activist from Birmingham Alabama whose story we tell in our travelling exhibition. She will be the main speaker at our online event with Bishop Jonathan Jackson, Senior Pastor at NTCG The Rock in Springhill, Birmingham. They will be joined by other speakers from Birmingham whose work is focused on social and economic justice as we look at history, today and what we can do now.
Councillor John Cotton Cabinet Member, Birmingham City Council. Social Inclusion, Community Safety and Equalities
Dr Angela Moran musician/teacher.
Abdullah Rehman MBE Community Engagement Lead, Bahu Trust UK
Kai Daley student
Photos: (above) Policemen lead a group of Black school children into jail in Birmingham, Alabama on May 4, 1963. © Bill Hudson/AP/Shutterstock and (below) Janice Kelsey today, in Kelly Ingram Park Birmingham, Alabama which commemorates civil rights movement activists, by 16th Street Baptist Church
A Zoom link will be sent the day before our event.
This event was due to take place in Birmingham, UK on April 4th, the date of Dr Martin Luther King Jr's assassination as a way of continuing his legacy and the struggle against racism, poverty and war. It was postponed due to the pandemic and our exhibition programme at the Library of Birmingham cut short after a tremendous launch and month of activities with our partners in the city. See:
https://journeytojustice.org.uk/birmingham
Read more about Janice on the Journey to Justice website exhibition page and about the role of 'ordinary' women, men and children in the US civil rights movement and its impact. As relevant today as ever, the exhibition also tells less-told stories of people dedicated to social justice in the UK. With music, art, poetry, films and oral history, it shows how change can be led by anyone.