Event Information
Location
Twenty One
Unit 21, Pier Approach
Western Esplanade
Southend-on-Sea
SS12EH
United Kingdom
Leigh Folk Festival extends its reach to Southend seafront on the Friday evening of the event, with a diverse and intriguing concert line-up
About this event
The bill reflects the Festival's trademark eclecticism and the performance space has been chosen as the ideal arena to accommodate and showcase some fabulous talent.
Justin Hopper & Sharron Kraus
John Hannon
Ailsa Hunter & Mark Greensill
F\gurehead
Doors: 8:00pm
Starts: 8:15pm
Advance tickets: £4.00 + booking fee
On the door: £5.00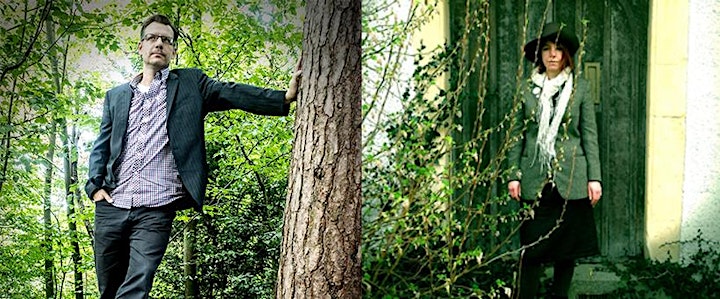 Heading up the programme are writer Justin Hopper and psych folk musician Sharron Kraus, both previous Leigh Folk Festival performers, with a rare collaborative show linking up with the release of their album 'Chanctonbury Rings' on the Ghost Box label. Based on live performances of Hopper's 2017 book The Old Weird Albion, it's a poetical, autobiographical and psycho-geographical account of his experiences at the titular earthwork on the West Sussex Downs. The album is a blend of folk, electronic music, poetry, prose and environmental sound. Kraus's electro-acoustic soundscapes and songs interweave with Hopper's rich, intimate narration. Musically it moves effortlessly from the traditional to the avant-garde, and also includes Belbury Poly contributing music and production throughout and bookending the work with a memorable theme tune.
Justin Hopper is an American writer based in the UK. His work explores the intersection of landscape, memory and myth through non-fiction and poetry. Since 2012 he has also curated exhibitions of contemporary landscape art on these themes. His poetry and music recordings have been commissioned for projects and festivals in the US and UK since 2009, including a previous collaboration with Jim Jupp of Belbury Poly called Ley Lines which also featured Shirley Collins.
Sharron Kraus is a singer of folk songs, a songwriter and multi-instrumentalist whose work offers a dark and subversive take on traditional music. In addition to eight solo albums, Kraus has recorded an album of traditional songs with Meg Baird and Helena Espvall (Espers, Beautify Junkyards) and written an album of songs recorded with a selection of traditional folk singers including Jon Boden, Fay Hield and Ian Giles. She's also recorded and performed with Ex Reverie's Gillian Chadwick as Rusalnaia, with Tara Burke (Fursaxa) as Tau Emerald and with free-folk collective United Bible Studies (also appearing at this year's festival).
Previously only seen at the Leigh Folk Festival behind the sound desk, also appearing on the programme is John Hannon, best known as the producer and engineer at No Studios, and the leading light of fearsome and formidable band, Liberez, in a rare and enticing solo appearance.
Another festival debut beckons for violin duo Ailsa Hunter and Mark Greensill, both moonlighting from the Orchestra of the Royal Opera House, Covent Garden, with a programme including Judith Weir's composition 'Atlantic Drift', based on the centuries long ebb and flow of folk tunes between the British Isles and North America, along with other folk-based pieces from the repertoire.
Finally, also making their first Leigh Folk Festival appearance, is F\gurehead, a fine recently formed local musical collective, involving flute, guitar, bass, keyboards, percussion, electronics and ethereal vocals, performing a semi-improvised song set.
Date and time
Location
Twenty One
Unit 21, Pier Approach
Western Esplanade
Southend-on-Sea
SS12EH
United Kingdom