Description
Join me for a Jenna's World View Summer Day Party!
Calling all of my readers, content creators and supporters of Jenna's World View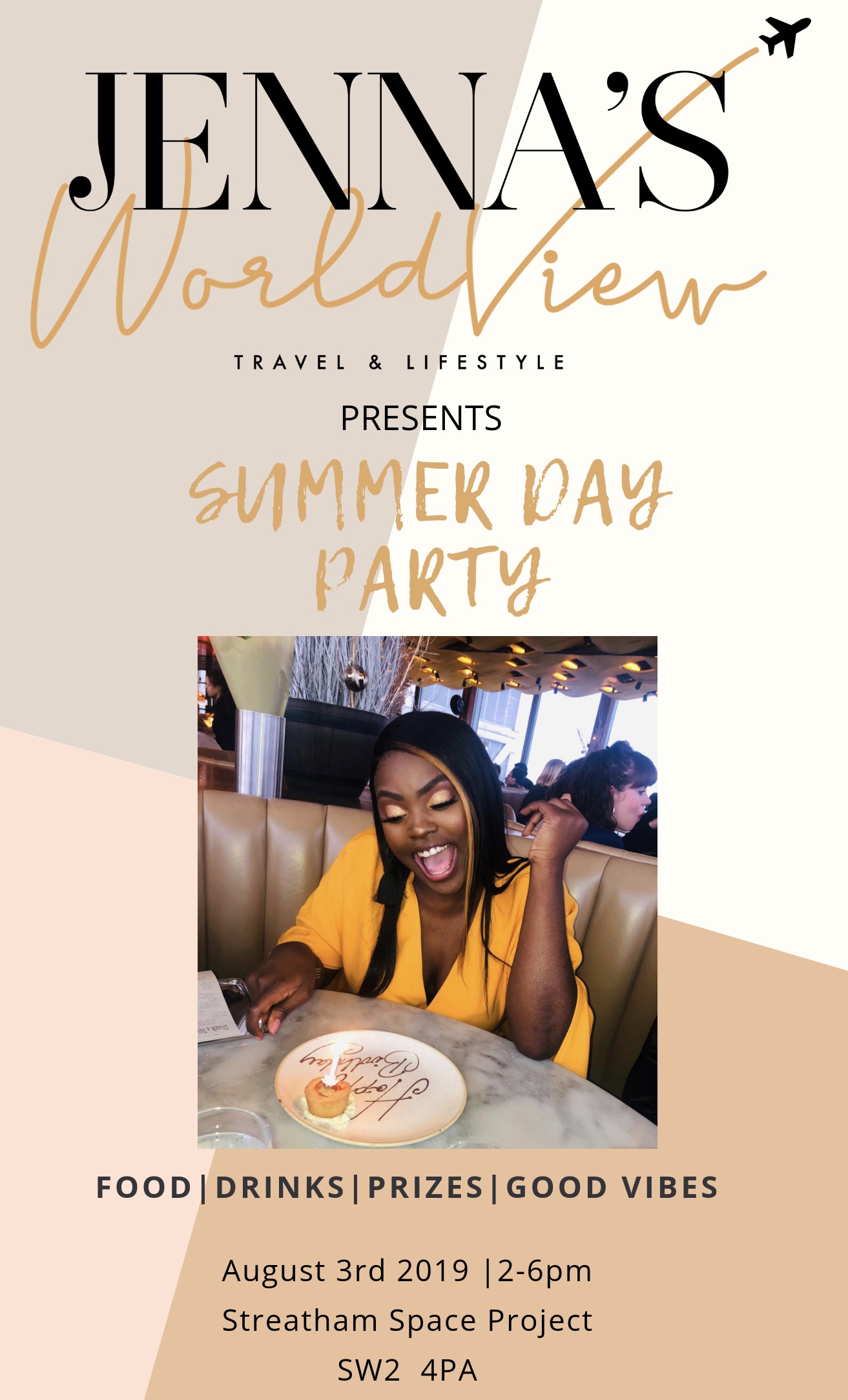 On Saturday 3rd of August 2019 I will be taking over Streatham Space Project in true Jenna's World View style for rmy Summer Day Party and I want you to come out and spend the day with me!
In March, I celebrated my blog's first anniversary (Jennasworldview.com). I went fully self hosted and transformed imy blog into Jenna's World View 2.0.
Since I didn't get a chance to celebrate then I have decided to do it big now...
I present to you my FIRST ever event the #JWVDayParty
It's a day to highlight my first year of blogging, give my creative peers & readers the chance to network and mingle all whilst getting to know me on more of a personal level.
If you have followed my blogging journey from the beginning or connected with me somewhere along the way you can't miss this event.
On the day there will be ;
Caribbean Cuisine by Platinum Catering Service (Your ticket includes food).
Vibes by DJ Island Dre

Networking - Come ready to mingle, promote yourself and meet new people.
Mini Panel Discussion - Myself and three black content creators will be discussing the highs and lows of 'putting yourself out there in a digital world using personal experiences as content'. Whether you're a creative or not you'll benefit from such a fruitful conversation.
Games, Giveaways and Prizes - There will be some great sponsored gifts from UK brands, an opportunity for one lucky person to win a free flight, top hotel vouchers and plenty more.
Media by Mo Chunks TV
My Signature Rum punch will be available to buy on the day cupcakes, nibbles and plenty more.
I WILL be your host for the day so you know the #JWVDayParty is going to be lit.
GET YOUR TICKET TODAY
Travel Info:
Nearest Train station Streatham Hill (Underground) exit the station from the left hand side!
Brixton (Victoria Line)
Bus information: 109,133, 159, 118, 57, P13, 255, 333
There is free parking outside the venue, get there early. Please no BPT to ensure that you secure a good space.