Description
AN EXCLUSIVE NETWORK EVENT FOR KEY ENTREPRENEURS
K-Club Manchester meets regularly and brings together key entrepreneurs giving them the opportunity to meet fellow entrepreneurs and business leaders.
Members of the K-Club may attend Breakfast Events and Women's Events as part of their membership, however any guests must be paid for.
If you are a member wishing to attend this event, please email amanda.manson@k-club.co.uk to reserve your place by the end of Monday 16th September '19.
Polite Notice:
Are you a professional wanting to attend? If this is your first visit, do join us for the experience, but note that for future events you must bring a Client or contact along with you who fits our attendee criteria of owner manager or entrepreneur. If you are unable to bring a guest with you, we respectfully request that you do not attend. Building a trusted network of contacts of the highest possible calibre is at the centre of everything K-Club stands for.

Our Speakers are;

Andy Burnham - Mayor of Greater Manchester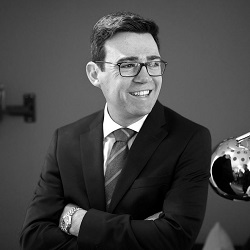 Andy Burnham was elected as Mayor of Greater Manchester in May 2017.
He is responsible for shaping the future of Greater Manchester; Andy's priorities include ending rough sleeping, transforming Greater Manchester into one of the greenest city regions in Europe, and making Greater Manchester a great place to live, get on, and grow old.
Andy is also committed to making Greater Manchester one of the best places in the world to start, scale and grow a business. Greater Manchester has a fantastic business ecosystem, creating good and meaningful jobs that benefit our residents and growing our economy is a Mayoral priority.
Before being elected Mayor of Greater Manchester, Andy was MP for Leigh from 2001. In government, Andy has held Ministerial positions at the Home Office, Department of Health and the Treasury. In 2008 he became Secretary of State for Culture, Media and Sport, before returning to Health as Secretary of State in 2009.
In opposition, Andy has served as Shadow Education Secretary, Shadow Health Secretary and Shadow Home Secretary.
Andy lives in Leigh, Greater Manchester, with his wife and three children. He is a keen supporter of Everton FC and recently ran the Boston Marathon raising funds for charities set up by some of the families who lost loved-ones in the 2017 Manchester Arena attack.
Andy spoke at a K-Club Breakfast back in November 2017 and will return this Autumn to give us an update on developments in the business arena and what challenges lie ahead for business owners in the region.
Chris Panayi - Senior Partner, Henton & Co LLP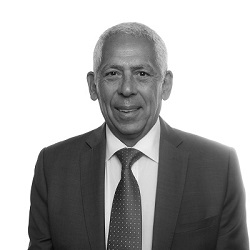 In April 2003, Chris Panayi was sitting in the VIP area of Earls Court as a guest of the concert promoter who is a client of his firm, watching Paul McCartney perform "The Long and Winding Road". He looked around. He and his wife were sitting amongst music megastars, professional footballers and prominent politicians.
The sentiment of the lyrics made him reflect on how his life's journey had taken him from a house that was torched in Larnaca, Cyprus in 1956, to sitting amongst all those famous and successful people.
Chris started his business as an accountant and business manager in October 1980 with 1 client.
His passion for music created an opportunity to work with all genre of the entertainment arts and the business grew organically for almost 40 years, building up a client base of about 450 clients across the globe, trading as C. C. Panayi & Co LLP. Chris created a speciality offering which covered all aspects of music, including artistes, management companies, recording studios, sound and lighting companies, publishing, record producers and writers, concert and crowd security companies and an extensive list of other music related businesses.
Recognised in the Centrip Top 25 accountants in the Music and Entertainment industry, Chris has a real passion for supporting music industry clients, from international high profile and rising star musicians as well as other industry related businesses, whilst providing sound business and financial advice. He is proud to include the likes of Emilie Sande and Guy Chambers amongst his client list.
In June 2018, CCP was voted by music managers as a Legal & Accountancy 50 top firm and in July of the same year, the business merged with Leeds-based Chartered Accountants, Hentons, with the combined business becoming a 'Top 100' firm of accountants.
The road from Larnaca has certainly been long and winding, with potholes as well as beautiful straight smooth surfaces.
"It is only now that I have entered my 70th year, that I've started to reflect on how I have gone from having holes in my shoes to winning accolades and recognition from my peers."
A true tale of overcoming business challenges, we look forward to hearing more from Chris at our event.
---
Members of the K-Club may attend Breakfast Events and Women's Events as part of their membership, however any guests must be paid for.
If you are a member and wish to attend this event, please email amanda.manson@k-club.co.uk to reserve your place by the end of Monday 16th September '19.
The fee includes a full English breakfast. Please email amanda.manson@k-club.co.uk to advise of any special dietary requirements once you have made your booking.
You can pay by debit/credit card through this websit and if you require a VAT invoice, please tick the box 'Do you require a VAT invoice?' and this element will be shown on your receipt.
If you would prefer to be invoiced for this event, please send an email to amanda.manson@k-club.co.uk for an invoice to be issued.
Please note that all bookings and payment MUST be received to confirm your place by 6pm on Monday 16th September '19. No refunds for cancellations can be accepted after this cut off date; the invoice must be paid in full even if you do not attend.
---

For more details about our events, please visit www.k-club.co.uk/speakers
The venue is located off Jcn 11 of the M60, and 'brown signposted' AJ Bell Stadium. The Sat Nav postcode is M30 7LJ.
Please note the Smart Motorway speed restrictions in place on large sections of the M60, causing heavy delays at peak times, so please allow sufficient time to arrive for 7.30am.

For full venue details, please visit www.ajbellstadium.co.uk/contact