Location
HSBC Corporate Banking Centre
2nd Floor, 4 Hardman Square
Spinningfields
Manchester
M3 3EB
United Kingdom
Description
K-Club invites Manchester female entrepreneurs and professionals to an exclusive lunchtime event, kindly hosted by HSBC and is in support of the NSPCC.

We all need to take time out of our everyday work schedule to connect and network with other women in our professional lives. Let's face it - women like to talk!
But what can you gain from doing so? Well apart from finding out about recent holidays taken and that joint interest in the latest fashion trends, how about seriously growing your connections and career for your future?
Sounds like the perfect plan! However, if you don't find networking easy or feel that you're simply 'going through the motions' at events, then perhaps it's time to invest your time wisely and join us in this interactive session to learn the tips to get you connecting confidently. Our speaker is known for her common-sense approach; fusing real-life stories and practical techniques and connecting with her audience. Be prepared to leave armed with the techniques to have you standing out in the future!
Our speaker is:
Eilidh Milnes; Your Confidence Coach, Captain Positive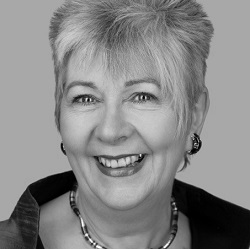 Communications expert and business coach Eilidh Milnes has seen the word confidence defined numerous ways over the years. Is it charisma? Positive thinking? Power dressing? Decisiveness? Is it all about the situation? Is it meant only for the chosen few? Or, is there a different story?
With over two decades of executive coaching, motivational speaking, and most importantly, real-life experience, her view is radically different. Eilidh (that's Ay-lee) appreciates, and shares with audiences, that confidence is a moment-to-moment choice. It is not about title, position or luck. Confidence is for everyone, everyday. It's how you live your life.
Eilidh has served as an elected member in local government, been the senior external trainer for a national police force and continues to work with the best and brightest in the leadership development field. Previously Eilidh was a teacher by profession and passion. Her clients range from education and associations such as IOSH; to charities SMEs and blue-chip corporates including BAE Systems, Barclays, BT, Compass, Hochtief, PwC and LaSalle.
Award-winning author Eilidh Milnes has been having constructive conversations with folks around the globe since 1995. In 2014, she was National President of the Professional Speaking Association UK & Ireland.
As soon as you hear Eilidh speak, you will realise why she's known as 'Captain Positive'! She inspires audiences to boost their confidence, productivity and resilience through her exuberant storytelling.

A donation of 25% of the entry fees received will be made to our chosen charity, the NSPCC. They are the leading children's charity fighting to end child abuse in the UK and Channel Islands.
We will be hearing from Deborah Sefton, Community Fundraising Manager who will explain more about how your donation will help the charity in supporting children and young adults.
Child abuse can take many forms. It can be emotional, physical, sexual or a lack of love and attention through neglect. And it can happen to any child, in any family, in any place or online. Abuse often happens over a period of time, rather than as a one-off event, and can have a devastating effect on a child's development and society as a whole. The NSPCC supports children through counselling and facing up to the array of issues in front of them today; emotional, physical and sexual abuse, cyber-bullying, ethnic targeting, exam stresses and more.
Join them in the fight for every childhood. Learn more here.
---
Please arrive from 12noon, when a finger buffet lunch will be served before we formally open the session and hear from our speaker at 12.30pm. A Q&A session will follow before we end at 2pm.
If you choose to use the carpark at NCP Spinningfields, please bring your ticket with you and have it stamped to enjoy a reduced rate of £6 for the duration of the event.
The fee includes a finger buffet lunch. Please email amanda.manson@k-club.co.uk to advise of any special dietary requirements once you have made your booking.
You can pay by debit/credit card through this website, selecting VAT invoice if one is required. If you would prefer to be invoiced for this event, please email amanda.manson@k-club.co.uk for an invoice to be issued.
---
Please note that all bookings and payment MUST be received to confirm your place by 5pm on Tuesday 3rd October 2017.
Cancellations/refunds cannot be refunded after Tuesday 3rd October; the invoice must be paid in full even if you do not attend.

For more details about other K-Club events please visit our website at www.k-club.co.uk.