Identify and execute breakthrough ideas that can grow your company in the next 90 days
About this Event
Whether you're an established entrepreneur or an experienced company executive, leading an organisation is challenging. From external factors such as changing market conditions and the rapid growth of competition, to internal issues such as employee turnover and outdated processes, the demands on business leaders can be overwhelming.
At Kaizen Group, our mission is to help business leaders and entrepreneurs not just thrive in today's competitive economy, but build value for the societies in which they operate. We do this through business and leadership coaching to deliver measurable and sustainable change in organisations.
What is the Kaizen Business Planning Day | Live Webinar?
We run the Kaizen Planning Day each Quarter to support industry-leading businesses. It's a brilliant event, full of learnings, planning and coaching. Due to Health and Safety measures being taken to curb the spread of COVID-19, the current situation prevents us from being able to run the event as we normally do, so this time, we're doing something different.
We'll be running the event as a LIVE webinar, but there are three things you need to be aware of:
This is a closed-door, invite-only event. The guest speaker we will be having on the day is among the top self-made business leaders in the country, and we want to keep the quality of the discussion high.
This is an interactive webinar. The sessions are workshops and discussions, not lectures or seminars.
This is a stepping stone to greater impact and action. You will be asked what you're committing to at the end of the workshop, and there will be ongoing support and accountability to help you achieve those goals.
Kaizen Business Planning Day | LIVE Webinar Agenda
2:00pm - Sign in & Introduction
2:15pm - The Immediate Future of Business in an Ever-Changing Landscape
Recognise current challenges and trends, and identify the fundamental areas to work on to stay ahead of the game
3:00pm - Mastermind with Invited Guest Mr. Raza Jafar
Raza Jafar is an entrepreneur and philanthropist and has led the development of numerous successful ventures and projects in the UAE and globally. Raza's business ventures include banking, aviation, real estate development, and hospitality management. In this session, Raza will share his wins and challenges, as well as his thoughts and ideas on the road ahead for businesses in the UAE.
4:00pm - Break
4:15pm - Business Planning Session 1 - SMART Goal Setting & Strategy Brainstorm
This is where we roll up our sleeves and get to work on strategising, planning and executing for the next 90-days in your business. You will have access to the winning tools and tried-and-tested strategies that we use with our clients to produce massive results year-on-year.
4:30pm - Business Planning Session 2 - The One Page Plan
This session is all about completing the final One-Page Plan that will be your roadmap for the next 90 days. Here, you will prioritise the most important objectives and strategies, create a timeline, delegate tasks to relevant team members, assign Key Performance Indicators, allocate budgets, and create a clear Measurement of Completion - so you know exactly when the objective has been achieved.
4:50pm - WIFLE & Workshop Close
The end of the Kaizen Business Planning Day, and the start to a massively productive and profitable quarter.
We coach, not consult. Our approach helps you and your team:
Achieve clarity on your end goal and exit strategy
Enhance accountability throughout your organisation
Leverage existing competitive advantages
Embed a culture of learning and continuous growth in your company's DNA
Move away from fire-fighting, poor visibility and outdated processes
Recognize patterns and identify opportunities to generate massive profits
All of this results in higher-quality initiatives—and the culture change needed to drive them forward.
Who is it for?
The Kaizen Business Planning Day is designed specifically for:
Owners, Founders and Entrepreneurs
Managing Directors and Partners
C-Level Executives
Decision makers who understand the need to set aside quality time to strategise and plan for the next quarter in their business.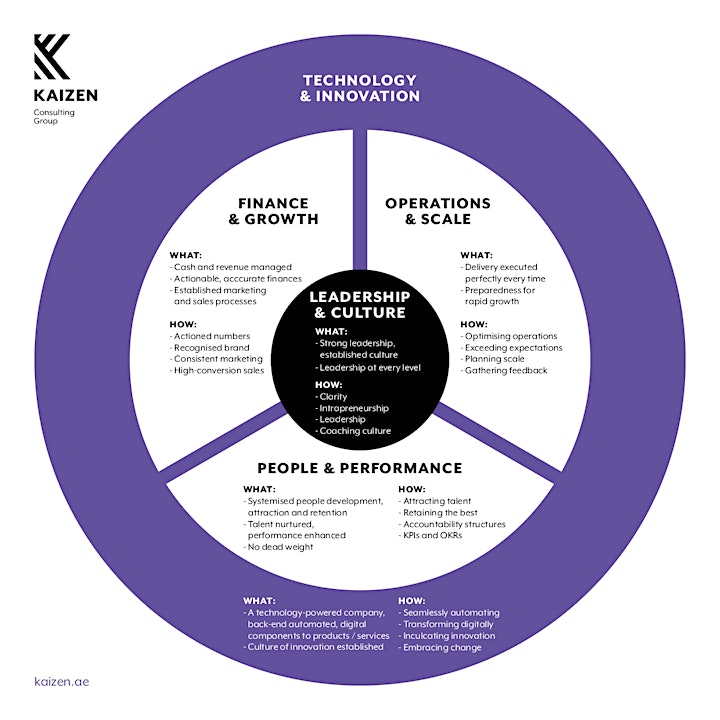 A proven methodology:
The Kaizen System, which combines the best and most powerful coaching methodologies, delivers results for a business that wants to drive growth and instill a culture of continuous learning and improvement.
Our award-winning expert team of coaches and consultants have worked with over 700 companies worldwide, helping business leaders boost revenue by an average of 41 per cent. By our dual focus on People and Processes, we apply the Kaizen System through one-on-one coaching and team workshops, customising it to your vision to create a culture of accountability and leadership, and a trajectory for growth.