About this Event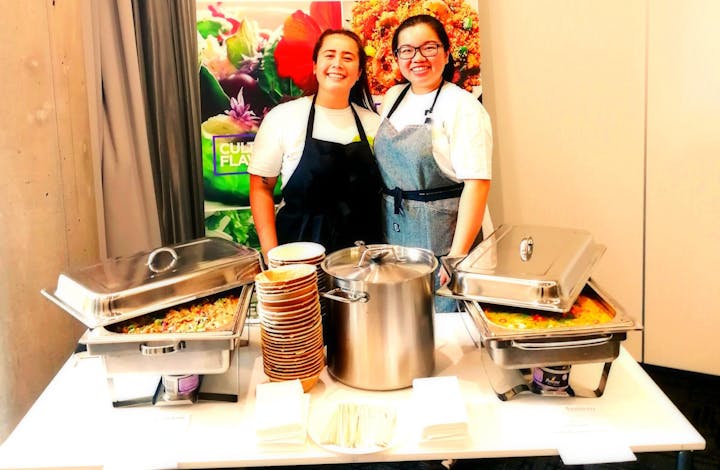 Mama Z and Woks Cluckin are pleased to announce their next Kampung Bayan Supperclub happening December 13th at Federal Cafe Bar in Deansgate.
Despite specialising in Korean food, Yen (Woks Cluckin) wants to share Malaysian 'Nyonya' food during this event, which compliments Mama Z's Filipino food perfectly. Zosima (Mama Z) was also brought up on her mother's Filipino cooking, all passed down from her Lola (Grandma) too and spent many summers in the company of her Filipino family in Bataan.
This marriage of flavours between Filipino and Nyonya cuisine is brought to you together in these series of special supper clubs, showcasing the best of Nyonya and Filipino cuisine through shared memories, recipes and stories from both family kitchens - aka "Kampung Bayan"
If you have been before then you will know to expect lots of delicious food and by the bountiful! This time this event will be very special as it will be in the form of a Kamayan style- A Filipino way of eating with your hands off banana leaves. Why not kick start your Christmas spirit in Kampung Bayan style!
Your ticket gets you:
Welcome Snack:
Prawn Crackers & Chicharon (VE) and Suka (Spicy vinegar dipping sauce)
Main event:
Whole Roasted Spiced Cauliflower with Sambal (VE)
Chicken Curry Kapitan
Seasonal Vegetable Curry (VE)
Filipino slow braised Meat Mechado Stew
Brussel Sprout curried Ukoy Fritters w/ Dips (VE)
Spiced Turmeric Rice (VE)
Spinach Roti (VE)
Dessert:
Manto Fondue- Fried steamed rice buns to dip into warm Chocolate and Sea salt dip, Ube Coconut dip and Pandan custard dip.
Sound good? See you there! Love Zos and Yen xx