Kathina is an annual traditional celebration in Buddhism, where Buddhists gather and offer robes to the monastic community.
About this event
You are invited to join us
.
On "KATHINA Day"
.
On Sunday 31th October 2021
.
Registration link: https://bit.ly/kathinancl2021
*Please register through this link.
.
to experience traditional Buddhist ceremonies
throughout the day beginning at 9AM-3.30PM.
(1) The Ceremony of Land Purification for Establishment of the New Meditation Building. (at 10.00AM)
(2) Traditional Buddhist Alms Giving (at 11AM)
(3) Free Thai Food (at 11.45AM)
(4) Traditional Buddhist Ceremony (Kathinna Celebration at 12.50 PM)
.
at Dhammakaya Meditation Centre (formerly St.Andrew's Church) Church St., Hebburn, NE31 1DR
.
Prior registration will entitle you to FREE THAI FOOD on the day.
.
For further information, please contact:
Tel. 07462-328-325
E-mail: dmcnewcastle@gmail.com
Facebook: Dhammakaya Meditation Centre of Newcastle
Website: www.meditationnewcastle.co.uk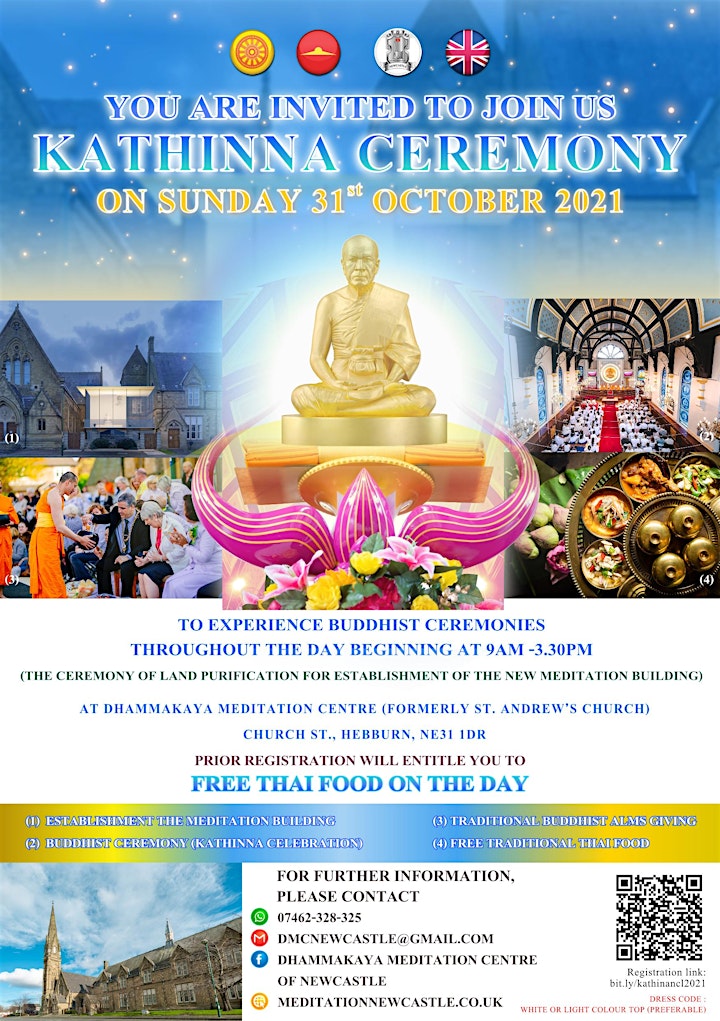 Organiser of Kathina Ceremony