Location
Christ Church Roxeth
Roxeth Hill
Harrow
HA2 0JN
United Kingdom
Description
You are warmly invited to come and see me renew my baptism vows (more about what that is later, if you don't know)! Mike, myself and Isaac are leaving Harrow to take up a curacy in Portsmouth, St. John's at Locks Heath when Mike becomes a vicar (well, deacon...it's complicated).
I've been in Harrow for 21 years. I arrived when I came to Westminster University to study Illustration, as a staunch athiest.
Little did I know that a good friend would invite me to Christ Church Roxeth in 1999 (I thought it was a date, but that's a long story) and I would become a Christian. Which has turned my life upside down (in a great way.)
So many amazing things have happened at Christ Church. Running Get Together, singing worship, helping with Alpha, doing prayer ministry, going to New Wine, doing marketing and design for Found Charity Shop, Jelly Tots, weddings, meeting my husband, having my son...and getting through some massively tough times with my friends and family by my side. And more answered prayers than you can shake a stick at!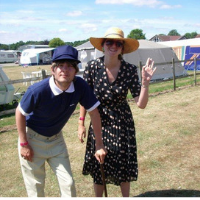 Me and Mike playing old at New Wine...prophetic?!
I've got the chance to renew my baptism vows (as I was christened/ baptised as a child) which is so exciting. It means renewing the Christian vows that were made when I was a baby as my own. I will be submerged in the baptism font (kinda jacuzzi pool under the church stage, if you didn't know!) and have a chance to share my story with you.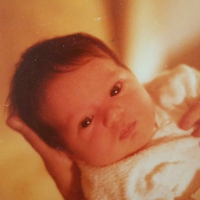 This is me as a baby!
Mike (my hubby if you didn't know) will be preaching as well. We feel this is a fitting way to say goodbye to Christ Church and Harrow and share our hopes and plans for the future.
The gathering will be informal, and you don't need to be a Christian to come, of course. I want as many of my friends and family (both Christian and not) to come and celebrate with us!
I will do my best to remove as much Christian jargon as possible. I just want you to all have an encounter with Jesus, with all my heart.
And Christ Church folk, we'd love to see you, to say thanks for all you've done for us and to say 'au revoir'! Kids are welcome too, of course. There will be some refreshments but not quite sure what right now.
Really hope to see you there,
Katie.