Kazakhstan International Medical and Healthcare Exhibition Almaty 2019
Description
KIHE 2019 - KAZAKHSTAN INTERNATIONAL HEALTHCARE EXHIBITION 2019
---
KIHE 2019 Kazakhstan is a 3 day event being held from 15-17 May 2019 at the Atakent International Exhibition Centre in Almaty, Kazakhstan. KIHE Kazakhstan 2019 Event showcases product from Medical & Pharmaceutical industry.
---
Detailed Description:
2019 KIHE Kazakhstan Intern Republic of Kazakhstan possesses a wide range of mineral resources with significant oil and gas reserves, which rank the Republic as one of the largest oil producers in the world National Healthcare Exhibition.
---
Like all major multi-national events, KIHE 2018 Kazakhstan (Kazakhstan International Healthcare Exhibition) is a favorable basis for business, as it allows the participants to make and confirm a large number of contacts within a short space of time.
---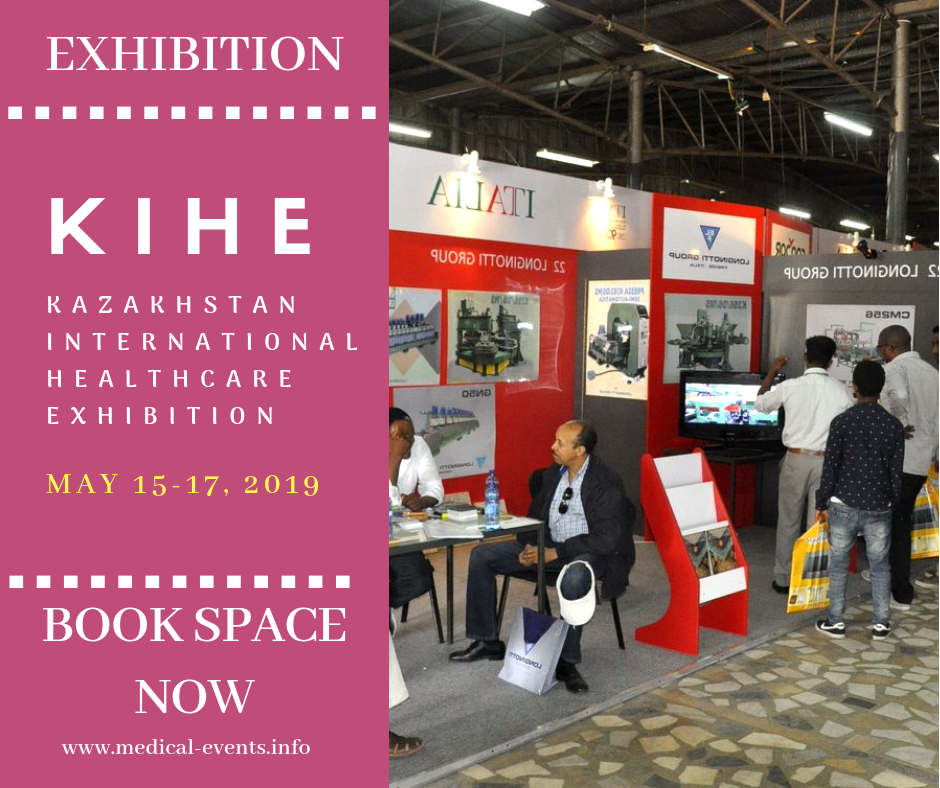 Exhibitor Profile

KIHE Kazakhstan 2019 features medical products including: medical & laboratory equipments and instruments, diagnostics, disposable products, orthopedic & rehabilitation equipment, optical equipment, surgical instruments, clothing & linen for hospital use, dental equipment, pharmaceutical production, prescription drugs and pharmaceuticals, dietetic & nutritional products, homeopathic preparations, personal hygiene products, health & beauty products, furniture and equipment of pharmacies.
---
IF YOU LOOKING PARTICIPATION IN KIHE 2019. SO YOU CAN BOOK YOUR SPACE BELOW :
Organizer of Kazakhstan International Medical and Healthcare Exhibition Almaty 2019
Medical Events brings you a platform,that serves as an online directory to bring exceptional and latest information about Medical events worldwide.
We not only offer a vast database of information but also bring whole of the medical industry at one place. We provide a common platform to users and manufacturers to interact directly with each other at an international level.
This helps the producers to expand their market across boundaries and help users to choose from several high-quality products and services offered by numerous manufacturers at a single place.
FOR MORE INFO VISIT : www.medical-events.info