| | |
| --- | --- |
| KCSC Singing Workshop for Xmas Concert & Party 2012 @ Chelsea Theatre | |
Event Details
KCSC are organising a Community Christmas Concert & Party this year to take place on Tue 18th December at 5pm in the London Lighthouse. We are making the programme up of performances from groups we support, staff teams, local residents, those who might not otherwise be able to attend, NHS patient groups, adults and children.
We have a number of performance slots available and Aneesa is meeting with different groups and their members to help them prepare a piece or two!

Would YOUR group like to have a performance slot?!

If your members would like to take part Aneesa can come and do some vocal coaching with them and you just need to set a date with her to come and do it. Plus it's all free!
We are inviting both solo and group performances.

Please circulate this invitation to anyone you think may be interested. Those wishing to take part need to contact Aneesa ASAP so that she can organise rehearsals.
See you there!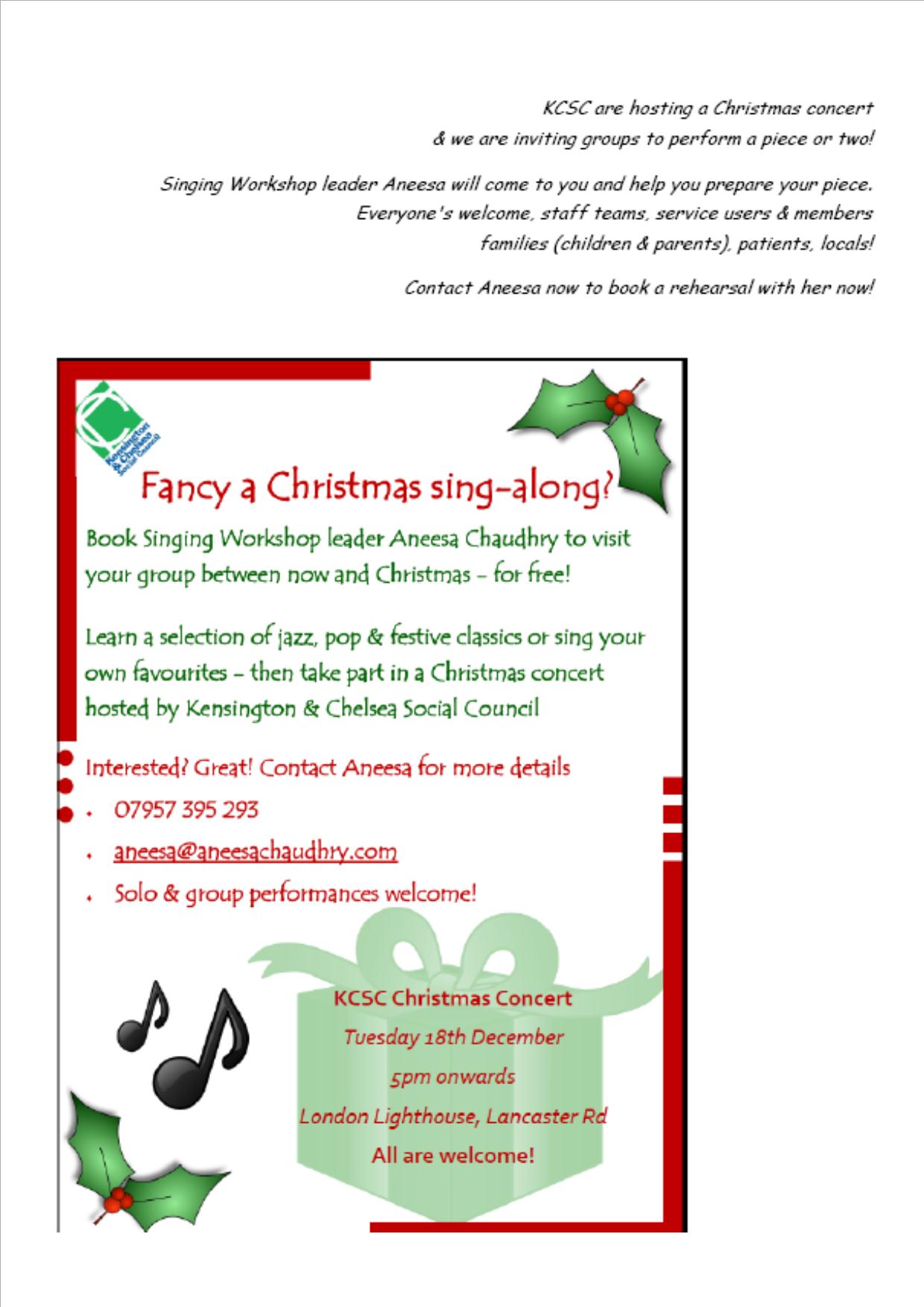 All Welcome!
Your workshop was quite magical.  Thank you very much.  It was absolutely fantastic to see you galvanising everyone into full voice – the great day was a great sound and all the soloists were really moving.  I loved it all and it was very energising and inspiring.  Thank you.  I would love to come to another.  You are a wonderful and inspiring teacher and  the whole things was truly impressive.       VB, RBKC
www.thevoicebox.biz

Have questions about KCSC Singing Workshop for Xmas Concert & Party 2012 @ Chelsea Theatre?
Contact Aneesa Chaudhry
Where

Chelsea Theatre
7 World's End Place
King's road
SW10 0DR


Organizer
"Aneesa Chaudhry is a force of nature and a force to be reckoned with. Her voice is extraordinary in so many senses, range, tone, style proving that this is not simply a voice of fashion, and there are plenty of those around, but a real voice full of real musical talent and skill – weapon quality! An evening of song with her is a white knuckle ride of styles and musical genre – ballads, jazz classics, rock, swing, Asian fusion, Fascinating as this is, and amazing value at the price, it does leave your head in a spin. She gave us a striking rendition of My Funny Valentine that was spine tinglingly good, Aneesa is a pure talent, a chameleon chanteuse – and she looks great too, cheekily flirting with her audience and winning us over every minute of the way. When a gig is this good it would bland and dull to simply say that Aneesa Chaudhry is bloody brilliant!" - Andrew Kay, The Latest (Dec 07, 2014)
"Aneesa Chaudhry showed the audience exactly how accomplished a musician, singer and performer she is. The Brunswick was packed to the rafters. I could have listened to her sing all night. She is the full package, sassy & engaging. The haunting Tera Chera was the highlight showing off her range & the ethereal tone quality of her voice in the upper register. Guappa Chica presented her fun side while Papernut demonstrated the huge range of her voice. Vocally she was quite extraordinary during this number considering this was live and the possibilities of studio tricks less possible. I love a performer who takes risks not only with their performance but also with the arrangements. She made My Funny Valentine her own & challenged both singer and listener to the limits. It was a triumph! Her voice is secure over her complete register, while her ability to bend notes gives a wonderful Eastern flavour. Her articulation is drilled down & precise. You can understand every word she sings" - James Ledward, GScene (Dec 10, 2014)

"What a sensational lunchtime jazz session from Aneesa Chaudhry at the Summertown Wine Cafe yesterday! My goodness the girl has an amazing range. She titallated us with Van Morison's Moondance before nailing Joni Mitchell's 'Both Sides Now' goosebumps and swelling tear ducts all-round. Oxford Jazz Festival
Aneesa brings a great vibe (and a crowd) to her gigs. She has an original take on performing and brings a little old school glamour to her live shows. Prepare to be entertained as she seamlessly navigates through classics and new material. An excellent addition to any serious music event billing. SAM SUTTON, GINGLIK, London
Ealing Jazz Festival, July 2008  'An original Punjabi take on the jazz tradition supported by some of the best Latin musicians, music full of light, the subtleness of jazz, and a commitment to the vitality of performance'. Pete Watson, Crypt Stage Director
Isle of White International Jazz Divas Festival  'Aneesa Chaudhry wowed the audience at the Jazz Festival fringe with her unique approach to jazz, spicing things up nicely with exotic eastern flavours, both vocally and percussively, along with well known classics, all delivered with a dash of divadom and a sprinkle of stardust' Mick Smith, Director, Quay Arts
'Aneesa Chaudhry's sets in the Birmingham Jazz Festival were real stand-out occasions. Very musical, pretty unusual, and totally absorbing'. Jim Simpson, Festival Director

'I WAS THERE…THE SUN WAS OUT AND ANEESA SANG UP A DREAM', National Theatre, 
Ian Shaw, 2004 BBC Jazz Vocalist, Royal National Theatre Music Pitch