Description
Join Kea New Zealand for the third event in our Kea Supper Club Series, celebrating the career of Monica Galetti, Chef Patron, Mere.
The team at Mere will welcome us with canapé and New Zealand sparkling wine, followed by a bespoke 4-course menu designed by Monica. All courses will be served with New Zealand wine. We will finish with coffee and Mere chocolates. A food journey not to be missed.
Kea are honoured to be able to celebrate Monica's career and success to date, and to have this unique opportunity of hearing her story whilst we dine.
Spaces are limited.
Tickets are 100.00 GBP per Kea New Zealand Member and 120.00 GBP per Non-Member. To avoid ticketing charges please select the Free 0.00 GBP ticket and an invoice will be issued. Please note that it is free to join Kea New Zealand at www.keanewzealand.com
---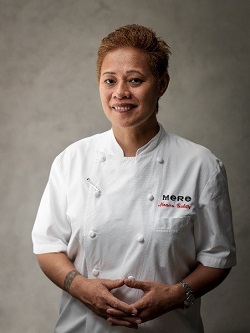 In 1999 she upped-sticks and moved to London to work for Michel Roux Jr. at two Michelin-starred Le Gavroche. Monica's talent was soon recognised, and she progressed rapidly, becoming the first female sous chef at Le Gavroche and then Michel's head chef at Le Gavroche Tropiques in Mauritius, 2005.
Over the past ten years Monica has become a familiar television personality, as the inimitable presenter and judge on BBC2's highly popular MasterChef: The Professionals. More recently she has also gone on to co-present two series of BBC2's Amazing Hotels – Life Beyond the Lobby, alongside The Times restaurant critic, Giles Coren.
After a total of twelve years at Le Gavroche, Monica left in 2015 to spend some time with her husband and daughter and focus on finding the best site for her first restaurant in London, Mere which opened in 2017 in Fitzrovia. Mere, fittingly the name of Monica's own mother, is a melting pot of cultural influences; mixing the classical French of her husband David's childhood with the exotic South Pacific and New Zealand from her own upbringing, weaving in elements inspired by her travels and the British seasons.
Monica is the author of two books: Monica's Kitchen and The Skills.
---
Terms and conditions
By registering to attend this event, guests agree to share their information with Kea New Zealand. Kea New Zealand will use guest details and email address for event communication purposes including event reminders and post-event follow ups where registered within the eventbrite application. Guests will not be added to the Kea New Zealand mailing list, and can do so at www.keanewzealand.com.

Cancellation and refund policy
Only guests registered will be admitted. Kea New Zealand reserves the right to cancel or postpone an event to an alternative date. All registered participants affected by such a cancellation or postponement will be offered a full refund of the ticket price paid. No refunds will be issued for non-attendance at the event or for guest cancellations. A replacement guest is permitted by emailing tania@keanewzealand.com up to 24 hours prior to the event.
Photography
Photographs will be taken at this event and will be published across social media for Kea New Zealand. Should you wish for your photo not to be taken, please advise us at tania@keanewzealand.com.