Refund policy
Contact the organiser to request a refund.
Eventbrite's fee is nonrefundable.
A book launch event for "Keep Going - A Viva Survivors Anthology" by Nathan Ryder!
About this event
Hi, I'm Nathan!
I started the Viva Survivors daily blog in April 2017 - I publish a new post every day about the viva, covering all topics I can think of: preparation, expectations, examiners, confidence and a lot more.
To mark five years of daily blogging I've created Keep Going, an anthology of my best writing. Over 150 pieces curated from nearly 1800 posts: edited, polished and organised to be a help and a boost for anyone working towards their viva. The ebook will be available on Amazon Kindle and via my independent Payhip store when it releases on Thursday 26th May 2022.
Keep Going has taken almost six months to bring together (not including the five years of blogging!) and I want to celebrate! On Wednesday 25th May 2022, I'm hosting a launch party over Zoom and I'd like to invite you to join me to:
Explore the new anthology!
Share in my little celebration!
Ask questions about the viva!
Share in one or two surprises as well... :)
There are two ticket options for the launch party: Awesome Attendee and Pre-order Superstar!
Attendance at the launch party starts at the low, low price of £0.00 - I'm excited that the book is finished, so if you want to simply come and join the party select Awesome Attendee from the ticket options.
You can also register as a Pre-order Superstar. For a £5 registration you'll attend the event and pre-order an ebook copy of the anthology, which you'll receive on release day via my Payhip storefront. The regular price for the Keep Going ebook will be £8.99 when it's released on Thursday 26th May 2022.
Whatever ticket you select, we'll meet over Zoom, and registering will mean you have access to the event and can send me questions in advance. I can't guarantee I'll respond to all questions depending on the number of people attending, but I'll do my best!
And that's everything I think. If you have any questions about the event then please get in touch. It's been fun to write about the viva for five years and help so many people. It's been an interesting challenge to create Keep Going and I'm thrilled to release it soon. See you at the launch party!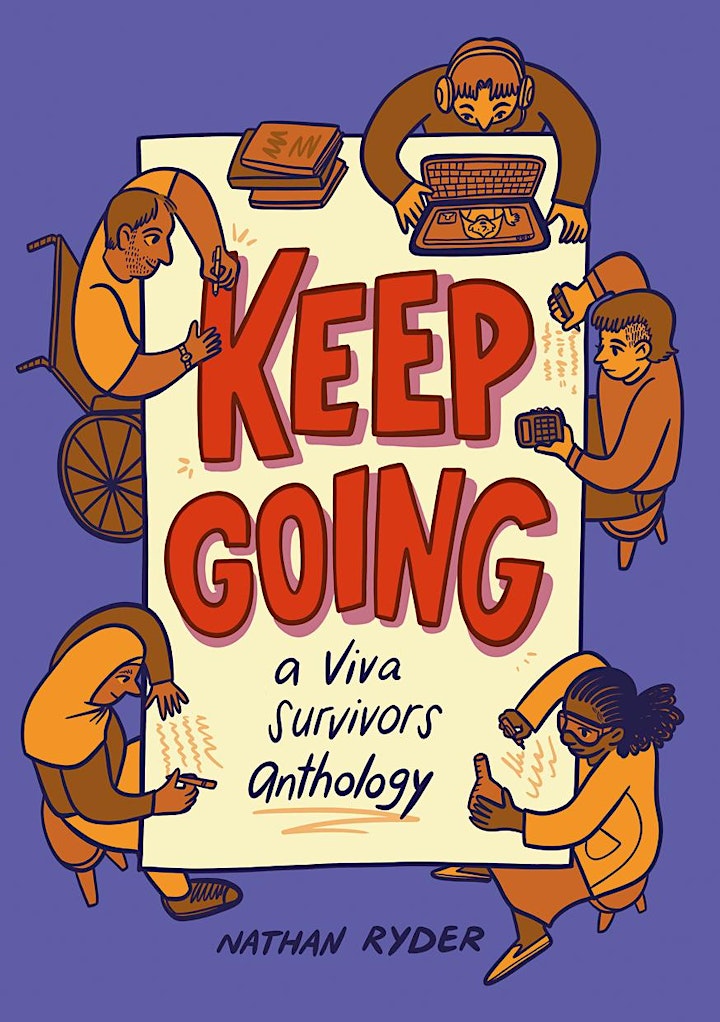 Frequently Asked Questions!
Will this event be recorded? No, but I will be saving a copy of the chat to review afterwards, in case I can follow up any questions.
Do I need to have a camera on? No, you can turn your camera off! It might be lunch time for you and you just want to listen in. Attendee microphones will be muted as well.
What is this Viva Survivors daily blog anyway? Every day I share a short thought about some aspect of the viva, be it on preparation, expectations, examiners or confidence - and a lot of other things too. I've been publishing every day since April 2017!
The cover is amazing, who did it? The very talented Maria Stoian!
When is the book out? The book will be available to buy from Thursday 26th May 2022, the day after the launch party!
What do I get if I register as a Pre-order Superstar? You attend the session, receive my thanks and receive an epub format ebook copy of Keep Going on Thursday 26th May. I'll send you a code and link to download a copy from my Payhip site.