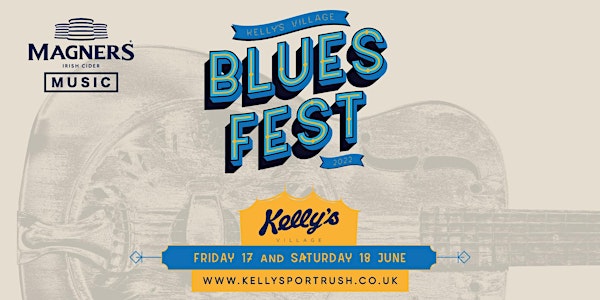 Kellys Blues Fest 2022 #2 -Rob Strong Band, Mike Wilgar, Juke Joint + More
Location
Kellys Village - Kellys Complex Portrush
Kellys Complex
Bushmills Road
Portrush
BT568JF
United Kingdom
Our pre-summer Blues Festival will span 2 days and though The Village ends at 11pm, we have another band indoors till the little hours!
About this event
Kellys Village Blues Fest 2022
The Rob Strong Band, Mike Wilgar & The Crackpot Preachers, Juke Joint Blues Band, Kenny McDowell Project + Barry McGivern
Saturday 18th June 2022/3pm-1am)
Tickets £17 plus booking fee
Over 18s Only
After last years fantastic event, we have decided to go again, and this time we have the support of Magners to ensure a quality weekend of NIs best blues bands.
After last years busy schedule and Rob strong having to pull out, he is of course a man of his word and making a return this year to headline the Saturday night. As if that wasn't good enough we will have a whole day of the finest blues artists from this Island to get the audience well warmed up for it.
We have 2021 returns from Lonesome Pete, Mike Wilgar & The Crackpot Preachers and The Juke Joint Blues Band, plus the debut of Belfast Blues Legend, Kenny McDowell.
As our licence only allows us to have music till 11pm in Kellys Village, we have decided to keep the party going in our indoor venue The Stubborn Stag with The Barry McGivern Band playing a Rory Gallagher tribute set and everyone with a Village wristband gets in for free.
For the fantastic value for £17 you wont get a line-up like it for miles, and you can also dine or stay at Kellys if you wish! Where else would you get it all on one site?
General Admission Tickets £17pp+ booking fee - These are for floor standing and seating and all spaces are "unreserved" as patrons are no longer required to remain in bubbles/groups we would like to see normality return to the venue. There will be limited seating in the venue and it works on a 1st come 1st served/you move, you lose basis for now. If you want a reserved seat, please get a Cabana with a group of friends, that is what these are designed for.
VIP Cabana Tickets - £17pp + booking fee - These tickets need to be bought in multiples of 8 -12 for this event. This is our way of selling them as a "corporate box", the fee is for the box for the night and you can have up to 12 people seated in it.
TERMS OF SALE FOR ALL EVENTS
• Due to the removal of various Covid-19 Restrictions, we are no longer required to sell to groups/bubbles and will now be offering general admission tickets which will admit to unreserved seating or standing depending on the event type.
• Our Cabanas are designed for groups and will still be sold to parties of 8 to 12 for this particular event. These come with added benefits and extra comforts.
• Our event security have the right to refuse admission at any stage of the night, should they feel the safety of other customers is being compromised. We are all out to enjoy ourselves so please respect one another and the staff who are serving you also.
• We DO NOT OFFER REFUNDS on any event tickets unless we are forced to either cancel the event (full refunds sent) or move the date (refund window offered if new date not suitable) due to any circumstances beyond our control.
• Food and Drink Service will be self service at this event and customers are expected to fetch their own food and drinks orders from our on site bar and takeaway.
• Over 18s Only - NO EXCEPTIONS